Clifton Rugby Football Club History
He was born on the 10th October 1873 in Queensland, Australia. The son of Walter Cunningham Hume surveyor and Chief commissioner for Lands for Queensland. He was educated at Aldenham School, Hertfordshire and Sedbergh School, Cumbria.
His grandfather was the Scottish poet, Alexander Hume (Born Kelso 1st February 1809, died Northampton Lunatic Asylum on the 24th May 1851), who abandoned his family to travel to America. His grandmother opened a school, which was eventually housed in Clifton Villa, near Southhampton. This is where his father met his mother, Katie, and some of her sisters.
Above Albert in 1875 with his mother. Image courtesy of the Fryer Library, University of Queensland.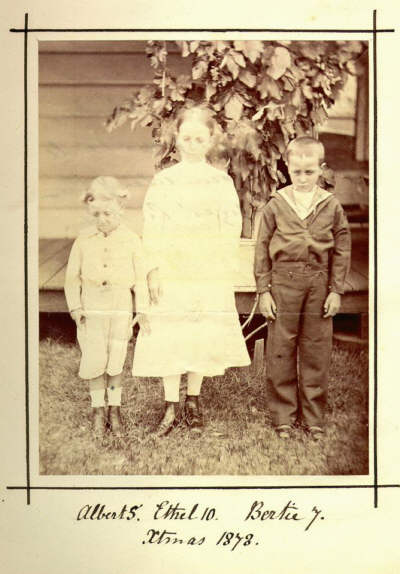 Above Albert 5, sister Ethel 10, brother Bertie 7, Xmas 1878. Image courtesy of the Fryer Library, University of Queensland.
He attended Sedbergh School from September 1886 to July 1891. While at school his guardian was Miss Fowler, Mountfield, Favorsham.
In the 1891 census he is listed at the Wilson Boarding House (It was renamed Sedgwick House in 1908 after the famous geologist, Adam Sedgwick, who was a boy at Sedbergh from about 1799 to 1803), Sedbergh School. It was run by Bernard Wilson a Classics teacher at the school and his wife Jane Annie Wilson (nee Sedgwick) (born c1858 Norwich, died 10th April 1941. She was the niece of Adam Sedgwick who the house would later be named after). Bernard Wilson was the founder of the Ten Mile, later renamed the Wilson Run in his honour in 1913.
Above Sedgwick House.
He joined Clifton in 1891/92
Above Albert Stewart Hume. Image courtesy of the Fryer Library, University of Queensland. He played in the first match to take place on the new Clifton Ground at Fishponds. For more details click here
Standing (L-R): ?, Frederick Charles Belson, ? (possibly Claude Wreford-Brown), W.P.Gwynne, ?, T.Jones, Berkeley Henry Belson. Sitting: Frank Borwick, Edward Martin Panter-Downes, Henry Lawrence Weekes Norrington, Edward Payne Press, William Wyamar Vaughan, Edward James Barff, C.Parkes-Smith. On Ground: Albert Stewart Hume
The original of the above photo (titled Clifton Rugby Football Club with A.S.H 1893) is part of the Hume Collection (UQFL10) and is reproduced courtesy of the Fryer Library, University of Queensland, Brisbane, Australia.
His brother, Bertram Cunningham Hume, married Marian Perrier on the 16th December 1897 at the residence of a neighbour, Mr C. Trery, Calle Viamonte, Bahía Blanca, Buenos Aires, Argentina. At the time Bertram was living at Calle Mitre 79, Bahía Blanca, Buenos Aires, Argentina. Bertram is listed as a Contractor. The witnesses were Charles A. Trery, A. Scott, M. A. Trery. The brides father Roland Perrier was an Engineer. The bride also lived in the area at Calle Viamonte y Rosa, Bahía Blanca Buenos Aires, Argentina.
On the 5th February 1899 he became Godfather to Roland Cunningham Hume (born on the 26th November 1898, married Mary Helen Taylor in 1923. They had 3 daughters Ann Elizabeth, Marian and Diana Borradaile), who was the son of his brother Bertram Cunningham Hume and Marion Perrier at Santa Trinidad, Lomas de Zamora, Argentina. His brother lived in Bahia Blanca. The other godparents were Bernard Cunningham and Ethel Stansfeld Hume. The church at Lomas de Zamora (Santa Trinidad) is in a former railway centre at the southern edge of Buenos Aires.
His mother, Anna Kate Cunningham (nee Fowler), died in 1909.
He married Rica Alleen Kelly (born Bedford 1888) at St. Margarets Church, Westmister on the 12th February 1919. She was the youngest daughter of Colonel J. G. Kelly, CB. Colonel Kelly led the relief column of just over 500 men to relieve the siege of Fort Chitral, Khyber Pass, Pakistan on 19th April 1895.
Above St. Margarets Church, Westmister. The church is located immediateley north of Westminster Abbey. It has been the place where many famous people have married Samuel Pepys, John Milton, and Winston Churchill.
They had a 3 daughters Margaret Winifred, Marjorie Kate and Elizabeth.
His father, Walter Cunningham Hume, died on the 22nd July 1921 at St. Helier, Jersey.
Albert emigrated to the United States in 1915. He is listed on the Ellis Island ship passenger list on the 28th May 1915 sailing from Buenos Aires on the SS Vasari. Albert is listed as a Civil Engineer. His nearest relative is listed as his brother, Bertram Hume of Calle Lavalle 472 Buenos Aires, Argentina.
Above the SS Vasari.
His brother Bertram Cunningham Hume (born 1871) died in 1953.
Albert Hume died in 1960. His wife Rica died in 1966.