Clifton Rugby Football Club History
Frederick Belson was born 13th February 1874 in Ramsgate, Kent. He was educated at Clifton College from September 1886 until 1889. The original family home was Portsmouth, where his father was a sea captain. He attended Clifton College from September 1886 until 1889. Belson had played for Clifton from 1891 and joined Bath in 1894. He also played for Bristol, Newport and Abergavenny.
INTERNATIONAL RECORD: British Isles Caps 1899

Career Record: P4, W3, D0, L1, Tries 0, Cons 0, Pen 0, DropG 0

14th June 1899 v Central Southern W 11-3

17th June 1899 v New South Wales W 4-3

24th June 1899 v Australia (Sydney) L 3-13

28th June 1899 v Toowoomba W 19-5

A badge from that tour.
In 1891 the Belson family lived at 12 Beaconsfield Road, Clifton. His father, born abt. 1834 in Woolwich, Kent was Berkeley George Albert Belson a retired Royal Navy Commander. His mother was Sarah Ann (nee Armitage) from New South Wales, Australia.
Above 12 Beaconsfield Road, Clifton. The original building has been replaced.
Standing (L-R): ?, Frederick Charles Belson, ? (possibly Claude Wreford-Brown), W.P.Gwynne, ?, T.Jones, Berkeley Henry Belson. Sitting: Frank Borwick, Edward Martin Panter-Downes, Henry Lawrence Weekes Norrington, Edward Payne Press, William Wyamar Vaughan, Edward James Barff, C.Parkes-Smith. On Ground: Albert Stewart Hume
The original of the above photo (titled Clifton Rugby Football Club with A.S.H 1893) is part of the Hume Collection (UQFL10) and is reproduced courtesy of the Fryer Library, University of Queensland, Brisbane, Australia. It includes Frederick Belson (standing second left) who in 1899 went on to become one of the first British Lions. Frank Borwick in the above picture became a Master of Clifton College and was also played County rugby for Middlesex. This photograph would have been taken towards the end of the 1892/93 season. The Clifton captain Edward Payne Press played in the first three Clifton v Bristol matches.
Back Row (L-R): W.James, F.Belson, N.Cooper, H.B.F.Bingham, W.Bunbury, W.P.Gwynne, A.B.Cridland, T.Jones. Front Row: W.W.Vaughan, B.H.Belson, W.J.Lias, H.L.Norrington, H.Bacchus, C.Rogers. On Ground: C.W.W.James
Above Clifton XV 1893-94
In 1895 Frederick Belson rowed with the Avon Rowing Club at the Reading Regatta alongside Bath and England Rugby International Frank Soane and again the following year at the Winsor & Eton Regatta.
Back Row (L-R): A.Billett, J.Ruddick, M.Cole, M.S.Bigwood, Mr. Hooper, W.F.Long, G.G.Vincent, F.Derrick, E.H.Speers, A.E.Fry. Front Row: J.B.S.D'Aguilar, F.C.Belson, F.Soane (Captain), G.Middleton, R.A.Bartlett, L.J.Fry.
Above Bath side that played Bristol on 8th February 1896.
Belson is listed as playing for Bristol versus Wellington on the 14th October 1896. Bristol won 16-0. He played for Bristol versus Newport on 21st November 1896. Newport won 28-0. Belson played 10 games for Bath during the 1896-97 season.
In September 1897, Belson appeared at a Newport trial match, playing first half for the District XV. The South Wales Daily News commented: "Belson and Parfitt (Ebbw Vale) who were given a trial amongst the premier forwards did not at all play badly, and once they become thoroughly acquainted with the tactics of the old 'uns should prove themselves to be very serviceable men. They did their share of scrummaging, and were smart in the open play, which is more than one can say of a few others in the pack…..It is forward, for once in a while, where Newport's weakness now seems to lay, and if they don't throw more energy into their play than they did on this occasion, well there! ---" Those who have met Belson as an opposing forward have never had occasion to complain of his want of energy."
He worked for The National Provincial Bank and he approached his manager to explain he had been invited to join the tour to Australia, and could he please have six months off! He was told he could go if he wanted to but shouldn't expect his job to be waiting for him on his return.
Ex Clifton player Frederick Charles Belson became one of the first British Lions when he is selected for a Great Britain touring team to Australia, referred to in those days as the Anglo-Australian Touring Team, not called the British Lions until 1924. He was one of 16 county players out of a squad of 22. He never did represent his country. A second leg to New Zealand was cancelled. The Australian tour started on the 14th June v Central Southern Union and finished on 12th August when they beat Australia 13-0.
Above the Anglo-Australian Touring Team of 1899. Standing (L-R): George Ralph Gibson, Charles Edward Thompson, Alex Boswell Timms, Elliot Tenint Nicholson, William Judkins, Frederick Charles Belson, Alfred Moore Bucher, John Stanley Francombe, H.G.S. Gray, John Wallace Jarman. Seated: Blair Swannell, Esmond Martelli, E. Gwyn Nicholls, Rev. Matthew Mullineux (Captain), Frank Moxon Stout, Tom M. McGown, Alan Ayre-Smith. On Ground: George Cookson, Gerald Percy Doran, Guy Vincent Evans, Charles Young Adamson. Photo taken at Sydney

Above action from the 24th June 1899 match at Sydney against Australia

Above action from the 24th June 1899 match at Sydney against Australia
It was reported in the Bath Chronicle on 24th September 1899 that F.C.Belson had obtained an appointment in Sydney and did not finish the tour with the English football team. Then when the Boer War broke out he enlisted in the army.
Above Frederick Belson in Boer War uniform.
He was commissioned a captain in Thorneycroft's Mounted Infantry during the Boer War. They were involved in the Battle of Spion Kop on the 23-24th January 1900.
Above Lieutenant Colonel AW Thorneycroft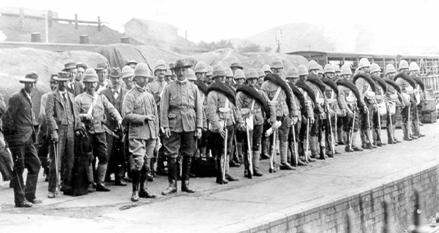 Above soldiers of Thorneycroft's Mounted Infantry
He was listed on returning home on the SS Canada from Cape Town on July 8th 1902.
He emigrated to Victoria, British Columbia, Canada where he married Hilda Clayton Euan-Smith on 29th July 1914 in Victoria, British Columbia, Canada. She was the daughter of Charles Bean Euan-Smith and Edith Julia (nee Alexander) and was born in Hydrabad in 1878. Frederick was 40 years old and working as a Civil Servant.
His father-in-law was originally in the army but then worked in various ministerial posts in various countries including HM Consul General in Zanzibar 1887 and 1891, Minister in Morocco 1891 and 1892, Minister Resident and Consul-General to the Repulic of Columbia between July and November 1898.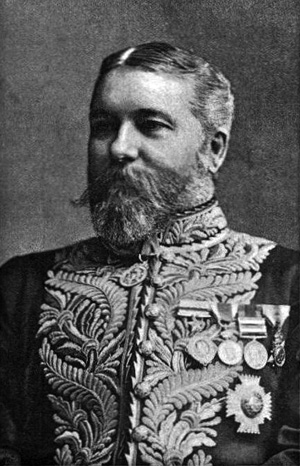 Above Sir Charles Bean Euan-Smith (father-in-law)
He returned to England to fight in World War 1 , He was a Lieutenant in the Royal Army Service Corp. Lt.F.C.Belson completed his service on September 26th 1919.
His two sons were born in England Philip Charles Euan Belson in 1916 and Dorrien Berkeley Euan Belson in Richmond, London on 10th February 1917
He emigrated to Victoria, British Columbia, Canada in 1921 but returned to England on 23rd February 1924.
His son Dorrien married Mary Cowper in Wandsworth in 1948. They had 3 sons Roger, Timothy and Anthony and a daughter Lucille. At the time the Belson family were living in Roehampton. He was High Sherrif of Buckinghamshire between 1982-1983.
Frederick Charles died on the 10th August 1952 in Portsmouth.
His son Dorrien died on 16th September 2010 in Henly-on-Thames. The Henley Standard said
DORRIEN BELSON, who has died aged 93, was a wine merchant, oarsman and devout Roman Catholic.

But it was his exploits during the war which gained a wider audience when he published his experiences as a prisoner of war in a moving volume entitled Caught.

In 1938, Dorrien, then aged 21, joined the Territorial Army. At the outbreak of war, he was commissioned into the Gloucestershire Regiment. In 1940, he was sent to Europe without a map, compass or side arm. Serving in the force that was required to delay the German army and allow the rest of the British army to retreat to Dunkirk, he was captured and, with the other prisoners, marched 200 miles into Germany.

He spent the next five years as a prisoner of war in six different prison camps in Germany and Poland and it was during this time that he became a Catholic.

Dorrien Berkeley Euan Belson was born on February 10, 1917 at Richmond, Surrey, and spent most of his early years in London before moving to Bristol to join wine merchants John Harvey & Sons.


While in London, he took up rowing and spent many happy mornings rowing on the Thames in Henley.

While in the army he joined Thames Rowing Club in London and competed three times at Henley Royal Regatta, before and after the war, reaching the semi-finals of the Grand in 1946, his final appearance. As a result of his endeavours, he was invited to join Leander Club.

In 1953, his third son Anthony was born with cerebral palsy. At the time there was no support group for this condition as there is now (Scope) so with his wife Mary, Dorrien formed a group for similar children in the West Country.

Later, he joined the Spastics Society, as it became known, and was its chairman for a number of years.

In 1963, he left Bristol to join Justerini & Brooks in their export department, based in St James', London. He travelled extensively for the company and became chairman in the late Seventies. In 1982, he retired after long service in the wine trade, which he wrote about in a recent book, Wine For Life.

After his retirement, he became chairman of Leander Club during one of the club's most difficult periods. In his latter years, he was a regular member of the Lensday group, which meets each week to lunch at the club.

He was High Sheriff of Buckinghamshire in 1981 and was a lay member of the Law Society in the Nineties.

Dorrien became a member of the British Association of the Sovereign Military Order of Malta, an organisation devoted to the poor and sick all over the world.

He was a wonderful father to his four children, Roger, Timothy, Anthony and Lucille, as well as a grandfather of three and great-grandfather of six. He loved them all dearly. He was a true gentleman who will be sadly missed by all who knew him. He will be mostly missed by his wife Mary to whom he was very happily married for 63 years.

He died in his sleep on September 12 and, at his request, a full Requiem Mass was held last Friday in the Church of the Sacred Heart, Henley, where a large congregation bid farewell to a much-loved friend. May he rest in peace.