Clifton Rugby Football Club History
He was born on the 25th February 1865 in Hampstead, London. The son of the younger son of Henry Halford Vaughan (1811–1885), regius professor of modern history at Oxford, and his wife, Adeline Maria (1837–1881), daughter of John Jackson MD, of the East India Company's service, the leading English physician in Calcutta. He was grandson of the judge Sir John Vaughan (1769–1839), great-nephew of the physician Sir Henry Halford, and first cousin through his mother of H. A. L. Fisher and Sir W. W. Fisher. He was educated at Rugby School, New College, Oxford (1884–8), where he gained seconds in classical moderations and literae humaniores, and the University of Paris.
Above William Wyamar Vaughan.
In 1898 he married Margaret (Madge) Symmonds (1869-4th Nov 1925), daughter of John Addington Symonds (1840-1893); they had two sons and a daughter, Janet Vaughan the physiologist. Margaret died in 1925, but not before she had had a lesbian affair with Vaughan's cousin Virginia Woolf. In 1929 Vaughan married Elizabeth Geldard, daughter of John Geldard, of Settle, at Rathmell Church, Yorkshire. . He was educated at Rugby, New College, Oxford and the University of Paris.
Vaughan was a master of Clifton College 1890-1904 before being appointed Headmaster of Giggleswick School, the first permanent Headmaster not in Holy Orders. He then became Headmaster at Wellington College in 1910 and Rugby School in 1921. He retired in July 1931.
He joined Clifton RFC in 1890-91. He played is several important matches v Taunton 1892, v Bath 1893. He appears in the 1st XV photos, on this site, for 1893, 1893-94,
Back Row (L-R): O.Siepmann, G.Barlow, G.W.Palmer, T.S.Peppin, F.Borwick, H.Clissold, H.M.Ruddock, S.T.Irwin, W.H.S.Laxton, G.H.Clark, P.S.Jeffrey. Middle Row: A.H.Peppin, C.H.St.L.Russell, W.A.Shenstone, H.C.Payne, R.T.Cartea, Rev H.Pentecost, J.E.Pearson, A.T.Martin, W.O.Moberly, W.W.Vaughan, C.H.Spence, R.D.Budworth. Front Row: H.M.Buller, J.H.Fowler, Rev W.Asquith, H.W.Household, R.J.Morich, Rev H.C.Watson, E.H.C.Smith, Michael George Glazebrook (Headmaster), Rev J.H.Wiseman, E.J.Barff, A.W.Targett, M.A.North, Rev P.W.H.Kettlewell.
Above the Masters of Clifton College in 1900, from a photograph by W.Clark, with Vaughan. Also included are ex Clifton RFC players Edward James Barff, Richard Dutton Budworth (Oxford Blue and England International) (started at Clifton RFC 1879-80). Harry Clissold (started at Clifton RFC 1894-95) and William Octavius Moberly (the England International and first Varsity Oxford Captain) (Started at Clifton RFC in 1876-77). M A North (started at Clifton RFC 1891-92). Frank Borwick (started at Clifton RFC in 1891-92).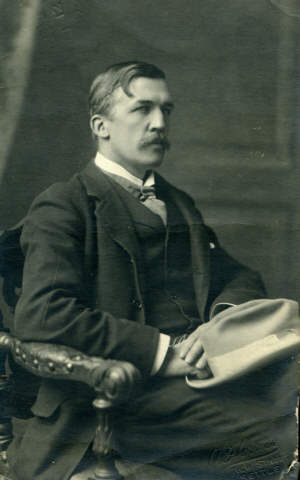 Above William Wyamar Vaughan taken when he was Headmaster at Giggleswick.
He was president of the Modern Language Association in 1915, of the Incorporated Association of Headmasters in 1916, of the Science Masters Association in 1919, and of the educational section of the British Association in 1925, and after his retirement his services were ever in great request on educational bodies. In 1932 he presided over the International Congress of Secondary Teachers and in 1935 he became chairman of the Central Council for School Broadcasting. He also served on the consultative committee of the Board of Education (1920–26), on the government committee for considering the place of science in education, and on the Teachers' Registration Council (1928–32), and he visited the Gold Coast as a member of the advisory committee on education in the colonies.
He fell and broke his leg whilst visiting the Taj Mahal in December 1937, while visiting the Indian Science Congress, resulting in his leg being amputated. He died on the 4th February 1938 at Thomason Hospital, Agra, India.