Clifton Rugby Football Club History

Edward Martin Panter-Downes
Born on 3rd Decmber 1872 Rushford Rectory, Thetford, Norfolk. Clifton College 1885-1890. He trained at Sandhurst, and joined the Royal Irish Regiment.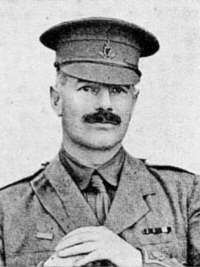 His father was Captain Edward J. Panter-Downes RN.
His sister, Ellen Panter-Downes married Captain Henry S. Dawkins on the 24th September 1889 at ChristChurch, Clifton, Bristol. He was the second son of Clinton Dawkins, Consul-General at Venice, and brother of Sir Horace Dawkins, Clerk of the House of Commons. He became a Brigadier-General.
He joined Clifton RFC in the 1890-91 season. He also played in the first match on the Fishponds ground when Clifton played Taunton on the 24th September 1892. For more click here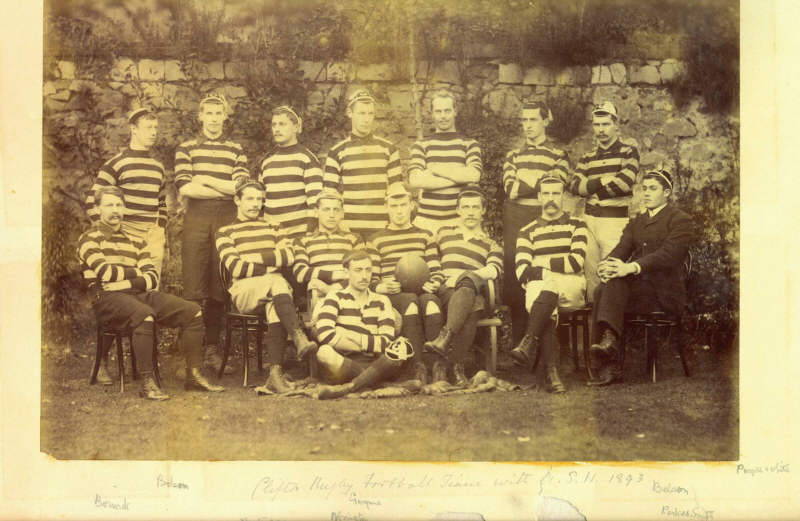 Standing (L-R): ?, Frederick Charles Belson, ? (possibly Claude Wreford-Brown), W.P.Gwynne, ?, T.Jones, B.H.Belson. Sitting: Frank Borwick, Edward Panter-Downes, Henry Lawrence Weekes Norrington, Edward Payne Press, William Wyamar Vaughan, ?, C.Parkes-Smith. On Ground: Albert Stewart Hume
The original of the above photo (titled Clifton Rugby Football Club with A.S.H 1893) is part of the Hume Collection (UQFL10) and is reproduced courtesy of the Fryer Library, University of Queensland, Brisbane, Australia.
Edward played for Clifton v Bristol at Buffalo Bill's Field on the 23rd September 1893, in what is believed to be the first rugby match ever played there. For more on this match click here
In 1893 he lived at 13 Canynge Road, Clifton.
He was gazetted 2nd Lieut. Royal Irish Regiment on the 10th October 1894.
He was promoted Lieutenant on the 2nd September 1897.
He was awarded the Royal Humane Society's Bronze Medal in 1898.
He served in the South Africa from 1899 to 1902.
He was promoted Captain on the 6th September 1901.
He was promoted Brevet Major on the 22nd August 1902.
He married Marie Kathleen Cowley (1868–1950), who was of Irish origin.
His daughter, Mary Patricia (Mollie) Panter-Downes, was born on the 25th August 1906.
He was employed with the West African Frontier Force from the 18th September 1909, being given the rank as Temp-Lieut-Col on the 5th September 1911.
From 1911 to 1914, Edward, a major in the 2nd battalion Royal Irish regiment, was seconded as acting colonel to the Gold Coast regiment. He took his wife with him, leaving Mollie with friends in Brighton; just after their return, in August 1914, he was killed at Mons.
Lt.Col Panter-Downes, CO of the 2nd Royal Irish Regiment died on the 26th August 1914 on the retreat from Mons only 3 weeks after the start of World War 1. He was killed in action at the Battle of Le Cateau. General Smith-Dorrien decided to turn around the retreating BEF forces and make a stand. The greatly fatigued condition of his troops – they had been fighting a retreat for several days by this stage - convinced Smith-Dorrien that psychologically as well as tactically, a fighting stand was appropriate.
Germany artillery began the action at dawn the next day, 26 August, across the eight miles of essentially open ground held by Smith-Dorrien's forces. The barrage continued until noon before German infantry began to advance. Fighting predominantly with rifles fired from shallow trenches prepared hastily (a tactic similarly employed with great success at Mons), the British managed to greatly slow the advance of the German infantry, to the extent that Smith-Dorrien was able to organise a strategic retreat during the late afternoon despite overwhelming odds and in the absence of flank protection.
Above map of the Battle of Le Cateau, 26th August 1914.
Losses however were high on both sides, including 7,812 British casualties. Nevertheless the German forces suffered losses not only in manpower but, crucially, in further delaying their planned advance on Paris.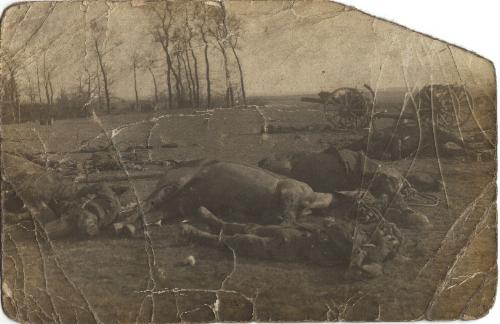 Above the aftermath of the Battle of Le Cateau.
The BEF's Commander-in-Chief, Sir John French, had specifically ordered a continued retreat on the evening of the 25th August and, despite the relative success of the action, resented Smith-Dorrien's decision to fight. An acrimonious argument sprang up between the two men, ultimately leading to Smith-Dorrien's removal from command under the pretext of ill-health.
Unfortunately this order to retire did not reach Panter-Downes. The battalion was cut off. Nearly all who were with him were also kiled.
He is remembered on the La Ferte-Sous-Jouarre Memorial. He is not listed on the Clifton RFC Memorial. It is thought he lost touch with the club.
Above the La Ferte-Sous-Jouarre Memorial
His widow and daughter went on living in different places in Sussex including Brighton (in a flat at 3 Vernon Terrace), and Rudgewick, a village on the Sussex–Surrey border; they subsisted on a small widow's pension and occasional help from relations. Mollie learned early on how to be the breadwinner by writing her first, extremely accomplished novel, The Shoreless Sea, when she was sixteen. A story of doomed love (Deidre and Guy fall innocently in love but when they at last find each other again she has married someone else), its maturity of style astonished the critics. Instalments were published in the Daily Mirror in autumn 1923: contemporaries (such as the writer Elizabeth Jenkins) remembered large advertisements on the side of London buses; subsequently the novel went into eight editions in a year and a half. The Chase (about Charles Standish's life and loves) appeared in 1925. She dedicated the book to " My Darling Daddie Major Edward Martin Panter Downes." She wrote for 50 years for the The New Yorker, for which she wrote a regular 'Letter from London', book reviews and over thirty short stories. She married Aubrey Clare Robinson on St. Paul's, Knightsbridge, London on 12th July 1927.
His sister, Ellen, died on Easter Sunday, April 17th 1938 at Hook, Hampshire. She was buried at Mapledurwell Church, Basingstoke.
In her last months his daughter, Mollie, was looked after at Eastbury Manor, Compton, Surrey, where she died on 22 January 1997. She was cremated, and her ashes were scattered round her writing hut in the woods at Roppeleghs, her house in Surrey between Chiddingfold and Haslemere. Her obituary in the New Yorker described her as 'A strikingly good-looking woman, with a tremendously patrician nose and startling blue eyes'. Mollie Panter-Downes also published two excellent non-fiction works, Ooty Preserved: a Victorian Hill Station in India (1967), an evocation of Anglo-Indian life that explores the same territory as Paul Scott's novel Staying On, and At The Pines: Swinburne and Watts-Dunton in Putney (1971), which describes the poet's thirty years with his devoted friend in their house at 11 Putney Hill; both books were first serialized in the New Yorker. The wartime New Yorker letters were further collected in London War Notes (1972).
Above his daughter, Mollie Panter-Downes.
His name on the Clifton College Memorial Arch.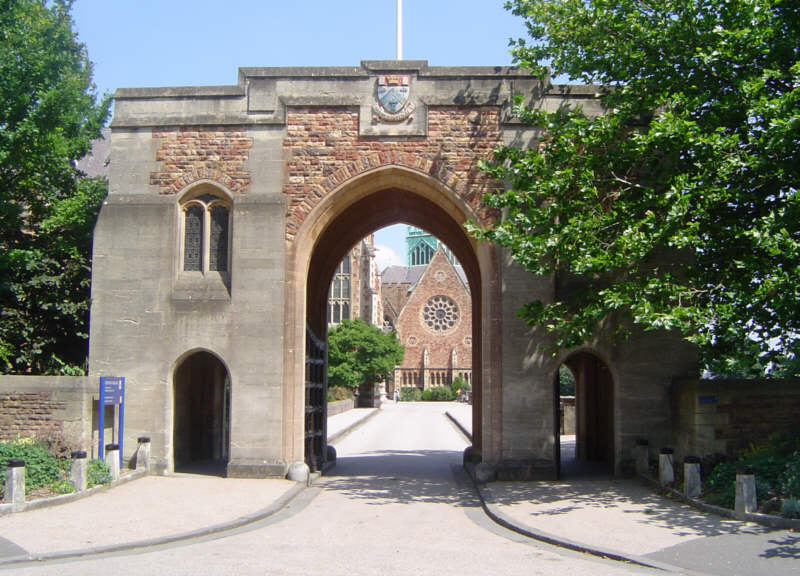 Above the Clifton College Memorial arch at the entrance to Clifton College in 2008.
His name is missing from the Clifton Rugby Club Memorial