Clifton Rugby Football Club History
He was born on the 16th December 1866 in Walthamstow, Essex. He was the son of Alfred Borwick, an Insurance Agent and Underwriter, and Euphemia Borwick (nee Lord). He was the grandson of George Borwick the founder of George Borwick and Sons, a manufacturer of baking and custard powders. His Uncle was Sir Robert Hudson Borwick who became Chairman of family firm of George Borwick and Sons. He was made a Knight Bachelor in 1902 and created a Baronet of Eden Lacy in 1916. In 1922 he was further Honoured when he was raised to the peerage as Baron Borwick of Hawkshead, for providing hospital treatment for the sick and wounded Colonial officers during WW1. He was also a Knight of Grace of the Order of St John of Jerusalem. Frank was educated at Clifton College from 1879-1886 and then Trinity College, Oxford.
Back Row (L-R): G.F.Gerds, G.M.King, F.Borwick. 2nd Row: C.Cuyler, ?bury, A.H.Pott, O.V.Bosanquet. 3rd Row: G.M.West, A.H.Healing, C.G.Wilbraham, H.P.England, A.S.Grylls, N.H.Hobart. 4th Row: E.G.Mayo, D.W.S.Crawford, H.M.Miller, D.F. Wilbrahams. Front Row: F.A.L.Litchem
Above the Clifton College caps of 1884 with Frank Borwick back row.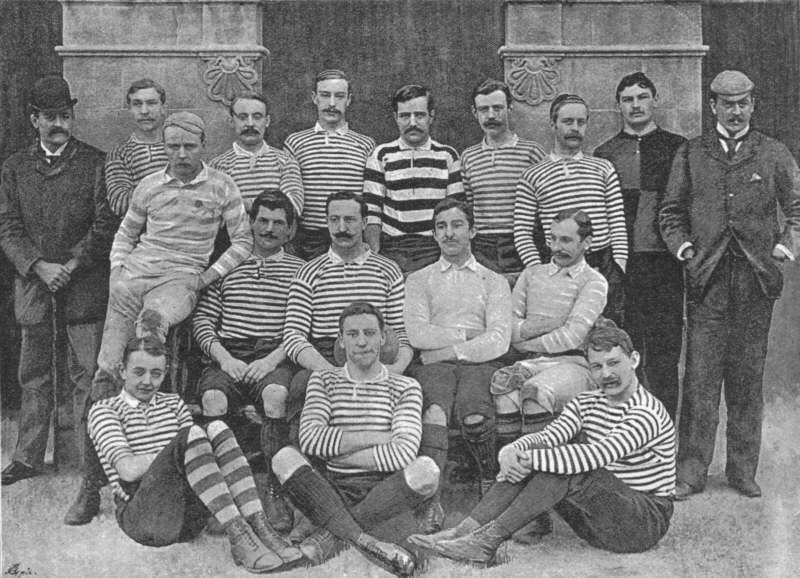 Back Row (L-R): W.G.Clibborn, F.C.Cousins, J.H.Hedderwick, R.O.B.Lane, H.B.Lawrell, T.W.Lockwood, A.Reed, J.H.Mugliston, E.G.Finch. Sitting: A.A.Surtees, A.J.Gould, W.E.MacLagan, L.G.Bonham-Carter, G.C.Lindsay. On Ground: F.Lamont, C.P.Simpson, F.Borwick.
Above the Middlesex side that played Somerset on December 28th 1889 at Weston-super-Mare with Frank Borwick.
He joined Clifton RFC in 1891. He became a Master at Clifton College in 1892 and stayed there until he retired in 1926.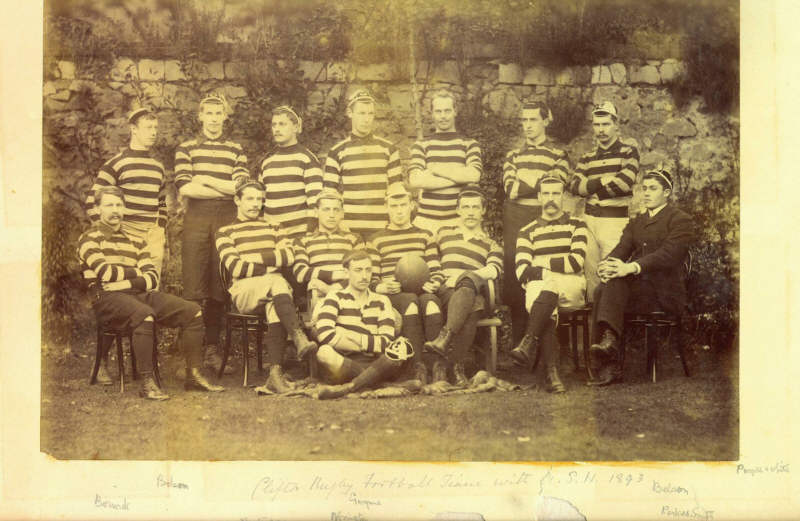 Standing (L-R): ?, Frederick Charles Belson, ? (possibly Claude Wreford-Brown), W.P.Gwynne, ?, T.Jones, B.H.Belson. Sitting: F.Borwick, Edward Panter-Downes, Henry Lawrence Weekes Norrington, Edward Payne Press, William Wyamar Vaughan, Edward James Barff, C.Parkes-Smith. On Ground: Albert Stewart Hume
The original of the above photo (titled Clifton Rugby Football Club with A.S.H 1893) is part of the Hume Collection (UQFL10) and is reproduced courtesy of the Fryer Library, University of Queensland, Brisbane, Australia.
Above Frank Borwick c1900 from the photograph album of Alfred Gardiner courtesy of Nicky Gardiner.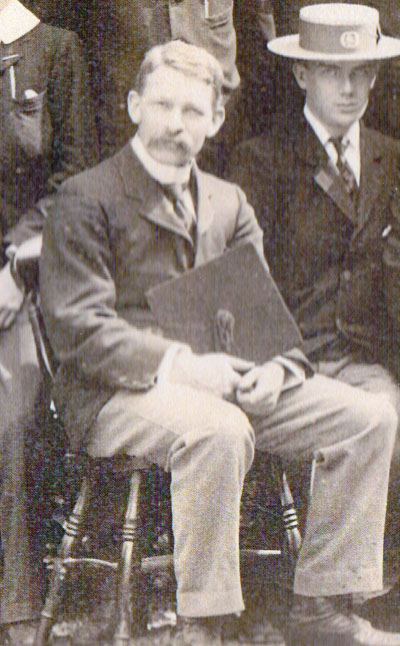 Above Frank Borwick at Clifton College in 1900
He married Margaret Theresa Baker Heslop, daughter of James Mark Heslop, in 1924. They had 2 sons and 2 daughters.
His wife held the office of Justice of the Peace for Devon in 1935.
He died on the 6th December 1945 at the Great House, Colyton, Devon, aged 79. The Great House at Colyton is where the Duke of Monmouth stayed in 1680.
Above the Great House, Colyton. © Copyright Roger Cornfoot
His wife died on the 26th February 1969.