Clifton Rugby Football Club History
He was born on the 11th December 1854 at 20 St. James Street, Devonport. He was baptised by his father Jacob Amandus Eberle a Moravian Minister, at a nearby Moravian Chapel. The chapel and St. James Street was destroyed in the German bombing attacks on Plymouth in World War II. He attended Clifton College from April to December 1864 and then moved to Manilla Hall School, Clifton Down, Bristol run by Dr C. T. Hudson. Amongst his school fellows here were George Alfred and Henry Hubert Wills.
He was a founder of Clifton Rugby Club in 1872 and the 1st Honorary Member.
Above a photograph of Alderman James Fuller Eberle.
Above his father, Jacob Amandus Eberle, a Moravian Minister. He was born at the Moravian mission station at New Herrnhut, Greenland on the 5th January 1818 and spent the first twelve years of his life there. His family were originally from Germany. He first came to England in 1840. He married Hannah Louise Fuller in Bristol in 1850.
Above the Moravian Church in Kingswood where Jacob Amandus Eberle was Deputy of the Congregation and Elder's Conference.
After leaving school James joined his uncle John Fuller's coach building business. The business was originally based in Bath but moved Limekiln Lane (now renamed St. George's Road) in Bristol.
Above the Fuller Coachworks in Limekiln Lane (now renamed St. George's Road), Bristol, which was just to the west of the present day Council House and College Green.
Above the Wheelright's Shop inside the Fuller Coachworks.
In 1880 James Fuller Eberle married Florence Mary Strachan at the Moravian Church in Upper Maudlin Street, Bristol. She was the sister of Richard Ellison Strachan, another founder of Clifton Rugby Club, and sister of Charles Strachan, the first captain of Clifton.
He was a member of the Chamber of Commerce but resigned in 1886 when he was elected on to Bristol City Council as a Conservative councillor for St. Augustine ward.
Address listed in 1887 Clifton College Register as 96 Pembroke Road, Clifton.
Above 96 Pembroke Road, Clifton
In the 1912 Clifton College Register he had moved to 110 Pembroke Road, Clifton.
Above a painting of James Fuller Eberle.
He had the nickname of Bongie, which his granddaughter, Molly, named him when she was 18 months old.
He was awarded the Order of the Russian Red Cross in 1918 in recognition of the valuable services that he rendered as treasurer of a fund for which over £1200 was raised.
He was awarded an OBE in 1919 for his work as Chairman of the Bristol Recruiting Committee and his work on behalf of the sick and wounded servicemen.
Above the Eberle family in 1935. James Fuller Eberle centre. The 3 Clifton RFC players Victor Eberle (extreme right) click here, Ellison Eberle (3rd right) click here and George Eberle (5th right) click here with there wives and children.
Above James Fuller Eberle is made a Freeman of the City of Bristol in 1938.
He saved The Red Lodge from demolition and gave it to the City of Bristol.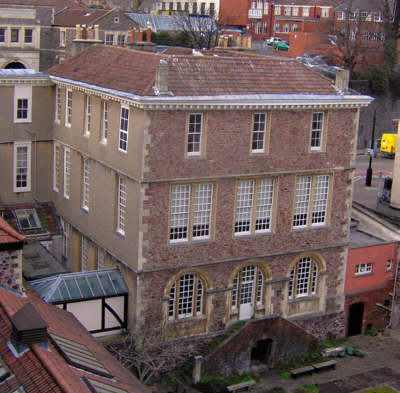 Above The Red Lodge, Bristol He died on 21st April 1939 at 110 Pembroke Road, Clifton. His Memorial Service was held at Emmanuel Church, Clifton on the 25th April 1939. He was buried at Canford Cemetery, Bristol. His Obituary appeared in The Times on the 3rd May 1939 and said
ALDERMAN J. F. EBERLE
Alderman James Fuller Eberle who has died in his eighty-fifth year at Clifton, was the father of Bristol Town Council. Born at Devonport and educated at Clifton College he became head of the firm of John Fuller and Company, coach builders, and was president of the Institute of Carriage Manufacturers in 1904. Later he was made Master of the Coach Makers Company of London. Entering the town council in 1886 he retained his seat to the time of his death. He repeatedly declined nomination for the Lord Mayoralty, but until his health failed he gave ungrudingly assistance to that office, and particulary in connexion with important civic functions. The honorary freedom of the city was conferred upon him a few years ago. During the long period he was chairman of the Museum and Art Gallery Committee he enriched the treasures of both institutions by generous gifts. He was also instrumental in securing for the city The Red Lodge, the last of its sixteenth-century mansions. These duties, together with those he discharged as treasurer of the Bristol Crimea and Indian Mutiny Veterans Association, brought him in close contact with many distinguished people throughout the country. During the War, while his three sons were serving overseas he was chairman of the Executive of Bristol Recruiting Committee, and was active in providing entertaintments for wounded and sick inmates of local hospitals. He possessed a wonderful collection of Bristoliana and War Medals, a set of the latter relating to the Gloucestershire Regiment and The Somerset Light Infantry were among his many gifts to the Bristol Art Gallery.