Clifton Rugby Football Club History
He was born at Brandeston, Suffolk, 15th April 1856.

The son of the Rev. Joseph Greene, of Clifton, he was educated at Clifton College, where he was a member of the cricket eleven. He went up to Exeter College, Oxford, where he played cricket for the University 1877-80, being captain in 1880. He played in 40 first-class matches, including 21 for Gloucestershire. He also played rugby for the county. In 1905 he was living at 3 Albert Road, Clifton and by 1925 at St Martin's Rectory, Canterbury, Kent.
At the time of the 1881 Census he was living at Rostrevor Road, Clifton, with his father, Joseph aged 56 born in Ireland a Clergyman, Church of England, "without cure of souls," and his mother Olivia aged 60 also born in Ireland. His sister Evelina D. is aged 28, born at Halton, Buckinghamshire, his elder brother Charles D. is aged 26, born in Ireland, he is aged 24, an undergraduate of Oxford, as is his younger brother, Walter L., aged 20, born at Butley, Derbyshire. There are four domestic servants.
The first match he played for Gloucestershire was on 14th August 1876 v Nottinghamshire at Clifton College. The Gloucestershire side included 5 Clifton RFC players James Arthur Bush, Robert Edwin Bush, William Octavius Moberly, Edmund Judkin Taylor and Alan Greene.

Above Oxford Cricket XI 1877. Alan Greene top right. Oxford won the 1877 Varsity match by 10 wickets.
Back Row (L-R): H.R.Webbe, J.H.Savory, A.N.Heath, G.S.Marriott, C.W.M.Kemp. Front Row: A.D.Greene, R.L.Knight, A.P.Wickham, A.J.Webbe, A.H.Evans, E.T.Hirst.
Above Oxford Cricket XI 1878. In the 1878 Varsity Cricket match Alan Greene top scored for Oxford in their 1st innings with 35. Cambridge won by 238 runs.
Above Oxford Cricket XI 1879. Alan Greene top. Cambridge won the 1879 Varsity match by 9 wickets.
Above Oxford Cricket XI 1880. Alan Greene captain in centre. Cambridge won the 1880 Varsity match by 115 runs.
Alan Greene's cricket averages were
FIRST-CLASS (1879 - 1886) Alan Douglas Greene

M

I

NO

Runs

HS

Ave

100

50

Ct

St

Batting & Fielding

40

69

6

661

93*

10.49

0

1

24

Balls

M

R

W

Ave

BBI

5

10

SR

Econ

Bowling

124

4

55

1

1-34

55.00

0

0

124.00

2.66
His last match for Gloucestershire was on 10th June 1886 against Middlesex at Lords
Back Row (L-R): W.I.Pocock, G.Dester, H.L.Evans, W.R.Booker, J.Nichols, G.Dunn, J.P.Bush, E.D.Evans, E.Leonard, H.W.Peck, W.Strachan, J.C.Gilmore. Sitting: E.W.Ball, A.D.Greene (Captain), J.D.Miller.
Above Clifton XV of 1881-82 with captain Alan Douglas Greene.
On February 5th 1881 a Gloucestershire rugby XV lost to Oxford University. The Gloucestershire side comprised 8 Clifton RFC players including Alan Greene.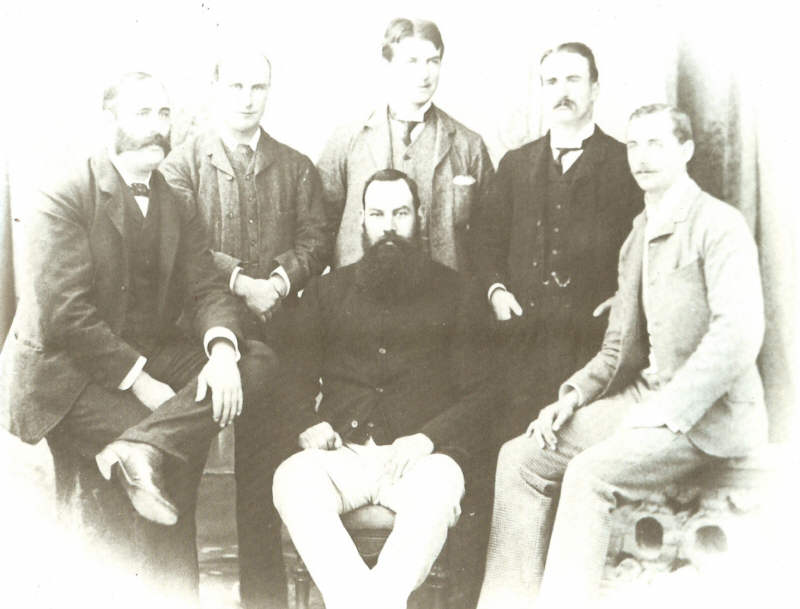 Above (L-R) Back Row: J.A.Bush, A.D.Greene, H.Hale, D.D.Radcliffe, G.Francis. Front: W.G.Grace.
Above Gloucestershire Cricket Amateurs 1886. For more on J.A.Bush click here
He died at Calverley, Tunbridge Wells, Kent, 18th June 1928.
His obituary appeared in The Times on 20th June 1928 and said
GREENE.-On June 15th, 1928, at Arlington House, Tunbridge Wells, after a long illness, most patiently borne. ALAN DOUGLAS GREENE, eldest surviving son of the late Rev. Joseph Greene, and Mrs Greene of Clifton, aged 72 years. R.I.P.
Above the grave of Alan Greene at Tunbridge Wells Cemetary, Kent