Clifton Rugby Football Club History
He was born on 18th April 1889 in Bristol, the only son of Sidney Benjamin Witchell, a Farmer (Little Stoke Farm) in Stoke Gifford, and Emma (nee Willcox). His parents were first cousins. He was christened on 22nd May 1889 St. Michael's Church, Stoke Gifford, Glos. His father died in 1895 when he was only 6 years old.
The Witchells came to Stoke Gifford from the area around Yatton Kennell in Wiltshire, probably in the early 1800s. Their main family home in Stoke Gifford was Field Farm, where Richard Sidney Wichell's father, Sidney Benjamin Witchell, was born.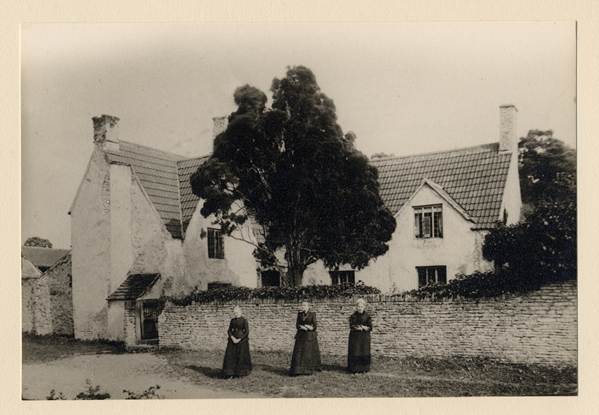 Field Farm in 1880. Mary Witchell (nee Willcox), Richard Sidney Witchell's grandmother, is probably one of the three women.
Sidney's mother was Mary Willcox, who married Richard Bennett Witchell on 2nd September 1829 at St. Michael's Church, Stoke Gifford. Mary was born in Butcombe, Somerset to William and Hannah Willcox, who, in 1816, took over the tenancy of Little Stoke Farm. William died in 1819 and was buried near Butcombe, in the churchyard at Winford. Hannah, often known as 'Widow Wilcox' continued to manage the farm at Little Stoke until her death in 1852. Her son Benjamin Willcox continued to farm the land until his death in 1890. Benjamin never married, enabling Sidney Witchell, Benjamin Willcox's nephew, and his wife Emma, Benjamin Willcox's niece, to take over the tenancy of the farm later in 1890. Previously they were tenant farmers at Bailey's Court Farm for over 20 years. Bailey's Court farmhouse survives to the present as a pub in Bradley Stoke. While at Bailey's Court Farm, Sidney and Emma had two children; Jane (later known as 'Birdie') born 6 August 1886, and Richard Sidney, on 18 April 1889. Their tenure at Little Stoke ended after only five years, with the death of Sidney, aged 67. Emma and her two children moved into Bristol, living in Redland.
Richard and his sister 'Birdie' Witchell, about 1895. Image courtesy of Martin Davis
Above Emma (Richards mother) wife of Sidney Witchell. Image courtesy of Martin Davis
The Stoke Gifford Estate, including the Witchell's farm, Little Stoke Farm, was owned by the Duke of Beaufort. Following Sidney Witchell's death in 1895, the tenancy passed to Emma's nephew Edward Davis and his new bride, Margaret (nee Harding). The whole estate was sold on 4th November 1915. Little Stoke Farm was the largest in the Parish, comprising over 530 acres. The farm continued to function until the 1960; the buildings were then demolished for modern housing. Only 2 red brick cottages in Little Stoke Lane remain of the farm. A photograph, taken in 1892 and reproduced below, shows Emma Witchell and her two children, outside the farmhouse at Little Stoke.
Little Stoke Farm in 1892, with Emma Witchell and her two children
Little Stoke Farm in 1958
Above a map of Little Stoke Farm, near Patchway Station. Image from the 1915 sale map
He was educated at Clifton College from 1901 until 1906 and joined Clifton Rugby Club in 1907-08 and was a regular in the 1st XV up until the start of World War 1. He was on the Committee from 1909-13 and Vice-Captain of the 1st XV in 1913-14.
Above Richard Witchell in the 1910-11 1st XV.
His interest in racing began before World War 1. In 1914 he came 4th in the V Tourist Trophy, driving 965km in 11 hours 22 minutes and 50 seconds driving a Straker-Squire. His car was designed by former Clifton College and fellow Clifton player Roy Fedden. The race stills runs and is now known as the RAC Tourist Trophy and is the longest lasting trophy in motorsports.
He became an Engineer and joined the Royal Engineers and was a Captain in the Royal Flying Corp during World War 1.
His friend at Clifton College was Walter Owen Bentley (Clifton College 1902-1905). He was known as W.O. and was the founder and Managing Director of Bentley Motors from 1919.
Witchell became the Racing Manager of W.O. during the late 1920s when W.O's 3 Litre won the 24 hours of Le Mans in 1924 and following models repeated this each June 1927, 1928, 1929 and 1930. His motto was, "To build a good car, a fast car, the best in class."
He married Frances Majorie Cullen in Nottingham in 1920. She died in Harrow in 1952. They had 2 children. His son, Richard John Witchell, also attended Clifton College (1933-40) and became a Civil Engineer.
In 1932 he worked for the E.N.V. Engineering Company in Willesden, north London. The company concentrated on making gears and axles.
His son recalled that his father did not talk much about the past preferring to concentrate on the future. When asked to an old Bentley re-union he remarked to me that he could not understand the fuss about old Bentleys saying the Morris Minor was a far better car.
Above Richard Witchell in later years
Richard Sidney Witchell died on 2nd September 1975 in Harrow-on-the-Hill, Middlesex.
Two books on the history of Little Stoke Farm have been published
A Ring of Rooks – Stories from Little Stoke Farm by Sharon Ubank. Published 2001.
The Farmer and the Goose with the Golden Eyes - A history of Little Stoke Farm by Martin Davis. Published by Redcliffe Press 2009. The Davis book concentrates on the story of the farm after the Witchells when it was taken over by the Davis family. Howard Davis was a founder of Slimbridge Nature Reserve.
Thank you to
Adrian Kerton (Histories of Stoke Gifford) http://www.sbarch.org.uk/ and his son John Witchell