Clifton Rugby Football Club History
He was born on the 17th November 1853 in Bristol. He was christened on the 12th April 1854. He was the son of Accountant John Curtis of Bristol. His father was a partner in the firm Curtis Jenkins & Co., Exchange Buildings, Bristol. His mother was Elizabeth Curtis (nee Williams). She was one of eight children born to Michael and Elizabeth Williams of Penponds, Trevarth near Gwennap in Cornwall. The family moved to Swansea c1827 and two of her brothers - Michael Martyn Williams and William set up the Ynysmeudwy Pottery in the Swansea Valley C1845. Elizabeth lived at Ynysmeudwy House in the late 1840's and is recorded marrying John Curtis Snr in May 1849. They had three children - John, Michael Martyn and Elizabeth.
He was educated at Malvern College from the summer term 1868 to the Lent term 1871. He was in House Number 1 (one of just five Houses in the College in the late 1860s). His Housemaster was the Rev'd C. McDowall. There is record in the School magazine, The Malvernian, of him winning a Classical Prize (the Lord Beauchamp Prize) in 1871. He was in the College football XI in his final year.
He played for the 1869 Clifton Club and was one of the signatories that founded Clifton Rugby Club in 1872.
In 1871 the Curtis family lived at 101 Whiteladies Road, Clifton.
Above 101 Whiteladies Road, Clifton. The shop front extensions did not exit in 1872.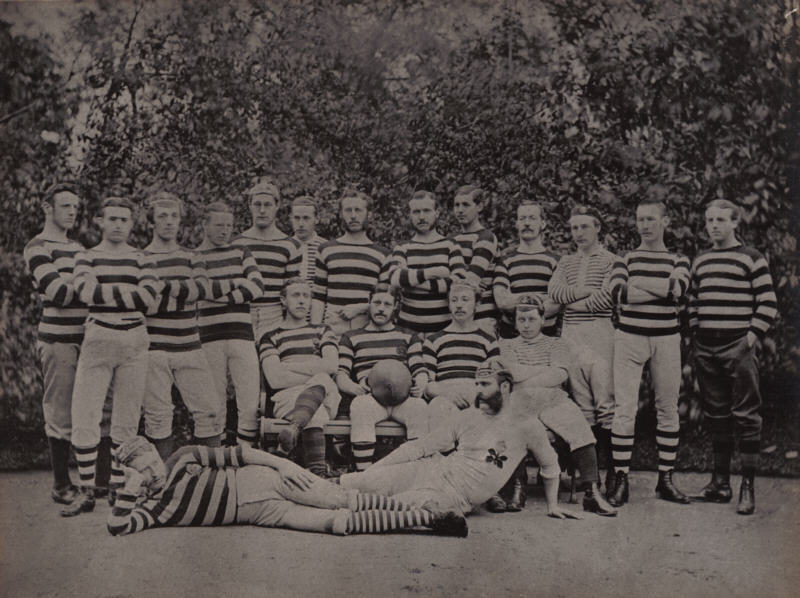 Back Row (L-R): E.P.Warren, H.Nash, W.Fairbanks, E.Phillips, W.Strachan, E.J.Taylor, W.S.Paul, W.R.Webb, J.H.Dunn, J.Curtis, M.Curtis, F.Morris, J.G.Thomson. Middle Row: R.E.Bush, C.Strachan, A.C.St.Paul, J.D.Miller. In Front: W.R.Gribble, J.A.Bush.
Above the 1875-1876 Clifton 1st XV with Michael Curtis and his brother John.
He played for The South in the 1875 England Trial at Whalley Range, Manchester. The 1909 and 1922 History of Clifton Rugby Club books say that he played for England in 1876-77 and the 1972 book says he played for Wales in 1876-77. However there is no record of this happening and Wales did not have an International Rugby side until 1881.
By 1881, they had moved to an imposing residence at Cambridge Park, Durdham Down, Westbury on Trym. John, by then aged 78 still listed his occupation as "Chartered accountant" with Elizabeth's age given as 62. Also present were daughter Elizabeth, 29 and still unmarried, John "Son and Visitor" together with his wife Beatrice, and 3 servants one of whom - Jane Pierce - having been with the family for 30 years. The family is still there in the 1891 Census.
He is recorded as being an inmate in the Brislington House Asylum in the 1891 with mania. Mania is a severe medical condition characterized by extremely elevated mood, energy, and unusual thought patterns.
His mother, Elizabeth, died in 1893 aged 75.
His father,John, died in late 1894 aged 85.
In the 1911 census Michael Martyn Curtis is listed as living at 7 The Grange, Westbury-on-Trym, Bristol.
In the 1914 Election Register for Westbury-on-Trym, Bristol, Michael Martyn Curtis is listed as living at 7 The Grange, Westbury-on-Trym, Bristol.
He died on the 23rd November 1924, aged 71 years.