Clifton Rugby Football Club History
Born on 16th December 1879 in Clifton, Bristol. Educated at Clifton College from 1890-98. Kings College, Cambridge. His brother was the Clifton RFC player Rt. Hon. Sir Thomas Walker Hobart Inskip click here
He was a Solicitor.
He joined Clifton Rugby Club in 1901.
Above John Hampden Inskip from the 1902 Clifton XV photo.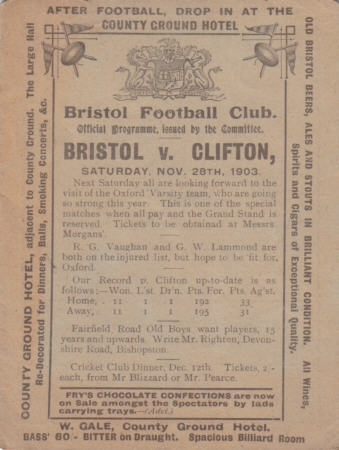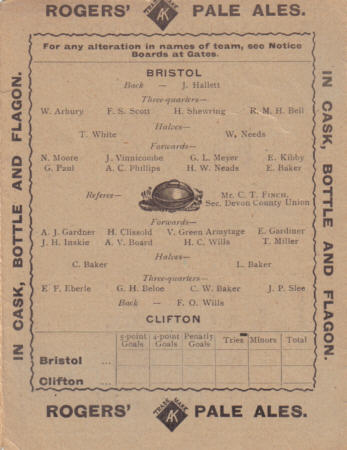 Above programme cover and teamsheet from the Bristol v Clifton match played on 28th November 1903. Bristol won 3-0. James Inskip in the Clifton side.
He married Hon. Janet Maclay, daughter of Sir Joseph Paton Maclay, 1st Baron Maclay. The marriage took place at the brides home, Duchal, Kailmacolm, Renfrewshire on 18th April 1923.
He fought in the First World War. He gained the rank of Lieutenant in the service of the Royal Flying Corps and Royal Air Force. He was a director of Western Newspapers and Bristol Utd Press. He held the office of Lord Mayor of Bristol in 1931. He held the office of Alderman of Bristol in 1932. He was invested as a Knight Commander, Order of the British Empire (K.B.E.) in 1937.
He lived at The Chantry, Abbotts Leigh.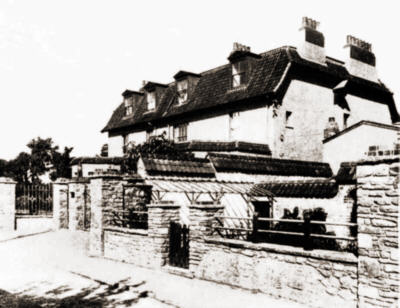 Above The Chantry, Abbotts Leigh. This house was home to the Savory family. The son, James Henry Savory, played for Clifton RFC from 1908.
Above Alderman Sir John Inskip unveils a plaque on the 8th June 1949 at The Court House in Fishponds. This was to show where it is alledged that Oliver Cromwell held a Council of War during the English Civil War.
He died on 8th April, 1960. His Obituray appeared in The Times on 9th April 1960 and said
SIR JOHN INSKIP
Sir John Inskip, K.B.E., who died yesterday at Abbot's Leigh at the age of 80, was a member of the well-known Bristol family and the brother of the 1st Viscount Caldecte, P.C., Lord Chief Justice from 1940 to 1946, and the Right Reverend James Theodore Inskip, D.D., Suffragan Bishop of Barking from 1919 to 1948.
John Hampden Inskip was bord on December 16, 1879, the son of the late James Inskip, solicitor, of Clifton Park House, Clifton. Like his brother Lord Caldecote, he was educated at Clifton College, and at King's College, Cambridge. His brother, the Bishop, also went to Clifton, but was at Corpus, Cambridge. He went to King's in September, 1898, and took his B.A. degree in 1902. Like his father he became a solicitor.
A man of substance, of ability and wisdom he was an outstanding figure in Bristol public life, a "city father" of the best type. Certainly he served his native city well: first elected to the city council in 1916 he was a prominent in its counsels for many years, led the Citizen Party, was elected Alderman, and in 1931 was chosen to be Lord Mayor. In 1937 he was made K.B.E. He was former chairman of the local Conservative and Unionist Association. He served in the R.F.C. and R.A.F. in the First World War and aviation remained throughout his life one of his special interests; for 40 years, from 1913 to 1953, he was secretary and solicitor of the United Kingdom Pilots' Association. He was a director of Western Newspapers and of Bristol United Press.
Inskip married in 1923 the Honourable Janet Maclay, second daughter of the first Baron Maclay, P.C. There were two sons and three daughters of the marriage.
His Will was disclosed in The Times on June 16th 1960. He left £71,643 Gross.
His wife died on 4th April 1974.
His son, also John Hampden Inskip, went on to become a barrister and was the QC for the prosecution against the M5 Rapist, John Richard Gerald Lambe, in 1981.