Clifton Rugby Football Club History
Manley Angell James born on 12th July 1896 in Odiham, Hampshire, son of Dr John Angell James and Emily Cormell James. He joined Clifton in 1919.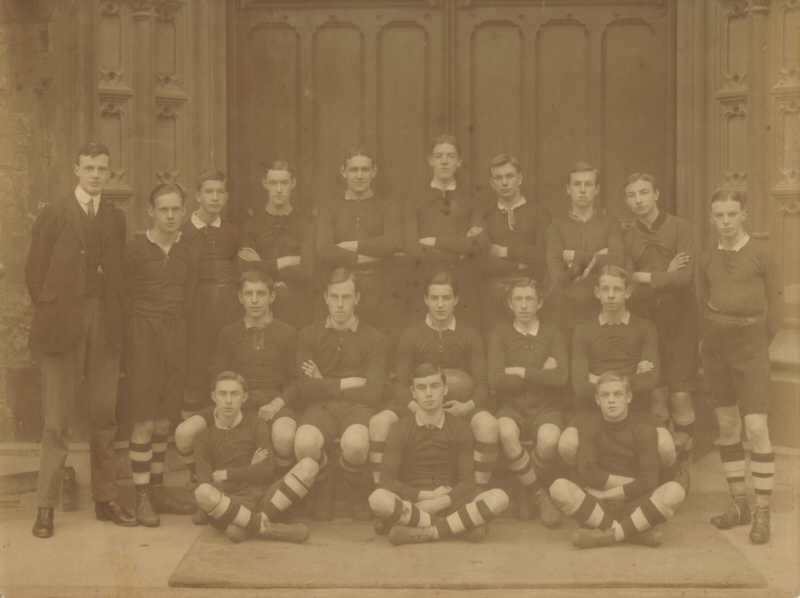 Back Row (L-R): C.S.Lewis (Lineman), C.W.N.Raymond, A.C.George, D.E.Dempster, R.J.T.Campbell, K.E.Church, A.F.Joll, D.L.Gough, F.R.Alderwick, H.Wadlow. Midlle Row: R.M.H.Newbery, H.W.Hitchcock, R.C.Hitchcock, R.C.Werrett-Pickles (Captain), J.A.Holdsworth, M.A.James. On Ground: A.W.B.Winter, A.D.Skeel, B.S.Chantrill.
Above 1912 Bristol Grammar School Rugby XV with Manley James and Bunny Chantrill. The BGS captain Reginald Clarence Werrett Pickles went on to play for Bristol, Gloucestershire and gained 2 England caps in 1922.
Manley Angell James was 21 years old and a temporary captain in the 8th (S) Bn., The Gloucestershire Regiment, when he earned his Victoria Cross.
On March 21st 1918, Captain James and his company were involved in fighting near Velu Wood in Northern France, and on that day captured 27 German prisoners and two machine guns. Captain James was wounded but he refused to be evacuated from his company and he helped repulse three enemy attacks the next day. Although the Germans eventually broke through, the company made a determined stand and gained valuable time for the withdrawal of their guns.
Wanting to buy more time for the brigade to escape, Captain James led his company in a fierce counter attack and was again wouded.
Single-handedly, he took control of a machine gun and kept the enemy at bay until he was wounded again for a third time and eventually captured. He spent the rest of the war in a POW camp.
Above Captain Manley James from the Bristol Chronicle shorty after he received his VC
He was invested with the Victoria Cross by King George V on 22nd February 1919 at Buckingham Palace.
Bristol Evening News Tuesday September 18 th 1917
Captain M. A. James Photo.
For conspicuous gallantry and devotion to duty previous to an attack, he took up a forward position under a heavy hostile barrage in order to obtain accurate information as to the progress of our advance. He afterwards went forward and assisted in the consolidation, as well as in the capture of a strongpoint and, having rallied the supports when they were disorganised by hostile fire, he led them to their position. He then made a very daring personal reconnaissance of the whole line under heavy shelling and rifle fire that he might send back a report to his battalion commander, and his total disregard for danger and brilliant initiative throughout the action were largely responsible for it's success. Captain James, who receives the MC, is the son of Dr Angell James of Nevelle Road, Bishopston. He was educated at Bristol Grammar School and with his father played for the Bohemian Cricket Club.
Excerpts from the book 'Bristol and the Great War'
Gloucester 8th Battalion. Captain Manley Angell James
In January 1917 they were in the line at Hebuterne and afterwards took part in following up the Boche retreat at Serre. Back again at Wytschaete they were on June 7th, attacking in the centre of the 2nd Army Corps, which went forward immediately after the explosion of 19 enormous mines laid by the British under the Messines Ridge. The Gloucesters went triumphantly through to the final objective and the 57th Brigade of which they were a unit, captured the village and wood of Oosttaverne, consolidating the position with complete success. The prisoners taken on this occasion included a German brigadier and his staff.
On July 12th, after another battalion had failed to capture Druid's Farm, a strong locality near Junction Buildings, the Gloucesters attacked on a wide front and were completely successful. For the capture of this strongpoint and for repulsing a counter-attack on July 28th "A" Company (commanded by Captain M. Angell James MC) were awarded the right to wear the Divisional butterfly on their service dress.
On September 20th the division were again allotted a task in another of the advances in the long drawn-out Third Battle of Ypres. The objective of the main attack was the Passchendaele Ridge and the division who were on the extreme right achieved all the objectives allotted to them, the Gloucesters capturing Belgium Wood. On December 6th the division entrained for the south at very short notice to reinforce the CambraI salient. The Gloucesters took over trenches at Ribecourt and were in line for 78 days, with only 6 days rest.
Beaumetz-Doignies road captured and held. The 57th Brigade put up a most determined fight around Beaumetz before withdrawing. The fact that they were able to withdraw at all was due to the heroism of the small isolated covering parties who were left out to cover the withdrawal. In two known instances these parties fought to the last man. One was a party of Gloucesters commanded by Captain M. Angell James MC who, wounded and unconscious, was found in a shell hole by the Germans. He was awarded the VC and at the close of war returned from captivity in Germany to his home in Bristol.
Like many other wartime officers Captain James found himself discharged in 1919 against his wishes and after considerable representation Captain James was one of only two wartime officers granted a regular commission.
Back Row (L-R): E.Seymour-Bell (Hon.Asst.Sec.), M.A.James, W.F.Gaisford, B.Whitelaw, J.P.Hitchings, E.S.Bromhead, K.O.Bathgate, G.V.Gibbs (Hon.Sec.). Middle Row: H.Pyrke, M.Durant, E.C.Ball, A.B.Sellman (Captain), J.H.Savory, A.N.Carruthers. Front Row: H.H.Apted, V.E.Rogers, M.E.K.Westlake, E.C.Evans.
Above Clifton XV of 1919-20 with M.A.James
Back Row (L-R): R.B.Tapp, V.E.Rogers, M.Durant, T.N.Bowerbank, E.S.Bromhead, E.G.Everett, L.J.W.Ewens, E.Seymour-Bell (Hon Sec). Seated: J.P.Hitchings, M.A.James, M.E.K.Westlake, E.C.Ball, B.Whitelaw. On Ground: L.C.Waters, F.V.Griffiths, E.C.Evans.
Above the Clifton XV 1920-21, taken at the commencement of the season. Manley Angell James is the only Clifton player to receive the Vicotoria Cross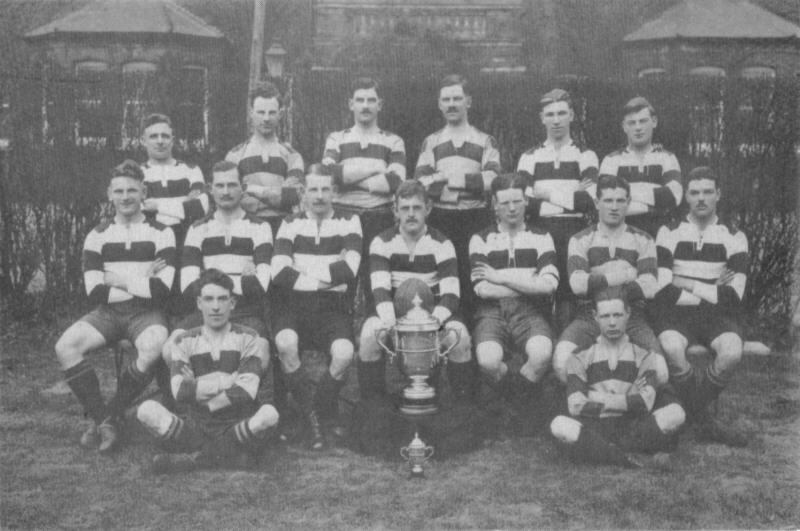 Above the 28th Regiment Rugby Football Team. Winners of the Aldershot Cup, 1925-26. Seated third from left is Captain M.A.James, who won the Victoria Cross in the First World War. In the back row (fourth from left) is Second-Lieutenant J.P.Calne who was to be awarded the VC twenty-five years later in Korea.
In 1928 he married Noreen Cooper. They had one son.
Back Row (L-R): 2Lt.G.L.Baker, 2Lt.G.P.Wethered, 2Lt.E.B.Cottingham, 2Lt.E.Greenway, 2Lt.R.Williams, 2Lt.F.Greenway, Lt.W.G.V.Vyner-Ellis, Lt.C.J.H.Lucy, Capt.J.E.Chamberlain, Lt.H.C.Gettings, Lt.(QM)S.J.Griffin. 1st Row: Lt.P.D.Hamilton, 2Lt.K.G.Merritt, 2Lt.C.Smith-Cox, Lt.G.V.Rockett, 2Lt.A.A.Scott. Lt.D.B.Forbes, Lt.R.S.Butler, 2Lt.C.H.Kinnersley, Lt.T.B.Young. 2nd Row: Capt.H.S.Grant, Capt.D.I.Gotch MC, 2Lt.J.Fraser, 2Lt.C.A.Parker, Lt.C.R.Reynolds, Lt.F.W.Priestley, Capt.B.V.J.Vigrass, Capt.C.E.K.Bagot MC, Capt.M.A.James VC MC, Capt.A.Seldon MC, Capt.F.J.M.Cook, Capt.D.Calvert-Fisher, Capt.Hon.W.R.S.Bathhurst, 2Lt.J.R.Walron. 3rd Row: Lt.R.G.Brownrigg, Capt.P.W.Jayne, Capt.V.E.G.Stevens, Capt.R.C,Emett, Capt.D.T.Newton, Capt.S.G.C.MacWatters, Lt.C.Asplin, Capt.G.W.V.Ladds, Lt.R.C.Brooks, Lt.L.A.Olive, Lt.(QM)F.Sharpe, Lt.B.E.R.Morton, Lt.C.W.A.Bath, 2Lt.A.E.Wilkinson, Lt.T.V.Grazebrook, 2Lt.J.Taylor. 4th Row: Lt.(QM)E.Warrick, Capt.R.M.Grazebrook OBE MC, Maj.W.S.Gange, Maj.L.H.Cox MC, May.G.N.Nicklin, Maj.H.N.Vinen DSO, Lt.Col.C.MacFie DSO, Lt.Col.R.L.Beasley DSO, Lt.Gen.Sir.F.C.Shaw KCB, Lt.Col.A.L.W.Newth DSO MC, Lt.Col.H.Calvert-Fisher, Maj.J.W.Wright MC, Maj.E.N.Gardner MC, Maj.F.H.McL.Young, Maj.Hon.N.F.Somerset DSO Mc, Maj.D.W.Ware, Capt.J.A.Kitching. On Ground: Capt.F.C.Gibaud, Capt.L.A.Powell MC, 2Lt.E.A.Denning, Lt.A.D.Waller, 2Lt.L.E.Chamberlain,2Lt.H.G.Mason, 2Lt.J.F.Durie, 2Lt.Kinsey.
Above The Gloucestershire Regiment, 2nd Battalion and all three Territorial Battalions on Summer Camp at Windmill Hill Camp, Salisbury Plain in 1930 with Manley Angell James.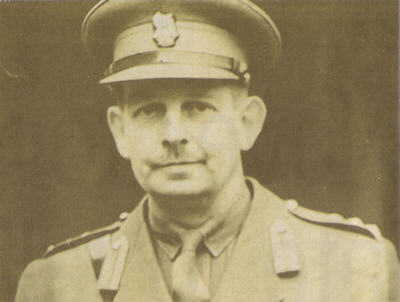 In 1940 he was a General Staff Officer 1 54th Division. He was promoted to Brigadier General Staff VIII Corps in 1940 . Between 1941 and 1943 he was Commanding Officer 128th Brigade in North Africa. In 1944 Commanding Officer 140th Brigade. From 1948-51 he was Director of Ground Defence at the Air Ministry. He retired in 1951.
He received the DSO, MBE and Military Cross.
He died in Westbury-on-Trym on 23rd September 1975, aged 79, and was cremated at Canford Cemetry.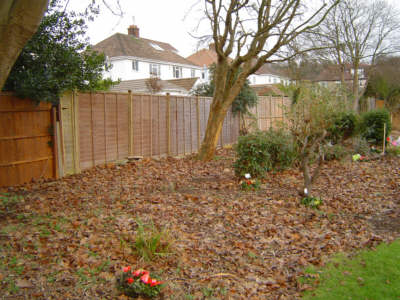 Above SH12 area at Canford Cemetery where Manley Angell James's ashes were scattered.
Above map of Canford Cemetery with the position of where James's ashes were scattered.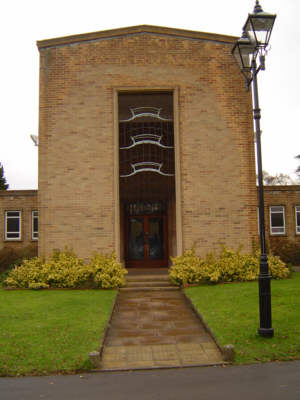 Above Canford Crematorium. Opened in 1956.
His obituary appeared in The Times on 26th September 1975 and said
His medals were sold at auction on 21st October 1991 for £37,400
For a list of his medals and career see unithistories