Clifton Rugby Football Club History
Born in 1893 in Bristol. The son of Arthur J. Carruthers, Commercial Traveller and Ellen M (nee ?).
He married Constance Hellen Chater at St. George's, Hanover Square, Middlesex in 1918.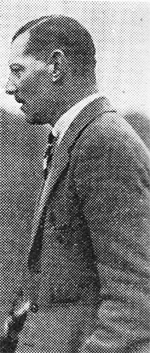 Above Arthur Norman Carruthers (image courtesy of Roy Hough)
Back Row (L-R): E.Seymour-Bell, G.Hasler, W.F.Gaisford, E.C.Ball, T.N.Bowerbank, E.G.Everett, J.Dommett, R.D.Just. Middle Row: G.Ellis, T.D.Lewis, A.N.Carruthers, Mr.H.W.Beloe, F.M.Arkle, B.S.Chantrill, J.L.W.Ewens. Front Row: J.Bromhead, J.P.Hitchings, L.C.Waters.
Above the Clifton XV towards the end of the 1920-21 season.
He died 26th July 1939 4 Downs Road, Westbury-on-Trym, Bristol.