Clifton Rugby Football Club History
Born 1895 Bristol. Mother Kate Eden MOWER (b. c.1866 Creech/West Chinnock) m: 1892 Calne WIL Edwin Henry BELL (b. c.1867 d. 1897 Bristol). His grandfather was the photographer Henry Mower, born at Calne, Wiltshire in about 1831, son of a confectioner Thomas Mower and his wife Mary. His grandfather appears to have had at least nine children between 1859 and 1876, from separate liaisons with two sisters, Sarah Jane Eden (1839-1901) and Elizabeth Eden (1841-1895), from Devizes, Wiltshire. Henry eventually married Sarah Jane at Bristol in 1875.
Edwin served in the Royal Engineers in France during the 1914-1918 War, being mentioned in despatches.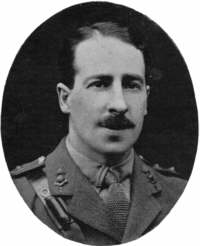 Above E. Seymour-Bell who helped extend Frank C. Hawkins original book. He played for Clifton from 1919 and became Honorary Secretary the following year. He helped reform the club after the 1st World War after such a devastating loss of players. Frank Hawkins was involved in this book but as he put it "Most of the additional pages are his. The reference's to E. S.-B. are mine".
Above Seymour-Bell as Vice President of Moseley. Image courtesy of Roy Hough.
In 1939, as Staff Captain at Southampton, Seymour-Bell was directly concerned with the embarkation of the British Expediionary Force to France and later was appointed Deputy Assistant Director of Transportation of the Merseyside ports of Liverpool, Birkenhead and Manchester.
He was one of the first members of the British Army Staff to be sent to the U.S.A. in 1941 and as Assistant Director of Transportation he was the Senior British Army Officer in New York, until he was promoted to Washington in 1942 as Head of Movements Branch of the British Army in the U.S.A. and Canada. In addition he was appointed Director of Exports of the British Ministry of Supply Mission.
While in Washington he served on the Combined Military Transportation Committee under the Combined Chiefs of Staff and worked in close cooperation with the U.S. Transportation Corps.
He gained the rank of Brigadier in the British Army.
He was Managing Director of Cunard in the United States.
Above Seymour-Bell