Clifton Rugby Football Club History

Able Seaman George Hamilton Turner - Service Ref: D/BD/X 1775. Born 1st September 1911. Attended Clifton College from 1922-27. Attended Royal Naval College at Pangbourne. Royal Naval Volunteer Reserve. HMS Lapwing. Died on 20th March 1945 and the memorial is at Panel 95, Column 3. PLYMOUTH NAVAL MEMORIAL.
He was the son of Captain Edward Algernon Turner (born abt. 1875, died 23rd January 1947. He was buried in Banwell, Somerset) and Edith Mary Cotgrave (born abt. 1875 in Bomar, India). His parents were married in 1908 in Axbridge, Somerset.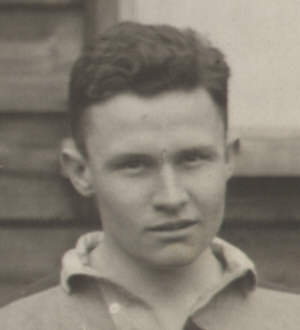 Above George Hamilton Turner in the 1931-32 Clifton 2nd XV.
Above George Turner taken on the 14th October 1932 v Glifton College.
He was one of 3 brothers at Clifton College. The others were
Group-Capt. William Henry Nigel Turner. He was born on the 6th January 1910. Clifton College from 1920 to 1928. RAF Coll., Cranwell; Flying Instructor 1936-39; Adjt., 607 (A.A.F.) Sqdn., 1937-39; 1939 War, Group-Capt.., R.A.F., D.F.C., M. in D., P.O.W..; O.C., R.A.F., Conningsby, Lincolnshire.
Robert Algernon Cotgrave Turner. He was born on the 2nd February 1913. Clifton College from 1923 to 1928.
Above signed photo of George Hamilton Turner. Date and location unknown.

Above HMS Lapwing
HMS Lapwing was a British sloop of 1,250 tons which was torpedoed and sunk in the Kola Inlet in Northern Russia while on escort duty with outward bound convoy JW-65. It was her ninth voyage to Russia. After giving support to the Normandy landings the Lapwing joined the 7th Escort Group based on the Clyde in Scotland. In the morning on 20 March 1945, U-968 attacked the convoy JW-65 off Northern Russia north of Murmansk in position 69º26'N, 33º44'E and reported a destroyer and a Liberty sunk and another Liberty ship torpedoed. In fact, the sloop HMS Lapwing of the 7th Escort Group and the Liberty ship Thomas Donaldson were sunk. HMS Lapwing was hit amidships at 10:58 and sank 12 minutes later with the loss of 158 of the crew, 61 survived. Many that died were frozen in the icy Artic waters.
Above Otto Westphalen commander of U-968 from 18th March 1943 until he surrendered on 8th May 1945 in Narvik, Norway.
The U-boat U-968 surrendered on 16 May, 1945 at Loch Eriboll, Scotland. The boat ended up in Operation Deadlight, a post-war Allied operation, and was sunk on 29th November, 1945 in position 55.24N, 06.22W. Operation Deadlight was the code name for the scuttling of the unwanted German U-boats which the allies got their hands on after the end of World War Two. Most of these operations took place from Lisahally, Northern Ireland or Loch Ryan, Scotland. About 121 German U-boats were scuttled during the fall and and winter of 1945-1946 out of Ireland.
A a map which shows the known locations of scuttled U-boats during Operation Deadlight is at http://uboat.net/fates/deadlight_map.htm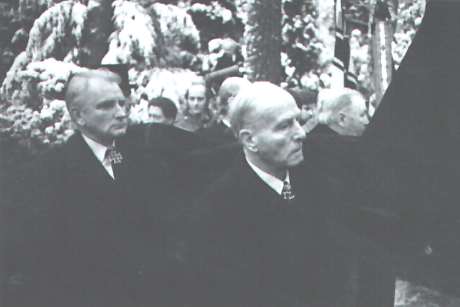 Above the funeral of Admiral Doenitz in 1981 with left:Otto Westphalen, commander of U-968, and right:Karl-Friedrich Merten.
Saffron Walden hosted a visit by survivors and relatives of the crew of HMS Lapwing on the 1st and 2nd April 2006. HMS Lapwing was a corvette which was adopted by the town in 1943 as part of Warship Week. The ship belonged to the escort group holding the record for the number of German U-boats sunk during the whole of the war.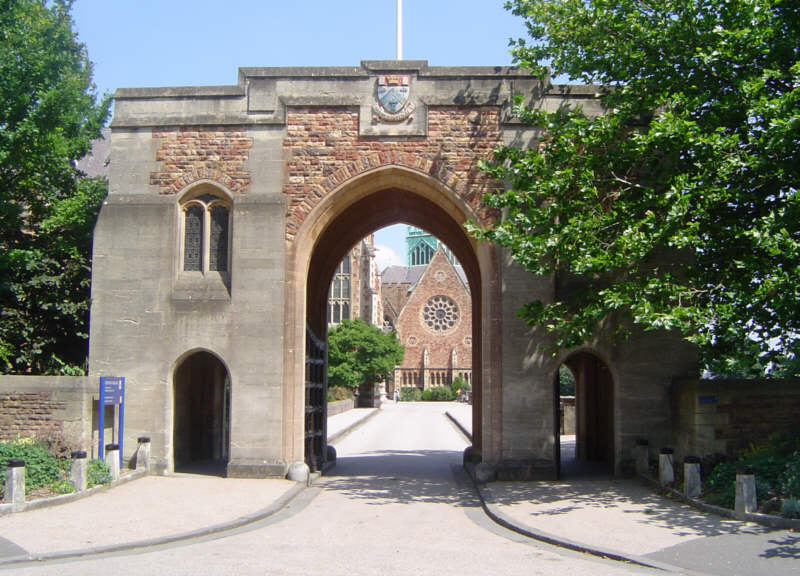 Above the Clifton College Memorial Arch
Above Turner's name (bottom right) on the inside of the Clifton College Memorial Arch