Clifton Rugby Football Club History

Murrey Vernon Peters-Smith
Wing Commander Murrey Vernon Peters-Smith DFC - Service Ref 37207. Born 15th April 1916. Royal Air Force 57 Squadron. Died 27th July 1942. Grave Ref 26.J.12 Becklingen, Germany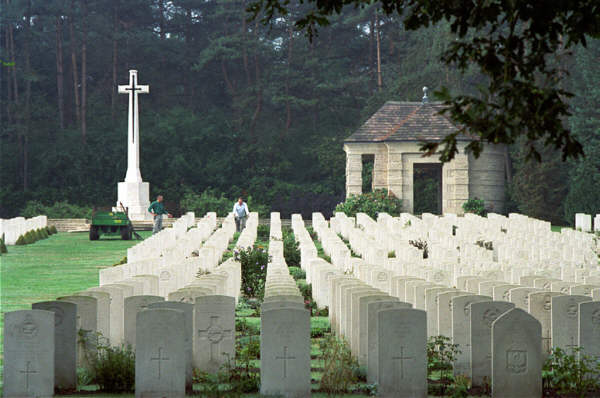 Above Becklingen Cemetery which contains 2401 war burials, mainly of soldiers and airmen. By nationality they comprise 2086 British. 140 Canadian. 79 Australian.38 New Zealand. 2 South African. 1 Greek, 19 Polish, 5 Russian, 2 Yugoslav and 29 unidentified.
He was born on the 15th April 1916 in Bristol. His father was ?, his mother was ?.Wilding. He was educated at Bristol Grammar School.
He had a brother, Robert Brian Peters-Smith (born 16th May 1920) 25 Dunmore Court, Dunmore Drive, Shaldon, Teignmouth, Devon TQ14 0BS. Insurance Official (Retired). Died 9 November 2005, and a sister, Betty D. Peters-Smith (born abt. March 1915). There were 2 other brothers
On the 16th April 1935 he was first commissioned by the RAF (General Duties Branch) as an Acting Pilot Officer, and after training at Digby joined a bomber squadron.
He became a Flying Officer on the 16th November 1937.
On the 16th November 1939 he was promoted to Flight Lieutenant.
He was promoted to Squadron Leader on the 1st December 1940.
He was awarded the DFC on the 21st November 1941.
He became Commanding Officer at RAF Feltwell on the 16th March 1942.
Above: A missing in action letter sent to Ann Lees by the Commanding Officer of 57 Squadron, RAF Feltwell; Wing Commander 37207 Murrey Vernon Peters-Smith DFC signed on 4th April 1942. He died 3 months later.
Above a photograph of the graves at Becklingen just after it was created and before the granite headstones were placed. Image courtesy of Carol Evans, daughter of Flight Lieutenant David Low who died on the flight with Peters-Smith and is buried next to him.
Above Murrey Vernon Peters-Smith grave at Becklingen Cemetery near Hanover. The position of the cemetery was chosen at it overlooks Luneberg Heath where Montgomery accepted the German surrender from Admiral Doenitz on 4th May 1945. It is a 'concentration' cemetery, containing re-burials from various sites including small German cemeteries as well as prisoner of war camps within a radius of 80km.
Above a view of the graves at Becklingen Cemetery.
Above a view of the graves at Becklingen Cemetery.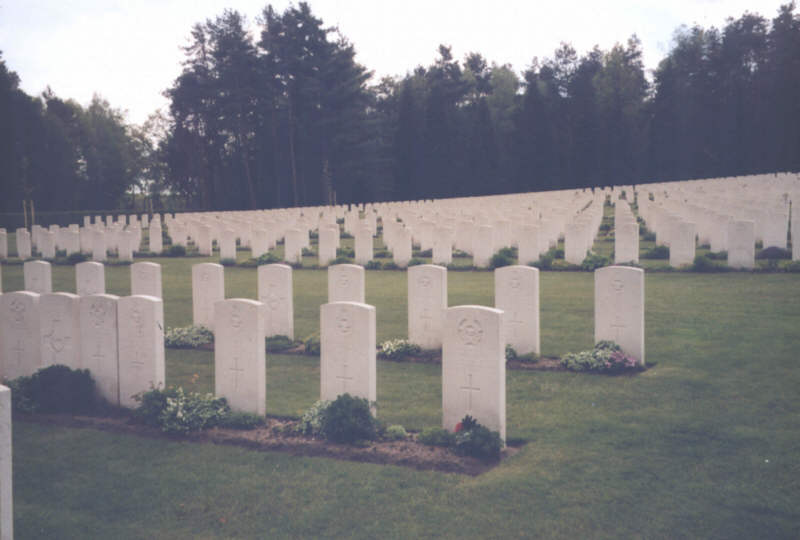 Above a view of the graves at Becklingen Cemetery.
Murrey Vernon Peters-Smith joined the RAF on 16th April 1935 on a six-year Short Service Commission. He was graded Pilot Officer on 16th April 1936 and rose to the rank of Squadron Leader by 1st June 1942, being killed less than 2 months later. He was awarded the DFC on 21st November 1941.
He was Commanding Officer, 57 Squadron RAF (based at RAF Feltwell, Norfolk)
His Wellington III bomber [X3653 DX-?] took off 15.30 hrs at RAF Feltwell in an attempt to use the cloud cover to reach Bremen, but crashed. Cause of loss and crash-site are not established. All are buried in Becklingen War Cemetery. W/C Peters-Smith DFC was 57 Sqdn Commander.
Killed on that flight were
| | |
| --- | --- |
| Wing Commander Murrey Vernon Peters-Smith DFC | Born 15th April 1916. 26 years old |
| Flying Officer Nathaniel Edmund Hodson RNZAF | Born New Zealand . 25 years old |
| Flight Lieutenant David Septimus Stewart Low | Born 6th June 1908 Kensington, London. Wireless Operator. 34 years old |
| Sergeant Raymond Hill Moses | From Newport. Gunner. 32 years old |
| Sergeant Adam Thomas Drysdale | From Glasgow . Gunner. 20 years old |
The 27th July 1942 raid on Bremen involved 8 Wellington's on cloud-cover raids to Northern Germany who bombed blindly through clouds in the Bremen and Emden areas. 2 aircraft lost. The Bremen raid targeted the Focke-Wolf
Above the Focke-Wolf works after the Bremen raid on the 27th July 1942.
In August 1942 No. 57 Squadron was moved to RAF Scampton, Lincoln which is now home to the Red Arrows. They were replaced at Feltwell by Squadrons from the Australian and New Zealand Air Forces.