Clifton Rugby Football Club History
Born 18th April 1879 Wavertree, Liverpool, Lancashire. Son of Edward Walker Brandard Malkin Hance, Barrister-at-Law and Clerk to the Liverpool School Board. Mother Mary Amelia Hance (nee Bennett).
Victoria University (University College, Liverpool) BSc:1901, MSc:1902, BEng:1915. A.M.I.C.E. Surveyor and Mine Manager, Bristol 1902-1905. General Manager to the Indian Manganese Co. Ltd., Nagpur 1905-14. Major Attached 176th (Mining) Company, Royal Engineers in WW1. Palestine, 7th Indian Div. 1918.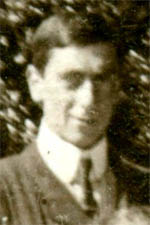 Above Henry Malkin Hance
On page 141 of Peter Barton's 'The Somme - a New Panoramic Perspective' he quotes a Major Henry Hance RE who claims that he entered Ovillers soon after it finally fell. The dead, he claims "were lying there in hundreds, most belonging to the 8th Division who had fallen on July 1st." He goes on to point out that here our infantry had had to cross as much as 800 yards (of No Man's Land) in some places and "for the last half or so of this distance we noted that all the dead had been bayoneted, and always thro' the neck. All the dead hanging on the wire, where it was still intact, had had the backs of their heads bashed in."

He goes on to say that "you can't bayonet a man 400 yards away and you can't bash the back of a man's head in from in front and across a belt of wire. No, the German patrols at night had either murdered our wounded or mutilated our dead."

He concludes by expressing the view that "for sheer brutality it exceeded anything I could have believed, even of a Hun."
Married Dorothy Bennett, sister of Clifton players Henry Ryan and John Piers Bennett in 1922.
Indian Army 1941.
Died 24th September 1945 Mount Vernon Hospital, Northwood, Middlesex. Cremated Golders Green Crematorium, London
His name is not on the Clifton Memorial.