Clifton Rugby Football Club History
Ordinary Seaman John D. Burrough - Service No. D/JX227931. HMS Mackay. Died 21st April 1941 aged 26. Grave Ref C/17936 Plymouth Weston Mill. Son of Hedley G. Burrough and Caroline R. Burrough; husband of Agnes Kathleen Burrough. She was more commonly known as Kate.
He was the brother of Clifton player Tom Burrough, for more click here. He was educated at Clifton College from 1924 to 1928. He was a school master in Frenchay.
The Frenchay Parish Magazine for January 1928 said "The fine singing of Mr. John Burrough aroused the audience to enthusiasm, and his interpretation of Easthope Martin's "Holy Child," had to be repeated." In the May 1928 edition " FRENCHAY CHORAL SOCIETY. The members are working hard at the music that they are performing at their second concert, which takes place at the Village Hall on Thursday, May 3rd, at 8p.m. The chief work is a short Cantata by Dr. C. S. Lang, the Master of Music at Clifton College, to the words of Sir Walter Scott's poem,. Lochinvar. Another work is Bach's Chorale, "Jesu, Joy of Man's Desiring," and there are compositions of Stanford, Parry, and Carse which should provide for an interesting evening. The soprano soloist is Mrs. Howard Clarke, L.R.A.M., of Portishead, and Mr. John Burrough is the baritone vocalist, while Mr. Norman Jones will be solo pianist."
He married Agnes Kathleen Guest on 10th August 1940 at Frenchay Church. Kate's father, Herbert Williams Guest, was a Master Tanner.
Above John and Kate Burrough on their wedding day. Hes wearing his Clifton Rugby Club tie.
Above a close up of John Burrough from that photo.
Above St John the Baptist Church, Frenchay
He served on HMS Mackay.
Above HMS Mackay (photo taken July 1935)
Above crew on board HMS Mackay June 1940
The Times Monday 28th April 1941
Died on active service, John Dennett Burrough of Frenchay, Gloucestershire.
He was killed during a German bombing raid on Plymouth which was centred on the Royal Naval Dockyards and Barracks at Devonport on the 21st April 1941. He was killed instantly on a street while walking back to his ship during the bombing raid and was picked up by a civilian party.
Above the Royal Naval Barracks, Devonport
He is buried at the Plymouth (Weston Mill) Cemetery.
John Burrough's name is on a Bronze plaque located on the outside wall of St John the Baptist Church, Frenchay
Above the plaque on the outside wall of St John the Baptist Church, Frenchay
His name on the Clifton College Memorial Arch.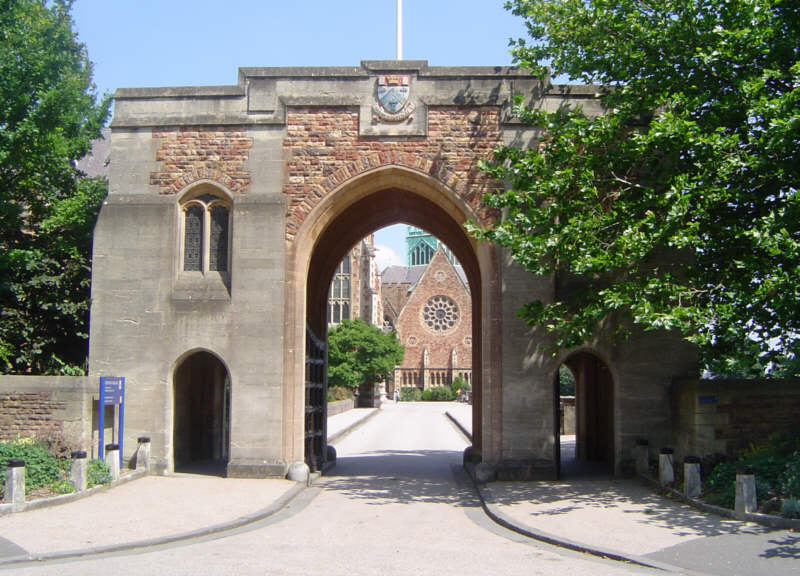 Above the Clifton College Memorial arch at the entrance to Clifton College in 2008.