Clifton Rugby Football Club History
Lieutenant William Stanley Yalland - Killed in action 23rd October 1914 - Gloucestershire Regiment 1st Battalion Born 27th June 1889. Commissioned December 1912. Killed whilst leading an attack on a German trench at Langemarcke.
Yalland was born on 27th June 1889 and attended Clifton College from 1903-1906.
His father Thomas King Yalland, in 1914, lived at The Manor House, Manor Road, Fishponds, Bristol.

Above Fishponds Manor. This photo was taken in the late 1920s. The house and estate was sold in 1936, subsequently the house was demolished and the land used for domestic housing.
Above his father, Thomas King Yalland, photo taken in 1898 the year after he inherited Fishponds Manor from his father.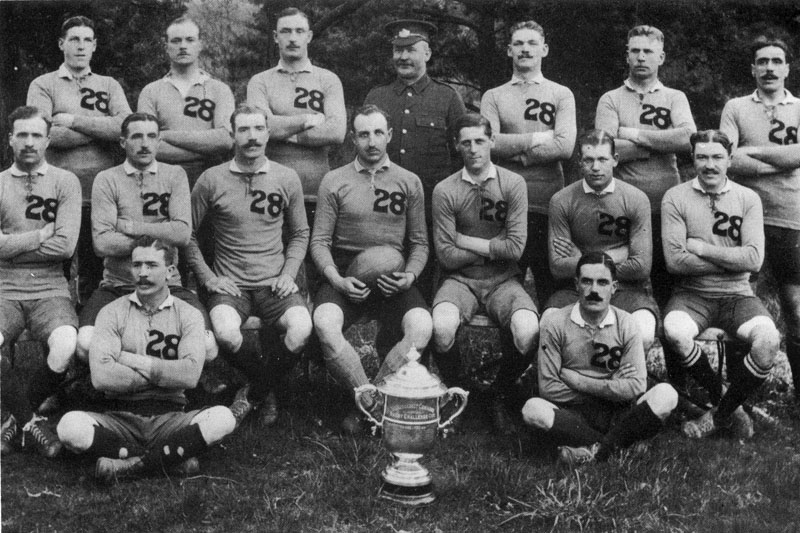 Back Row (L-R): Giles, Forbes, Nash, Clevelly, Warrick, Wilson, Hill. Seated: Organ, Nicholls, Ible, Duncan, Yalland, Organ, Sherwood. On Ground: Murray Stevenson.
Above the 1st Btn Gloucestershire Regiment. Winners of the Aldershot Cup 1913-14. Yalland seated third from right.
Back Row (L-R): 2Lt.R.M.Grazebrook, Capt.W.A.Temple, 2Lt.D.Baxter, Lt.J.A.L/Caunter, Lt.F.H.McL Young, 2Lt.Hon.N.F.Somerset, 2Lt.B.F.R.Davies. Middle Row: Capt.A.H.Radice, Capt.R.Wilkinson, Lt.W.J.Hewitt, Capt.A.A.McLeod, The Mayor of Gloucester, 2Lt.A.D.Harding, 2Lt.W.S.Yalland, Lt.J.R.L.Scott-Tucker, Lt.D.Duncan, Lt.M.W.Halford, Lt.H.E.Wetherall, Capt.W.P.Pritchett. Front Row: Maj.C.F.Baxter, Capt.R.M.S.Gardner, Dr.Wilson, Capt.J.O'D.Ingram, Col.Horniblow, Lt.Col.A.C.Lovett, Brig.Gen.H.J.S.Landon CB, Col Frowd-Walker CMG, Maj.A.J.Menzies, Capt.R.E.Rising, Maj.S.Willcock, Capt.G.M.Shipway.
Above 1st Gloucestershire Regiment at Bordon, Hampshire 1914 with William Yalland. Bordon and it's neighbouring camp at Longmoor are two of the camps which were constructed to accomodate the British Army on it's return from the Boer War. 781 acres of land were purchased from the commissioner of Her Majesty's Woods, Forrests and Lands in February 1863 for use by the Army as a training area. It is still used by the British Army to this day and is home to the 4th Battalion Royal Electrical & Mechanical Engineers which was formed on 1st April 2000. It is the youngest REME Battalion in the British Army.
Above close up of Yalland from 1st Gloucestershire Regiment at Bordon 1914
On the 23rd a surprise German advance had pushed the Coldstream Guards from their positions at Langemarck and they were stubbornly fighting back in a turnip field. Two platoons of Glosters under Captain Rising moved to assist them. Exposed on one flank the Glosters were repeatedly attacked but fought off every assault. Lieuts Hippisley and Yalland (both 'A" Co.) were killed, Lieut. Baxter seriously wounded. The Germans were repulsed but the Battalion lost 3 officers and 51 men. Captain Rising was awarded the Distinguished Service Order, Lieut. Baxter the Military Cross, and the Distinguished Conduct Medal was awarded to Sergeants T. Eddy and T. Knight, Private W. Crossman ('A' Company) and Sergt. J. Wilson ('D' Company). Privates Dutton, Robbins, Taylor, and Drummer Moulder were all commended. By that evening the Coldstream's trenches were retaken.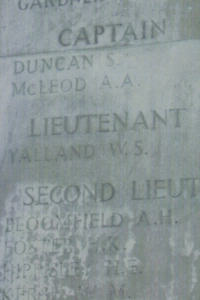 Above his name commemorated on the Ypres (Menin Gate) Memorial
Above Yalland family memorial at St. Mary's Church, Fishponds, Bristol.
Above base of the Yalland family memorial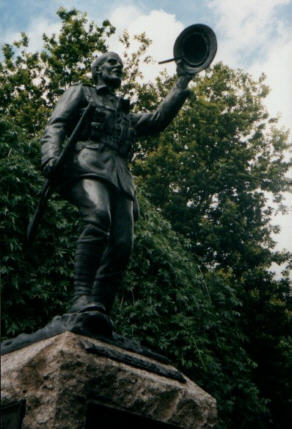 Above the war memorial in Fishponds, Bristol with Lieutenant W.S.Yalland's name.
Above a road sign that is at the side of the park in Fishponds which leads to a new housing development. These can be found within about 50 yards of the War Memorial.
He was born in Fishponds on 27th June 1889 and also played 1 cricket match for Gloucestershire. This match was on 1st-3rd August 1910, Gloucestershire v Somerset at the County Ground in Bristol. The match was drawn.
FIRST-CLASS (1910) William Stanley Yalland

M

I

NO

Runs

HS

Ave

100

50

Ct

St

Batting & Fielding

1

1

0

1

1

1.00

0

0

0

0

Balls

M

R

W

Ave

BBI

5

10

SR

Econ

Bowling

-

-

-

-

-

-

-

-

-

-
Lieutenant W S Yalland Bristol Evening News October 27th 1914
Mr T K Yalland of Fishponds has received a telegram from the War Office stating that his son, Lieutenant W.S.Yalland of the 1st Gloucester Regiment, and an Old Cliftonian, was killed in action on the 23rd inst.
He played for his Regiment in the final of the Army Rugby Cup and also against the Bristol Rugby Club on the County Ground last season. He was also well known in cricket circles.
He was serving with his battalion which formed part of the 3rd Brigade, 1st Division, when he died at Langemarke on the 23rd October 1914. He was ordered to take his platoon to a trench to prevent the Germans making further ground. This he did, and his platoon, at considerable loss, drove the Germans back, and the trenches were reoccupied by the British. During this action he was killed.
Above photo taken in 2014 of the site of Lt Yalland's death. Image courtesy of Adrian Yalland
Above 25th October 2014, the Dorking and Clifton sides take a minutes silence to commemortae the 100th anniversary of the death of Lt Yalland. Image courtesy of Adrian Yalland