Clifton Rugby Football Club History

Frederick Cecil Banes Walker

Frederick Cecil Banes Walker - Born 19th June 1888, North Petherton, Somerset. Died: 9th May 1915, Ypres, Belgium. Devonshre Reg. 2nd Battalion. Also played cricket 5 times for Somerset. First Class debut Somerset v Kent at Gravesend, 9th July 1914. Last First Class Match: Somerset v Essex at Clarence Park, Weston-super-Mare, 31st August 1914.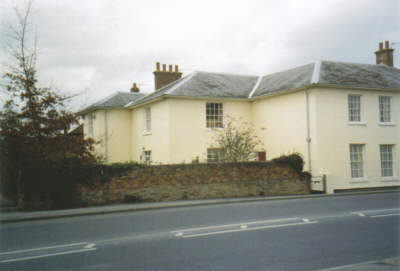 Above the Manor House in North Petherton (2005) where the Walker family lived.
Frederick Cecil Banes-Walkers cricket averages were.
FIRST-CLASS (1914) Frederick Cecil Banes-Walker

M

I

NO

Runs

HS

Ave

100

50

Ct

St

Batting & Fielding

5

10

1

172

40

19.11

0

0

3

0

Balls

M

R

W

Ave

BBI

5

10

SR

Econ

Bowling

-

-

-

-

-

-

-

-

-

-
Second Lieutenant F C Banes-WalkerThe Bridgwater Mercury May 19th 1915
Somerset Officer killed.
Another addition has to be made to the list of Somerset officers who have died in the service of their country. We regret to learn that Mr H Banes-Walker C.C. of "Verriers", North Petherton, Bridgwater has received official intelligence that his eldest son, 2nd Lieutenant Cecil Banes-Walker of the 2nd Devons was killed in action in France on Sunday May 9th. The deceased officer was only 26 years of age, was well known in sporting circles both in Somerset and Gloucestershire, and his death will be much deplored. While deep sympathy will be felt for the bereaved parents in the sad loss they have sustained. Though a very promising career has been cut short, the knowledge that Lieutenant Banes-Walker has died in the field of honour should tend to soften the grief felt by the parents and other members of the family.
The deceased was educated at Mr Coplestone's School at Exmouth and afterwards at Tonbridge. Having responded to his countries call, he completed a machine-gun course and went out to France as a machine-gun officer in the 2nd Devons a little over 2 months ago onlt to fall like so many other brave Somerset officers have fallen in the present war. The late Lieutenant Walker has shown much keenness and skill in various branches of sport. He was an enthusiastic cricketer and last season had the distinction of being selected to represent Somerset. He played 10 innings for his County and secured a total of 172 runs. His highest score was 40 and his average 19.11. He had in former years played for the Bridgwater Cricket Club. He was a capable hockey player and was a member of the Gloucester County hockey team. A brother of the deceased - Lieutenant Gerald Banes-Walker - is serving with the Somersets in India under Major D S Watson.
The Memorial Service etc etc.
Bristol Evening News Thursday May 27th 1915
Lieutenant Cecil Banes-Walker of the 2nd Battalion Devon regiment who was killed in action on 9th May, was the oldest son of Mr & Mrs Banes-Walker of North Petherton, Bridgwater. He was 26 years old.