Clifton Rugby Football Club History
Captain Richard Guy Titley, M.C. - Died of wounds 13th October 1917 - Gloucestershire Regiment 1/6th Bn Wounded in the battle of Poelcapelle, 9th October. 'C' company. Aged 24. Son of William and Isabel Titley, of Wynton Lodge, Bristol. Buried at Dozinghem Military Cemetry.
In 1901 the Richard Titley was living at his grandfathers house at 15 The Crescent, Taunton. They were
| | | | | |
| --- | --- | --- | --- | --- |
| Name | Relation | Age | Occupation | Where born |
| Richard Jenkins | Head | 66 | Wesleyan Minister | Stickens, Cornwall |
| Alice Jenkins | Dau | 26 | | Plymouth, Devon |
| Florence Jenkins | Dau | 20 | | Leicester |
| Richard G. Titley | Grandson | 7 | | Clifton, Bristol |
| Elizabeth S. Allen | Serv | 21 | Domestic | Rigusham, Monmouthshire |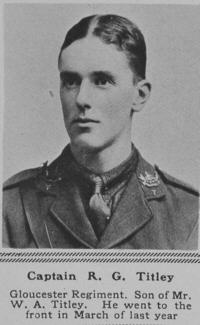 Above Richard Guy Titley from The Sphere magazine on 22nd December 1917. The photo was originally taken earlier than the regiment one below.
Back Row (L-R): 2Lt.L.A.Forden, 2Lt.J.A.Stone, 2Lt.R.G.Titley, 2Lt.B.K.D.Robertson, 2Lt.L.Scull, 2Lt.F.W.George, 2Lt.W.J.H.Pope, Lt.C.H.H.Castle, Lt.D.F.Harris, 2Lt.S.T.Baron, 2Lt.C.M.Games-Hughes, 2Lt.R.E.Culverwell. Middle Row: Lt.H.E.Jones, Capt.M.S.Wilkins, Capt.C.E.Greenall, Capt.F.W.Hek, Maj.L.R.Protheroe, Capt.W.G.Hayward, Capt.W.M.Lowick, Capt.J.A.Young, Lt.W.G.Mullet. Front Row: 2Lt.H.A.Page, 2Lt.S.S.Harris, 2Lt.G.F.Briggs, 2Lt.L.Fry, 2Lt.G.Brain.
Above 3/6 Gloucestershire Regiment in January 1916 with Richard Guy Titley . Leslie Harrington Fry in the above photo also played for Clifton RFC.
Above close up of Richard Guy Titley from the photo of the 3/6 Gloucestershire Regiment in January 1916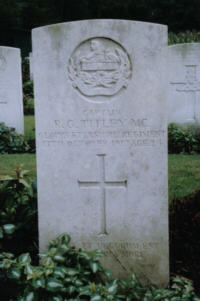 Before the major British lead offensive round Ypres began in June 1917 (3rd Ypres sometimes known as Passchendaele after the village which became it's final and much reduced objective) the responsible medical authorities, in anticipation of the expectedly large casualties, set up three entirely new Casulaty Clearing Stations behind the starting lines, to the west and north west of Ypres. The local troops, noticing that many of the surrounding Flemish vilages ended in "ghem", and in tune with the trench humour which had by now developed, named these treatment centres as 'Bandagehem', 'Dozinghem' and 'Mendinghem', which were eventually excepted by the authorities as the official names. An American volunteer orderly working in the latter, dismayed at the number of casualties which did not survive the operating tables, suggested, half-seriously, that the latter CCS should be changed to 'Endinghem'. It wasn't.
Above article from the Western Daily Press on 18th October 1917