Clifton Rugby Football Club History

Above Courtenay Talbot St Paul at Clifton College in 1897
Above his brother Hugh Beresford Paul killed ata Jutland
Above Lt Col Courtenay Talbot St Paul
Above Western Daily Press 6th August 1917
Lieutenant Colonel Courtenay Talbot St.Paul - Regiment: Royal Field Artillery Unit Text: 36th Bty. 45th Bde. Age: 35 Date of Death: 31st July 1917 Awards: DSO Additional information: Son of Walter Stuckey Paul, of 13, Hurle Crescent, Clifton, Bristol, and Ellen, his wife. Educated at Clifton College. Casualty Type: Commonwealth War Dead Grave/Memorial Reference: I. B. 4. Cemetery: THE HUTS CEMETERY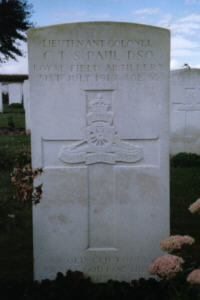 Lieutenant-Colonel Courtney Talbot Saint Paul Bristol Evening News Monday August 6th 1917
Bristol War Items.
Mr W S Paul's bereavement.
Eldest son dies of wounds.
Very sincere sympathy will go out to Mr W.S. Paul and family in the further great bereavement they have sustained in the death following wounds received in action of their eldest and only surviving son, Major Courtney Talbot St Paul. The deceased officer was educated at Clifton College, entering prep school in June 1891 and leaving the Upper School in December 1898 and received his first commission in the Royal Field Artillery in January 1900. Shortly after the outbreak of the War he proceeded to France with his battery and was there promoted to the rank of Major. He has been twice mentioned in Despatches and in September 1916 was awarded the DSO. 'For conspicuous gallantry and devotion to duty during the operations near Lavantie July 1916'
Both on 16th and 18th July his battery and his observing station were subjected to very heavy shell fire during wire cutting. His coolness and total disregard for danger gave complete confidence to his battery and he accomplished his wire cutting with the greatest success. His thoroughness and devotion to duty have been most marked"
Mr and Mrs Paul lost their son Sub-Lieutenant Hugh Beresford Paul RN in the great naval battle of Jutland Bay, 31st May last.
The 1947 Clifton College Register for Jan 1891 says
M4369 Paul, Lt.Col. Coutenay Talbot: b.18.11.81. s.102, br.6664, n.48, 156, 270; NT; c-5a; L1898; Lt.Col., R.F.A.; 1914 War, Lt.Col., R.F.A., 3 Ms., 2 M. in D., D.S.O.; k.(action) 1917.
The 1912 Clifton College Register says
Paul, C.T.S. Son of W.S.Paul (O.C), Clifton. N.T. C-5a; left Dec 1898. Lt. R.F.A. 13 Hurle Crescent, Clifton.
Above 13 Hurle Crescent, Clifton, home of his father W.S.Paul.
He is also listed on the St.Johns Memorial at the top of Whiteladies Road, Clifton, Bristol.
Above old postcard of the St.Johns Memorial on Whiteladies Road, Clifton.
Above left: the St.Johns Memorial on Whiteladies Road, Clifton. Above right base of Memorial.
Above C.T.St.Pauls name on the base of the St.Johns Memorial.
He was the son of Walter Stuckey Paul the Architect and Surveyor who played in the first ever Clifton RFC match in 1872. His father outlived him by 8 years.
He joined Clifton RFC in 1905-06.
His mother, Marion Colthurst Paul (nee Godwin) died on 15th February 1940. Her funeral took place at St. Alban's Church, Westbury Park, Bristol.