Clifton Rugby Football Club History

Edgar Nevill Newmarch Sellman
2nd Lieutenant Edgar Nevill Newmarch Sellman - Killed in action 4th April 1918 - Gloucestershire Regiment 3rd Battalion. Died whilst attached to the 5th Oxfordshire & Buckinghamshire Light Infantry. Aged 42. Son of Edward George and Ellen E. Elizabeth Sellman, of 41, Apsley Road, Clifton, Bristol. Born in Rutland. Buried at Vielle-Bretonneux Military Cemetery, Somme. He was born in Rutland
He joined Clifton RFC in 1902-03
In the 1881 cesus the Sellmans are listed at Hill House, Chalfont St. Giles, Buckinghamshire. They were
| | | | | |
| --- | --- | --- | --- | --- |
| Name | Relation | Age | Occupation | Where born |
| Edward G. Sellman | Head | 31 | Curate of Chalfont | Warwick, Birmingham |
| Ellen E. Sellman | Wife | 30 | | Cricklade, Wiltshire |
| Mary A. Clapham | Sister-in-law | 17 | | Cheltenham, Glos. |
| Edgar N. Sellman | Son | 4 | | Taunton. Somerset |
| Beatrice N. A. Sellman | Daug | 2 | Scholar | Clyst St George, Devon |
| Susan Paul | Serv | 26 | Cook | Curry Mallet, Somerset |
| Annie E. Rymill | Serv | 18 | Housemaid | Sandford, Oxfordshire |
| Rosa A. Shrimpton | Serv | 14 | Nurse | Amersham, Bucks |
In 1891 his father was Rector at Great Casterton. Stamford, Rutland. They lived at the Rectory House and were
| | | | | |
| --- | --- | --- | --- | --- |
| Name | Relation | Age | Occupation | Where born |
| Edward G. Sellman | Head | 41 | Rector Clergy | Warwick, Birmingham |
| Ellen E. Sellman | Wife | 43 | | Ashton, Wiltshire |
| Beatrice N. A. Sellman | Daug | 12 | Scholar | Clyst St George, Devon |
| Auther B. Sellman | Son | 7 | | Great Casterton, Rutland |
| Violet S. C, Sellman | Daug | 1 | | Great Casterton, Rutland |
| Mary A. Clapham | Sister-in-law | 28 | Living on own means | Cheltenham, Glos. |
| Aurther W. Owen | Boarder | 37 | Living on own means | Northan, Flintshire |
| Elizabeth A. Smith | Serv | 20 | Housemaid | North, Eye |
| Elizabeth A Healan | Serv | 27 | Cook | Pickworth, Rutland |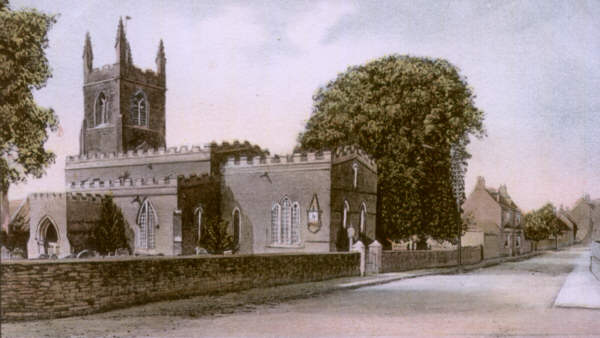 Above an old postcard of Great Casterton Church.
Above a photograph of Great Casterton Church and Vicarage.
Above Great Casterton Church, Rutland. The entrance gate with WW1 and WW2 names listed. Sellman not included.
In the 1901 census Ellen Sellman was living in Bath with her Daughter and Sister at 6 The Paragon. They were
| | | | | |
| --- | --- | --- | --- | --- |
| Name | Relation | Age | Occupation | Where born |
| Ellen E. Sellman | Head | 53 | Living on own means | Ashton Keynes, Wiltshire |
| Beatrice N. A. Sellman | Daug | 22 | Living on own means | Clyst St George, Devon |
| Mary Alice Clapham | Sister-in-law | 39 | Living on own means | Cheltenham, Glos. |
In the 1891 and 1901 census Edgar Sellman is listed a a pupil at Bostall Hill School, Erith, Kent. On each census his birthplace is listed as Taunton, Somerset not Rutland.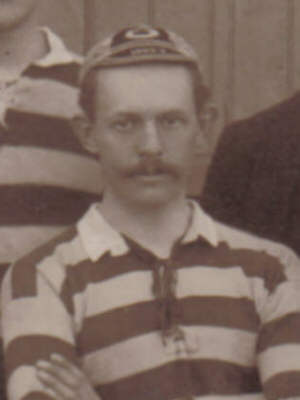 Edgar Sellman from the 1906-07 Clifton 1st XV photo.
Above Lieut Edgar Sellman Photographic Portrait - Gloucestershire Regiment
He was listed in The Times on April 20th 1918 under Fallen Officers "The Times" List of Casualties. It said
LIEUTENANT EDGAR NEWMARCH SELLMAN, Gloucester Regiment, and late of 5th Oxford and Bucks L.I., was the elder son of the late Edward George Sellman. He was educated at Rugby and Lincoln College, Oxford, where he distinguished himself in athletics and was also in his college boat. At the time of the outbreak of war he had a private school in Oxford, which he gave up and joined in 1915.