Clifton Rugby Football Club History

Captain Dudley Allen Pontifex - Regiment: Cameronians (Scottish Rifles) Unit Text: 2nd Bn. Age: 27 Date of Death: 31/07/1917 Additional information: Son of Mr. S. E. Pontifex, of The Old Vicarage, Parkstone, Dorset. Casualty Type: Commonwealth War Dead Grave/Memorial Reference: Panel 22 Cemetery: YPRES (MENIN GATE) MEMORIAL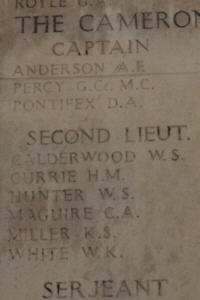 Dudley Allen Pontifex was born on 26th August 1890.
Captain Dudley Allen Pontifex National Archives Ref. WO339/8749 Military Papers
Telegram to Pontifex Audrey, Parkstone
Deeply regret to inform you that Capt. D.A. Pontifex, Scottish Rifles, was killed in action on July 31st. The Army Council express their sympathy.
Executor: Septimus Edmund Pontifex Esq.
Probate of Will: 03.11.1917
Estate:
Grantees: Septimus Edmund Pontifex (father)
Will dated 22.10.1916 Gross value: £1044.17.3 Medals to father.
Solicitor: Warren & Allen, Weekday Cross, Nottingham
Inventory: 1 wrist watch, 1 flask & cup (29.8.1917)
Embarked Folkstone 13.11.1916
Disembarked Boulogne 13.11.1916
Arrived Etaples 15.11.1916
Joined Battalion 26.11.1916
Measles 11.03.1917
18.03.1917
Army School 12.05.1917
Rejoined Battalion 17.6.1917
Killed in action 31.7.1917
Birth Certificate Poole County of Dorset
Born 28 th August 1890 Hill Side Parkstone
Father: Septimus Edmund Pontifex
Mother: Helena Charlotte Pontifex-Allen
Profession father: Clerk in Holy Orders.
This is to certify that Mr Pontifex attained at Clifton a very fair standard of education. A.A.David Former headmaster of Clifton.
Permanent address: Audley, Parkstone, Dorset.
Present correspondence address: 6, Bilton Road, Rugby
Profession: Director of physical training at Rugby School.
Educated at Clifton College.
Previously served in 3rd Battalion, Scottish Rifles.
Date appointed. May 1911
Rank: Lieutenant
Resigned. October 1912 (Civil Work)
Appointed: 02.07.1915. Fit for service at home.
The 1947 Clifton College Register for Sept 1898 says
M5478 Pontifex, Dudley Allen; b.28.8.90; br. 5477, 5697, 5981, 6250; ST; C-IVb; L1907; 2nd Lt., Reserve Bn. 3rd Scottish Rifles; 1914 War Capt., Scottish Rifles; k(action), 1917
The 1912 Clifton College Register adds that he was the son of Rev. S.E.Pontifex, Clifton and his address is Audley, Parkstone, Dorset
In 1901 the family were living at 1 All Saints Road, Clifton, Bristol and were
| | | | | |
| --- | --- | --- | --- | --- |
| Name | Relation | Age | Occupation | Where born |
| Septimus E. Pontifex | Head | 44 | Clergyman (Church of England) | Weston, Bath, Somersetshire |
| Helena C. Pontifex | Wife | 40 | | Leicester |
| Eric D. Pontifex | Son | 12 | | Parkstone, Dorset |
| Dudley A. Pontifex | Son | 10 | | Parkstone, Dorset |
| John W. Pontifex | Son | 8 | | Parkstone, Dorset |
| Mervyn C. Pontifex | Son | 6 | | Parkstone, Dorset |
| Charles R. Pontifex | Son | 4 | | Parkstone, Dorset |
| Maryan Gilbert | Serv | 54 | Nurse (Domestic) | London |
| Mabel F. Garrett | Serv | 19 | Housemaid (Domestic) | London |
| Edith G. E. Gallick | Serv | 20 | Under-nurse (Domestic) | Kingswood, Gloucestershire |
| Gertrude E. Babbage | Serv | 28 | Cook (Domestic) | Chicago, America |
| Eliza Woodman | Serv | 24 | Parlourmaid (Domestic) | Wick, Gloucestershire |
Above the house that is now stands on the site of 1 All Saints Road. The house is next to All Saints Church and was destoyed by a bomb during World War 2.
He joined Clifton RFC in 1908-09
Dudley Allen Pontifex died on 31st July 1917 at Pilkin Ridge, Ypres, Belgium, at age 26.
On August 9th 1917 in The Times, his father placed an advertisement for any news of his son's death. It said
CAPTAIN D.A.PONTIFEX, Scottish Rifles, reported "Killed in action July 31st"; anyone having witnessed his death, either brother officer or private, would confer a great kindness by Communicating with his Father, S.E.Pontifex, Audley, Parkstone, Dorset
His father Septimus Edmund Charles Pontifex was born on 1st October 1856 in Bath and died on 30th October 1936. He joined the Roman Catholic Church in 1904. He married Louisa Ellen Bond in 1880 and then married Helena C Allen on 21st November 1882. His mother Helena C Allen was born on 6th August 1860 and died on 16th October 1955 in Bath.
3 of his brothers became monks at Downside.
Above Downside School. Unknown date.
His brothers and sister were
Rev. Eric Edmund Dunstan Pontifex, born 14th January 1889 and died 28th May 1974. Monk of Downside Titular Cathedral, Prior of Canterbury. Educated at Clifton College 1898-1907, M.A. New College, Oxford.
Cmdr. John Wendall Pontifex, born 2nd August 1892. Clifton College 1900-1905. He married Monica Matthews, born 4th May 1895, Cardiff, Glamorgan, Wales, died 8th November 1970, Poole, Dorset, England. He married Francis Barbara Bart, on 15th October 1974, in England, born 12th March 1912, England. He died on 25th November 1977, Cloudes Place, Poole, Dorset, England. Com. Royal Navy, of Cloudes Lodge, Bingham Av. Lilliput Poole. One of his sons was Brigadier John Moore Pontifex.
Very Rev. Mervyn Charles Percival Pontifex, born 11th May 1894 and died 26th December 1974 in Poole, Dorset, was a Monk of Downside, 1st Abbot of Ealing, Educated at Clifton College 1902-1907 and Downside. His obituray appeared in The Times on 28th December 1974. A requiem mass was held at Ealing Abbey on January 2nd at 2.30pm.
Roy Mark Pontifex, born 10th April 1896 and died October 1891 was also known as Charles Roy. Monk of Downside Titular Cathedral, Prior of Coventry. Educated at Clifton College 1904-1909, M.A. Christ's College Cambridge. Author of the books Religious Assent and The Existence of God.
His father also had a daughter from his 1st marriage to Louisa Ellen Bond, a Constance Maud Pontifex born 1881 Poole, Dorset, died 11th May 1881. Louisa, born 1855, died 21st November 1882.
His Uncle, David Dudley Pontifex, played 17 First Class Cricket matches, including 9 games for Surrey and 1 for Somerset. His Uncle, Alfred Pontifex, played cricket in 1 game for Glocestershire v Notts at Trent Bridge in 1871. In WG's Glos side that day was Clifton RFC man J.A.Bush.
His name on the Clifton College Memorial Arch.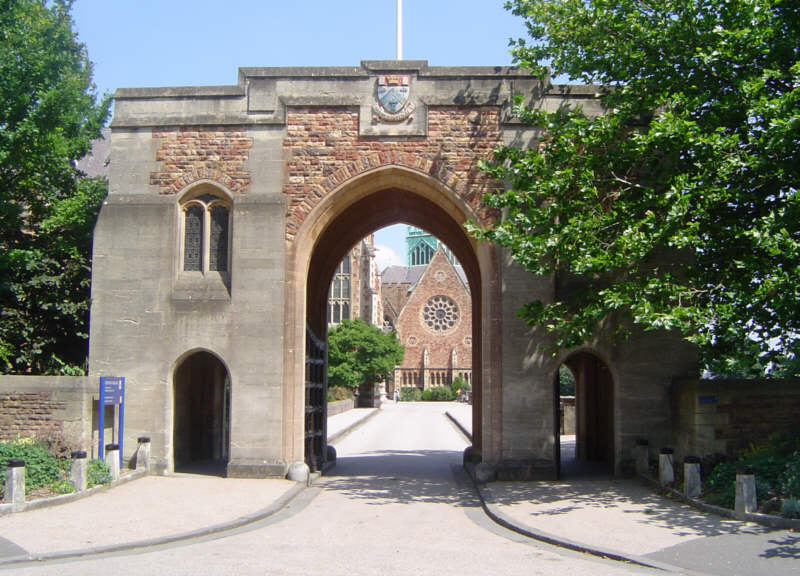 Above the Clifton College Memorial arch at the entrance to Clifton College in 2008.