Clifton Rugby Football Club History
Captain William Edgar Paul - Regiment: Royal Scots Fusiliers Unit Text: 8th Bn. Age: 43 Date of Death: 31/07/1917 Additional information: Son of Charles Paul, of Clifton; husband of Mrs. L. G. Paul, of 16 Duchess Rd., Clifton, Bristol. Casualty Type: Commonwealth War Dead Grave/Memorial Reference: Panel 19 and 33 Cemetery: YPRES (MENIN GATE) MEMORIAL
He joined Clifton RFC in 1890-91.
Above W.E.Paul from the Clifton XV of 1896-97 that played Bristol. He was Clifton captain for this season.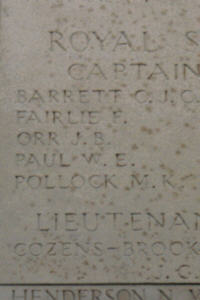 Captain W E Paul Bristol Evening News Thursday August 9th 1917
Bristol War Items
An Old Cliftonian's Death
Above Captain W E Paul
We very much regret to announce the death of Captain W Edgar Paul (Royal Scots Fusileers) which took place at the front on 31st inst. Captain Paul was the second son of the late Charles Paul of 56, Pembroke Road, and husband of Mrs Paul of 16, Duchess Road, Clifton. He was educated at Clifton College. On leaving School in 1891 he joined the profession of architects an surveyors, served on the staff of the Corporation, but more recently carried on a private practice in Baldwin Street. Shortly after the outbreak of War he helped in the formation of the Bristol University OTC but was offered and accepted a commission as Captain in the Royal Scots Fusileers. After the necessary training in Bristol, he proceeded first to France and then to Salonika, where he was on duty for 18 months, but last winter was invalided home. On recovery he again went to the front and on Tuesday of last week was killed in action. Captain Paul, like his father and brothers, was a member of the Society of Merchant Venturers. He belonged to the Masonic craft, and was PM of the Vincent Lodge. In his younger days he was a keen football player and held the posts of Captain and Hon. Secretary of the Clifton RFC. He also belonged to the local Royal Garrison Artillery (Volunteers). Captain Paul in 1899, married Miss Lena Gertrude Plum of Westfield Park and leaves a widow and three children to lament his loss. He was 43 years of age.
Captain W E Paul National Archives Ref. WO339/23799 Military Papers
Above left: 16 Duchess Road, Clifton, home of William Edgar Paul's wife at the time of his death. Above right: 56 Pembroke Road, Clifton, home of his late father Charles Paul.
William Edgar Paul killed at Ypres on 31.07.1917
Appointed to a Regular Forces Commission as Temporary Captain Royal Scots Fusileers 01.03.1915
There is no record of any service in the ranks.
Next of kin: Mrs W E Paul (wife)
16, Duchess Road, Clifton
Probate of Will:
Estate: William Edgar Paul formerly of 55, Woodstock Road, Redland, Bristol.
Died 31.07.1917 in France.
Grantees: Lena Gertrude Paul (widow) Harold Trevor Plum
Formal will dated 12.12.1899
Gross value: £375.6.10
Inventory: 2 razors, 1 penknife and chain, 1 wrist watch and strap, 1 cheque book, 1 counterfoil cheque book, 1 advance book, 1 field Report book, 1 AB 153,
1 leather wallet, 1 oil paper, letters etc.
Above 55 Woodstock Road, Redland, Bristol.
The 1947 Clifton College Register for May 1882 says
2961 Paul, William Edgar; b.27.3.74; br. 4408, f. 8294; HH, NT; c-4a; L1891; 1914 War, Capt. 8th Roy. Scots Fus.; France and Salonika; k(action), 1917.
The 1912 Clifton College Register adds that he was the son of C.Paul of Clifton.