Clifton Rugby Football Club History
Lieutenant Burnet George James - Regiment: Royal Flying Corps Unit Text: 7th Sqdn. Secondary Regiment: Royal Field Artillery Secondary Unit Text: and Age: 28 Date of Death: 26/09/1915 Additional information: Son of Sir Edward Burnet James, Kt., and Lady James, of Springfort, Stoke Bishop, Bristol. Casualty Type: Commonwealth War Dead Grave/Memorial Reference: XIII. D. 37. Cemetery: CEMENT HOUSE CEMETERY
Born 26th October 1886 in Stoke Bishop, Bristol.
In 1891 the family were living at Woodborough, Rockleaze, Durham Down, Bristol. They were
| | | | | |
| --- | --- | --- | --- | --- |
| Name | Relation | Age | Occupation | Where born |
| Edward Burnet James | Head | 33 | Tobacco Manufacturer | Bedminster, Bristol |
| Mobel Amelia James | Wife | 30 | | Clifton Gloucestershire |
| Burnet George James | Son | 4 | | Clifton, Gloucestershire |
| Emily Yates | Servant | 33 | Parlourmaid Domestic Servant | Stoke Orchard, Glos. |
| Mary Crockford | Servant | 25 | Cook Domestic Servant | West Luccombe, Somerset |
| Ada Emily Parish | Servant | 21 | Nurse Domestic Servant | Bristol |
He was educated at Charterhouse from 1905 to 1910.
Above Charterhouse School.
Above Charterhouse Cricket XI 1906. James standing 2nd right. Image courtesy of Charterhouse School.
Above Girdlestone House, Charterhouse in 1906. James head of house seated middle. Girdlestones House was also known as "Duckites" after the nickname of Mr Girdlestone, the founder of the house, who was called "Duck" because of the way he walked. Image courtesy of Charterhouse School.
In 1907 he joined the 1st Gloucestershire R.G.A. Volunteers, resigning in 1912. On the outbreak of war he rejoined his old corps, which had since become the 1st South Midland Brigade R.F.A. (T.F.). In July 1915 he was attached to the 7th Squadron R.F.C.
He joined Clifton RFC in 1908.
He played cricket 3 times for Gloucestershire in May and June 1914.
FIRST-CLASS (1914) Burnet George James

M

I

NO

Runs

HS

Ave

100

50

Ct

St

Batting & Fielding

3

6

1

27

10

5.40

0

0

1

0

Balls

M

R

W

Ave

BBI

5

10

SR

Econ

Bowling

0

0

0

0

-

-

0

0

-

0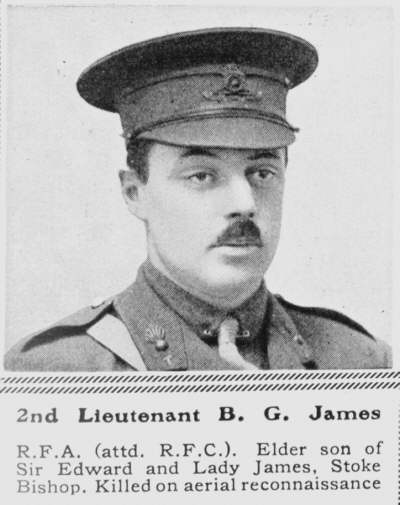 Above photograph of Burnet James from The Sphere on 18th March 1916
On 26th July 1915 2nd Lt. Louis William Yule and Lt Burnet George James were flying in Voisin LAS 5028 on another reconnaisance patrol when they fought an enemy aeroplane at 7000 feet 5 miles south east of Ypres.
On 26th September 1915 2nd Lt. Louis William Yule (pilot) and Lt Burnet George James (observer) were flying in BE 2c 1719 of No 7 Squadron RFC, they were on a reconnaisance mission when brought down near Helvele with engine problems. Their landing was fatal.
The first grave of Burnet James and Louis Yule. This picture was taken by a German lance corporal, Gefreiter Walter Baasch, who served on the staff of German Reserve-Infanterie-Regiment Nr.215 during 26th September 1915. It was taken on the day the plane had been shot down and crew died (See also Daily Report of German High Command; 27.9.1915). Picture owned by Malte Znaniecki and reproduced with his permission.


Above the grave of Burnet George James at Cement House Cemetery. Yule and James are reburied here next to each other.
James is also commemorated on the Charterhouse War Memorial Chapel, the largest War Memorial in England.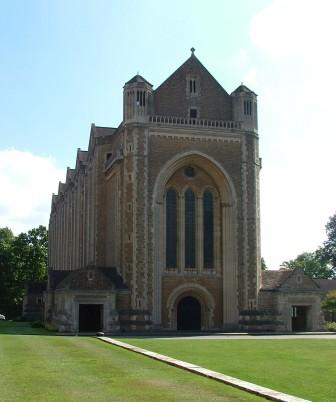 Above the Charterhouse War Memorial Chapel, designed by Sir Giles Gilbert Scott and consecrated in 1927, commemorates Carthusians who died in action: 700 in the Great War and 350 in World War II.
2nd Lt. Louis William Yule was educated at Wellington College. He was only 18 years old when he died. He was the youngest son of the late Colonel W. A. Yule of the Royal Scots Fusilers and brother of Mrs. H. E. Platt, Mrs. V. M. Hutton, and Mrs. F. Griffiths, Edstone Hall, Warwickshire. Edstone Hall was demolished in 1930 and replaced with a new house.
His father died on 27th December 1927. His obituary appeared in The Times 2 days later and said
SIR E. B. JAMES
Sir Edward Burnet James died on Tuesday at Stoke Bishop, Bristol, in his 71st year. The son of Mr. Stephen James, of Bristol, he was active in the municipal affairs of that city. He was a councillor and then alderman from 1891 to 1913, High Sheriff, in 1900-1, and Lord Major in 1904-05 and again in 1907-08. In 1898 he served as Master of the Society of Merchant Venturers. He was director of the Imperial Tobacco Company of Great Britain and Ireland, in which his firm had been merged, and a member of the local committee of the Northern Assurance Company. A Conservative in politics, he was chairman of the party association of South Bristol in 1905-7, and president of the Colston Dolphin Society in 1906-07, and knighted in 1908. Sir Edward married in 1883 Mabel Amelia, daughter of the late Sir G. W. Edwards J.P., of Bristol, and had a son, G.S.James, R.F.A., and a daughter.
The above mentions Burnet's brother Gilbert but doesn't mention Burnet. Gilbert Sydney James married Evelyn and they had a son David B. S. James who announced engagement to Rita V. Elliot in 1947. In 1950 Gilbert was living at Heneage Court, Falfield, Gloucestershire.
Sir Edward Burnet James was a partner in the tobacco manufacturers Edwards, Ringer & Bigg (which later became part of W.D. & H.O. Wills). He was a Conservative and was knighted during the royal visit to Open the Royal Edward Dock in 1908 (when he was Lord Mayor).
The firm of Edwards, Ringer & Bigg, traces its origin back to 1813 when William Ringer set up shop at 22 High Street, Bristol in 1813 and it was to be some 30 years later that WH Edwards came onboard to create Edwards, Ringer & Co and they moved to the Redcliff Street site.The name we all tend to know now was completed some 8 years later when WD Bigg & Co threw their lot in to establish, Edwards Ringer & Bigg. In 1893 Edwards, Ringer & Company, as the business was then known, was joined by the old established Bristol firm of WO Bigg & Company and the combination then took its present title of Edwards, Ringer & Bigg. In 1974 the factory, in Redcliff Street, Bristol, which was closing down was known by the locals as 'Ringers'. This being a none-to-subtle reminder of the days when Edwards Ringer & Bigg owned the site.
Above Edwards, Ringers & Bigg Cigarette Card.