Clifton Rugby Football Club History

Arthur Norton Hickling Churchill

Lieutenant Arthur Norton Hickling Churchill - Regiment:Canadian Infantry (Western Ontario Regt.) Unit Text:1st Bn. Age:24 Date of Death:07/09/1915 Additional information:Son of Edward H. Churchill, of Sandway House, Burnham-on-Sea, England. Native of Bridgewater, Somerset. Casualty Type:Commonwealth War Dead Grave/Memorial Reference:A. 3. Cemetery:MAPLE LEAF CEMETERY
Arthur Norton Hickling Churchill Obituary The Bridgwater Mercury September 15th 1915
A.N.H.Churchill, educated at Clifton College, went to British Columbia in 1913, second son of Mr & Mrs E.H.Churchill, "The Lindens", Wemdon Road Bridgwater
He enlisted in the Victoria Brigade on the same day War was declared. Came over to England with the 1st Canadian contingent as a private in the Royal Canadian Dragoons. On 4th May 1915 he went to France with the Canadian Cavalry Brigade, who were hastily turned to infantry.
Subsequently selected to command the machine gun section. Every officer who had commanded the machine gun section before had been killed.
On the same day that his family received a letter from him saying he was about to take some leave, his parents received a telegramme informing them that he had suffered a bullet wound. Hopes were expressed concerning his recovery. Wounded from machine gun fire from German trenches whilst placing a machine gun on top of the parapet. Two other brothers are in service: E A H Churchill 5th Somerset and Private H A H Churchill in 2nd Canadian Brigade. All educated at Clifton College and were very capable rugby players and for a number of seasons had assisted at the Bridgwater Albion Club. E A H and Private H A H had fulfilled the position of Captain of the Club.
The late A N H had played for the Clifton Club in 1910-1912 and was a forward of great value.
His Clifton College record, from the 1947 Register says
6314 Churchill, Arthur Norton Hickling; b.23.4.91; br. 6313, 6328; NT; 3c-4b; CAP; L19082 ; Farming, Canada; 1914 War, Lt.' 1st Ontario Regt., from ranks, Canadian Dragoons, M.G.O.; France, Flanders; d.(wounds), 1915.
The 1912 Clifton College Register adds that his father was E.H.Churchill and the address Wembdon, Bridgwater.
Another Obituary said
CHURCHILL, ARTHUR NORTON HICKLING, Lieut., 1st Canadian Infantry Battn. (Western Ontario Regt.), Canadian Expeditionary Force, 2nd son of Edward Hickling Churchill of The Lindens, Bridgwater, by his wife, Esther Hollis, dau. of Archibald Henderson; b. Bridgwater, co. Somerset, 23rd April, 1891: educ. Clifton College; went to British Columbia in 1913, and settled at Salt Spring Island as an Agriculturalist; volunteered for Imperial Service in Victoria 4 Aug. 1914, the day war was declared; joined the Royal Canadian Dragoons, and came over with the 1st Contingent in Oct.; went to France in May; was recommended for a commission from the trenches at Festubert, and gazetted Lieut. to the 1st Canadian Infantry Battn. 10 July, 1915, later becoming Machine Gun Officer, and died at Ploegsteert 7 Sept. following , from wounds received in action the previous day while superintending a new machine-gun emplacement. Buried in Maple Leaf Cemetery, Romarin. His Colonel wrote: "He performed the duties of a Machine Gun Officer with great satisfaction to me, and was a general favorite. I regarded him as a gallant capable officer of marked promise." and a brother officer: "Churchill was the bravest man God ever made; he knew danger and feared it not. He had the hart of a child and the courage of a lion. He fought the fight of his life at Festubert - I was with him - and he died as I wish to die when my time comes." A Staff Officer said of him months after his death: "Churchill's popularity and influence amongst his men was extraordinary, and is bourne out by the fact that his grave has always flowers on it, laid there by the men themselves." He was a keen Rugby football player, and for three seasons played for the Clifton Club; unm.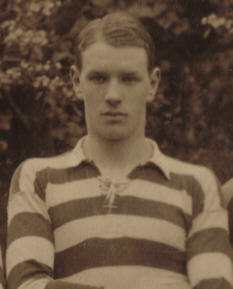 Above left: Arthur Churchill from the 1909-10 (the season he joined) Clifton 1st XV photo. Above middle: Arthur Churchill from the 1910-11 Clifton 1st XV photo. Above middle: Arthur Churchill from the 1911-12 Clifton 1st XV photo.
His name on the Clifton College Memorial Arch.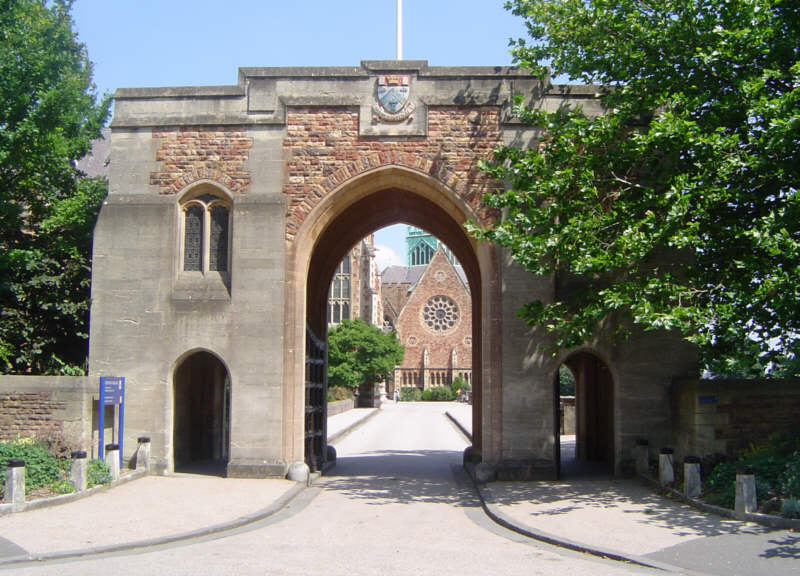 Above the Clifton College Memorial arch at the entrance to Clifton College in 2008.