Clifton Rugby Football Club History
It has been very difficult to positively identify L.Caulfield, who joined Clifton in 1913-14, as there is no Caulfield with the initial L listed as having died in World War 1 by the Commonwealth and War Graves Commission. It is thought, at the moment, that his initial on the War Memorial and in the book 50 Years with Clifton Rugby Football Club is incorrect.
The Club Annual Dinner that took place on Saturday 5th April 1913 at Fortt's Restaurant included a G.Caulfield.
We strongly believe that it is 2nd Lieutenant Gordon Caulfield, who died on the 30th November 1917 at the Battle of Cambrai. The name Caulfield is also listed as Caulfeild.
He was born on the 25th February 1885 at Classa, Coachford, County Cork, Ireland. He was baptised on the 10th May 1885 in Magourney, County Cork, Ireland. His birth was registered in June 1885 in Macroom., Ireland. His grandfather, John Caulfeild, held the office of High Sheriff of County Roscommon, Ireland in 1826. The family is descended from the Viscount Charlemont of Donamon Castle, County Roscommon, Ireland and are listed in Burke's Peerage. The family has a long tradition of Military Careers. His father and 4 uncles all had military careers. The 3 uncles Captain Francis William Thomas Caulfeild of the 44th Foot died on the 18th June 1855 at Sebastopol, Crimea. Captain St. George Caulfeild served for 19 years in India. Captain Robert Caulfeild and Henry Caulfeild (who went to Cheltenham College) also served in India.
Above Donamon Castle, County Roscommon, Ireland.
During the 1891 census the family were living at 10 Nightingale Road, Portsmouth and were
| | | | | |
| --- | --- | --- | --- | --- |
| Name | Relation | Age | Occupation | Where born |
| John Caulfield | Head | 52 | Retired Army Captain | Ireland |
| Theresa Caulfield | Wife | 42 | | East Indies |
| Gwendoline Caulfield | Daughter | 17 | | Southampton, Hants |
| Walter Caulfield | Son | 16 | | Ireland |
| Edith Caulfield | Daughter | 11 | | Ireland |
| Geraldine Caulfield | Daughter | 8 | | Ireland |
| Gordon Caulfield | Son | 6 | | Ireland |
| Hannah Barry | Servant | 23 | Cook | Ireland |
| Emily Champ | Servant | 26 | Housemaid | Southampton, Hants |
| Charlotte Evans | Servant | 21 | Nurse | Southampton, Hants |
His father Captain John Caulfeild was born on the 10th October 1830 in Benown House, County Westmeath, Ireland. He was JP for Co Cavan. 41st Foot (Welch) and Captain 90th Foot, 98th Lt Infantry and 108th Foot. Following a famous murder case involving their governess and a local doctor, the family moved to Midsomer Norton, near Bath, c1890. He died on the 12th December 1892 in Yalta, Silchester Road, Kingstown, County Dublin.
The murder case that made the family move to England was the Coachford Poisoning Case. The Caulfeild's Governess, 20 year old Effie Skinner, was employed by a family friend Dr. Philip Henry Eustace Cross at Shandy Hall in Coachford. In the summer of 1886, shortly after starting work, she began an affair with the 63 year old doctor. When Mrs Cross found out, she ordered that Effie be dismissed. Dr Cross immediately terminated the girl's employment and she left for Dublin, Within a week of her leaving, Cross told his wife he had to go away on business and spent five days with Effie in a Dublin hotel, Mrs Cross suddenly became ill and when her husband examined her, he diagnosed typhoid. Her condition deteriorated and in June 1887, Mrs Cross died. Dr Cross himself signed her death certificate. He may have got away with murder if he had not been hasty in marrying and installing Effie as the new mistress in the family home. Local gossip spread to the extent that police ordered an exhumation of the dead woman and traces of arsenic were discovered in the body. Cross was found guilty despite protesting his innocence and claimed that his wife had self-administered arsenic to aid her complexion. On the 10th January 1888 he was hanged at Cork Jail by James Berry after telling his guards that he did not fear death as he had faced it many times on the battlefield.
By the time it came for his execution his hair had turned white. The hangman was James Berry. The execution was not one of Berry's most successful ones because of a problem regarding the proud criminal involved. For most of his life Cross had been a well born gentleman, and his friends in the area of Cork were from the aristocracy and upper classes. In fact the governor of the prison did not attend the execution because of his feelings about Cross (he sent a deputy to represent him). Berry found that these friends were at the execution to give Cross some emotional support in his last moments. Cross, grateful for their attendance wanted to stand at attention with respect to them, facing as he died. Berry, however, traditionally faced his subjects at executions towards the wall. But each time Berry turned Cross to the wall, the Doctor would turn around and face his friends again. When Berry protested Cross did not reply but just continued doing what he wanted. Finally an official ordered Berry to stop this silliness and allow Cross to die facing his friend, reminding the executioner that a) Cross was a respected soldier, and b) the turning back and forth might twist the rope and cause an accident (Berry had had several bad executions where the criminals were badly injured before they died or strangled to death). Berry did as he was told, and Cross died. Berry would later say that Dr. Philip Cross was the bravest man he ever executed.
Berry was not happy when he officiated at executions in Ireland because of the dangerous hostility of the Irish to him as an English born hangman. He had been threatened at least once. After being paid for his work he returned to his home in Bradford, England. Subsequently he received word to return to Cork because he was needed at a inquest hearing before a coroner's jury on the execution. Berry did not return, but the inquest eventually was completed.
Above map of Shandy Hall, Coachford, Cork, Ireland
His mother was Theresa Eliza Stafford Caulfeild (nee Caulfeild, his parents were distant cousins) was born on the 15th March 1850 in Bhagulpore, Bengal, India. His parents married on the 1st March 1870 in St.Peter, Eaton Square, London. After the death of John Caulfeild she married Thomas Hennessy on the 29th March 1897 at Colchester Register Office, Essex. She died on the 3rd May 1911 at 1 Kingsway Mansions, Hove, Sussex. She was buried on the 6th May 1911 at Hove Cemetery.
His sister Geraldine Muriel Caulfeild was born on the 8th April 1882 in Classas, Coachford, County Cork, Ireland. She was baptised on the 21st June 1882 in Magourney, County Cork, Ireland. She married Frederick James Bird on the 4th March 1903 at St. Clement Eastcheap, London. They had 2 children,
Terence Frederick Bird (Born 1906 in Somerset) Government Official - Under Secretary Ministry of Transport and the Board of Trade. Executive Director P & O Steam Navigation Co. Chairman of the Committee of European Shipowners in 1968 Wife Prudence A. Bird. 1 Wildwood Terrace, London NW3 Died 1979 Colchester, Essex.

Patrick Caulfeild Bird (Born 1909 in London). Lived in South Rhodesia
During the 1911 census she and her husband were living in Thanet, Kent. In 1911 Terence Frederick Bird was in Edmonton, Middlesex. Geraldine died on the 22nd February 1949.
His sister Gwendoline Theresa Caulfeild was christened on the 24th July 1873 in Cumberland Place, Southampton. She married George Caulfeild Prideaux-Browne on the 7th December 1891 (his second marriage. His first marriage was to Evelyn Somerset, daughter of Lt-Gen Edward Arthur Somerset. Niece of the Duke of Beaufort. She died at childbirth on the 1st July 1883). He died on the 21st Jul 1906 in Firgrove, Inishannon, Co Cork. In 1909 she married Charles Francis Whitlaw in London. During the 1911 Census they were both living in Totnes, Devon. She died on the 6th January 1937 at 28 Marloes Road, Kensington, London and was cremated at Golders Green Cemetery, London on the 8th January 1937. She had a daughter Margaret Theresa Eileen Browne from her first marriage, born 1892, died 5th January 1966.
His sister Edith Adela Roberta Caulfeild, more commonly known as 'Aunt Tipsy' was born on the 8th January 1880 in Classas, Coachford, County Cork, Ireland. She was baptised on the 10th March 1880 in Magourney, County Cork, Ireland. She died on the 15th October 1968 in Newton Abbot, Devon unmarried.
His brother Walter Stafford Caulfeild was born on the 31st December 1875. In 1901 he was a Lieutenant in the Infantry and living at the Holmstone Camp, Lydd. Kent. He served for 7 years as a Lieutenant in the 3rd Battalion, Royal Irish Regiment. He arrived originally in Vancouver, British Columbia on the Umbria on the 17th October 1918. He registed as part of the Canadian Overseas Expedittionary Force on the 12th June 1919. Listed as his and his wifes address is 2105 California Street, San Francisco, USA. He is listed as a Farmer. He later moved permanently to the United States and lived in Alameda, Oakland, California, USA. He was married to a Margaret who was born in Canada. He died on the 6th April 1943 in Marin County, California, USA.
For more information on the Caulfield/Caulfeild family look at Richard Caulfeid Hawkes excellent website click here
On the 30th November 1917 the Battalion on the right of the 7th Somersets had given way under the sheer number of German soldiers attacking who were working round the right flank and rear of the Battalion. A withdrawl was made to the reserve line in the ravine running roughly parallel to the Gouzeaucourt-Masnieres road. Here a short stand was made, but the enemy again worked round the right flank and rear of the Battalion and a further withdrawl was made to the Hindenburg Line. At the end the 7th Somerset had been practically wiped out. Two officers survived with the remnants of their Companies. The total casualties suffered by the Battalion on that day were 12 officers, including Caulfield, and 332 other ranks. The fighting continued and the German attacks died down 4 days later.
On 16 December 1917, at the height of the desperate battle to stop the German counter-attack south-west of Cambrai, the War Diary of the 9th (North Irish Horse) Battalion, Royal Irish Fusiliers, included the following entry:
South of Marcoing. German post stormed by our patrol at 5pm. Gunner bayoneted and machine gun captured; ... Lieutenant Caulfield, 7th Somersets, buried by our Battalion.
2nd Lieutenant Gordon Caulfield of the 7th Battalion Somerset Light Infantry was killed on 30 November 1917 when the Somersets were overwhelmed in la Vacquerie valley. His body, found a fortnight later by the Royal Irish Fusiliers, was buried nearby, but the location was lost in the fighting. He is commemorated at the Cambrai Memorial, Louverval, on Panel 4.
Above his name on the Cambrai Memorial at Louveral. Image and details courtesy of Philip Tardiff click here
His probate said
CAULFIELD Gordon of 21 Bath Street, Bristol. Second Lieutenant H.M. Army. Died 30th November 1917 in France on active service. Probate London 10th April to Geraldine Muriel Bird (wife of Frederick James Bird) and Hugh Marley solicitor, Effects £3,552 12s 9d.
Bath Street is at the rear of the old Courage Brewery in Redcliffe.
Above 1918 map of Bath Street. No street numbers. No 21 location unknown.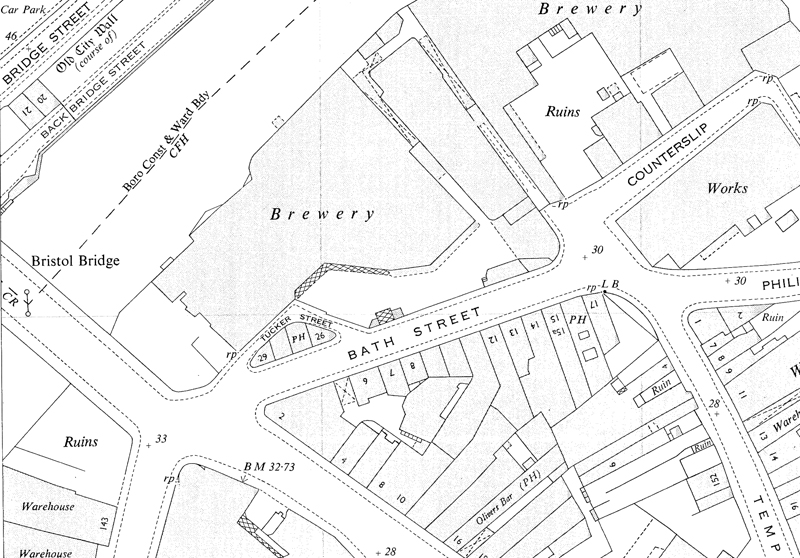 Above 1959 map of Bath Street. Street numbers but several buildings have been demolished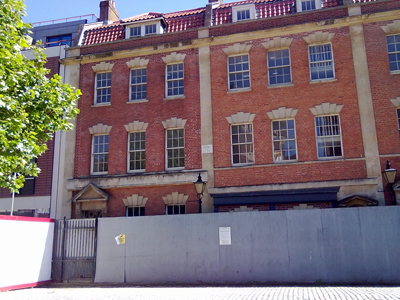 Above left entrance to Bath Street from Victoria Street. Above right houses on the south side of Bath Street. Site currently being redeveloped 2011.
Above his name was added to his mother's gravestone at Hove Cemetery. Images courtesy of Richard Hawkes.
Other possibles that were considered were
Caulfield.
Total number recorded (CWGC) 33.
Seen all. Nothing exact or associated.

Others. (Because of Rank)

a. 2nd Lieutenant Toby St George Caulfield. RFC 45th Squadron
K.I.A. 16/06/1917

b. Ltnt-Colonel St George Robert Sanderson Caulfield. Royal Engineers.
Died 29/04/1916

c. Major Algernon Montgomerie Caulfield DSO. 6th Battalion Border Regiment.
K.I.A. 07/08/1915

d. Ltnt. James Crosbie Caulfield. 12th Battalion. Manchester Regiment.
K.I.A. 18.11.1914

Corfield
Total number recorded (CWGC) 50.
Seen all-no direct lead.

Possible connections (because of Regiment)

a. Corporal C. Corfield. 8th Battalion South Staffordshire Regiment

b. Private R. W. Corfield. 1st Battalion Gloucester Regiment