Clifton Rugby Football Club History

Richard Thomas Dutton Budworth
Richard Thomas Dutton Budworth selected for England while playing for Blackheath. Born 17th October 1867 at Greensted, Essex. Died 7th December 1937 in London. Attended Brecon College and Magdalen, Oxford. His father was Philip John Budworth, a Magistrate, an unsuccessful Parlimentary Candidate for the Borough of Sandwich in 1840, who settled at Greensted Hall, Essex in 1854 where he lived until his death in 1885. His mother was Annie Emily Thomas, daughter of David Thomas. She was his fathers second wife, the first was Blanche Trimmer who he married in 1850 but she died in 1862. His parents married in 1866. His Grandfather was Revd. Philip Budworth who originally bought the manor of Greensted in 1837.
Above Greensted Hall, Ongar, Essex. Birthplace of Richard Thomas Dutton Budworth.
According to his fathers book the "Memorials of the Parishes of Greensted-Budworth, Chipping Ongar and High Laver with an account of the families of Cleeve and Budworth" printed in 1876 the Budworth children were
| | |
| --- | --- |
| Philip Henry Cresswell Dutton Budworth | born 1862 |
| Richard Thomas Dutton Budworth | born 1867 |
| Charles Edward Dutton Budworth | born 1869 |
| David Philip Dutton Budworth | born 1871 |
| Anne Blanche Dutton Budworth | born 1873 |
In the 1881 census Richard Budworth was at Lancing College, West Sussex.
Above Budworth Hall, Ongar c1906. Built in 1886 as a memorial to his father Captain Budworth. It contained a large assembly room, reading-rooms, and coffee rooms. A clock tower was added in 1887 and a museum in 1898. It is still in use.
INTERNATIONAL RECORD: England Caps 1890

Career Record: P3, W1, D0, L2, Tries 1, Cons 0, Pen 0, DropG 0

15th Feb 1890 v Wales (Dewsbury) L 0-1T

3rd Jan 1891 v Wales (Newport) W 7-3

7th March 1891 v Scotland (Richmond) L 3-9

OTHER RECORD: Barbarians Appearances 1890-92

Career Record: P5, W1, D1, L3, Tries 0, Cons 0, Pen 0, DropG 0

27th December 1890 v Hartlepool Rovers W (Hartlepool) 9-4

26th December 1891 v Devonshire (Exeter) D 0-0

28th December 1891 v Bradford (Bradford) L 0-14

29th December 1891 v Huddersfield (Huddersfield) L 2-7

11th April 1892 V Corinthians (Queens Club, London) L 12-14
Richard Budworth was an Oxford Blue in 1887-9. He scored his England try against Wales on 3rd January 1891. One of the original members of the Barbarians Club, Budworth was a clergyman, being ordained in 1902. He taught at Lancing College, Clifton College (1898 until 1907), was headmaster at Durham School and served in World War One. He became Canon at Durham Cathedral and retired in 1932. Budworth's first match for England was the first game England had played after the international dispute. The game started in controversy when England had been unable to field their star half-back, Fred Bonsor of Bradford. He had captained the side the previous season against the 'Maoris', but was thought to have deliberately withdrawn at a late hour from the game so that his Bradford co-half, Wright, could win his first cap for England. Well, Wright secured the coveted cap, but neither he nor his colleague ever appeared in England colours again.
Back Row (L-R): W.Rashleigh, J.B.Sayer, W.G.Wilson, R.O.B.Lane, C.C.Bradford, R.J.N.Fleming. Seated: L.R.Paterson, J.D.Boswell, R.C.M.Kitto, H.H.Castens. On Ground: J.M.Glubb, D.W.Evans, E.P.Simpson.
Above Oxford University XV of 1887. Unfortunately Richard Dutton Budworth was absent when this photograph was taken, hence only 14 players.
Back Row (L-R): R.T.D.Budworth, A.K.Lewis, R.S.Hunter, J.H.G.Wilson, E.G.H.North. Sitting: J.E.Aldridge, R.F.C. de Winton, T.Parker, C.J.N.Fleming, W.Rashleigh. On Ground: W.J.Grenfell, F.Morgan.
Above Oxford University XV of 1888 with Richard Dutton Budworth.
Back Row (L-R): L.Stokes, G.W.Burton, A.Budd, N.Spurling, C.J.B.Marriott. Standing: A.Allport, P.H.Illingworth, W.M.Scott, H.B.Marriott, F.R.Alderson, R.D.Budworth, A.Spurling. Seated: A.Robinson, A.E.Stoddart, P.Christopherson, J.Hammond. On Ground: W.P.Carpmael, A.S.Johnson, R.B.Sweet Escott.
Above Blackheath 1st XV 1888-89 with ex Clifton RFC player Arthur Budd and future Clifton RFC player Richard Budworth. This was Budds last season at Blackheath.
Back Row (L-R): L.J.Percival, W.E.Bromet, E.H.G.North, P.C.Cochran, R.S.Hunter. Sitting: J.H.G.Wilson, R.F.G. de Winton, C.J.N.Fleming, R.O.B.Lane, R.T.D.Budworth, A.M.Paterson, A.R.Kay. On Ground: P.R.Clause, R.G.T.Coventry, J.S.Longdon.
Above Oxford University side of 1889 with Richard Dutton Budworth.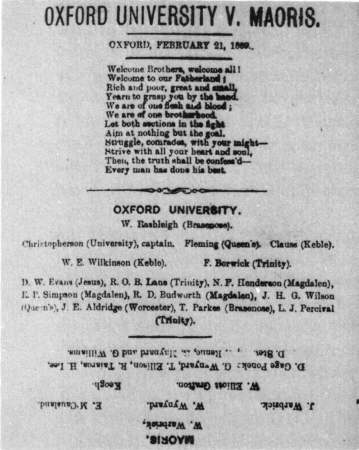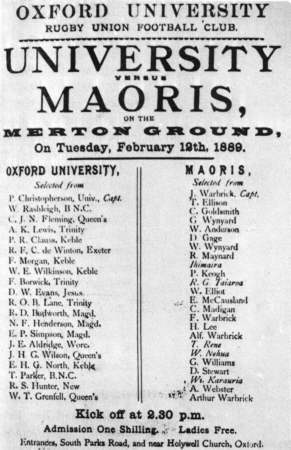 Above left the match card for the Oxford University v New Zealand Maoris on February 21st 1889. Some logic printed the Maoris upside down. Right the poster bill for the match. The originals of these are kept in the Bodlein Library. Richard Budworth played in this match which Oxford won by a goal a try and a penalty goal to nil. Richard Budworth joined Clifton 8 years later after he took up an appointment at Clifton College.
Back Row (L-R): F.Evershed (Burton), J.H.Dewhurst (Richmond), P.F.Hancock (Blackheath), R.D.Budworth (Blackheath), F.W.Lowrie (Batley), W.G.Mitchell (Richmond). Sitting (L-R): J.L.Hickson (Bradford), A.Robinson (Blackheath), A.E.Stoddart (Captain) (Blackheath), J.Valentine (Swinton), J.F.Wright (Bradford). On Ground (L-R): S.M.J.Woods (Cambridge University), J.H.Rodgers (Moseley), F.H.Fox (Wellington), P.H.Morrison (Cambridge University).
Above the England team that played Wales on 15th February 1890 in Dewsbury with Richard Budworth. Image courtesy of the RFU.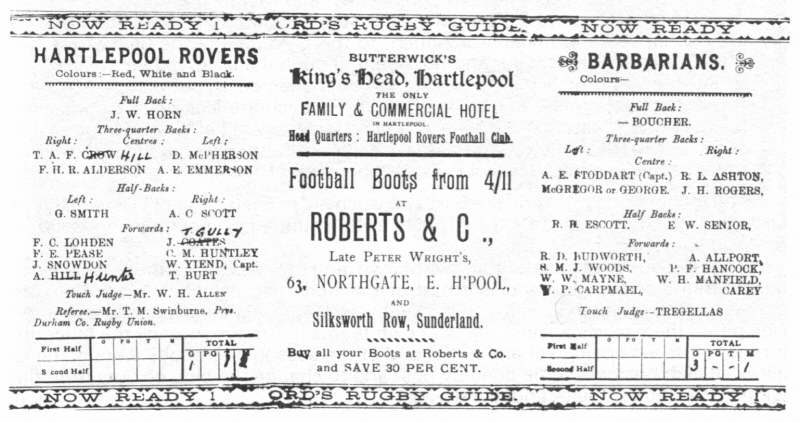 Above programme teamsheet for the first ever Barbarians match v Hartlepool Rovers match on 27th April 1890 which featured Richard Budworth.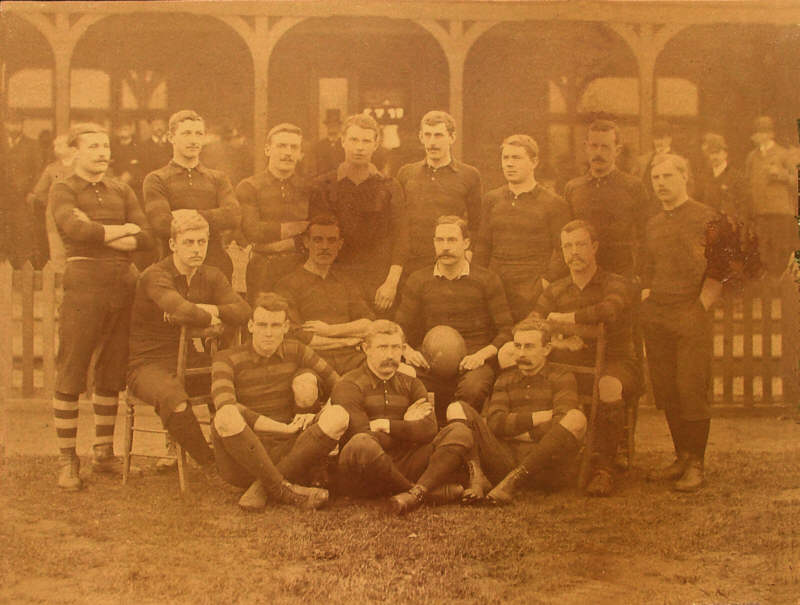 Back Row (L-R): C.A.Brenchley, P.Maud, C.H.Knight, G.L.Jeffrey, P.T.Williams, A.Allport, P.Coles, E.F.Rowsell. Seated: R.D.Budworth, P.Christopherson, A.E.Stoddart (Captain), W.P.Carpmael. On Ground: G.C.Hubbard, J.Hammond, A.G.Johnson.
Above Blackheath 1st XV 1890-91 with Richard Budworth.
Back Row: W.Sugden, A.Rotherham, P.H.Hancock, C.A.Hooper, C.M.Wells, W.H.Manfield, P.Maud, R.Budworth. Middle Row: D.W.Evans, F.H.R.Alderson, W.P.Carpmael, S.M.J.Woods. Front Row: A.Allport, F.T.Aston, T.A.F.Crow, T.Parker, T.W.P.Storey.
Above Barbarians v Huddersfield, 29th December 1891 with Clifton players Richard Budworth and Charles Hooper. A mix of shirts, Budworth is wearing the old Barbarians shirt (as well as an England cap) with the skull and crossbones and other players are wearing shirts with the new (present day) badge that has the BRC letters.
He went on to play for Clifton from 1897.
Above Richard Budworth from the 1900 photo of Clifton College Masters.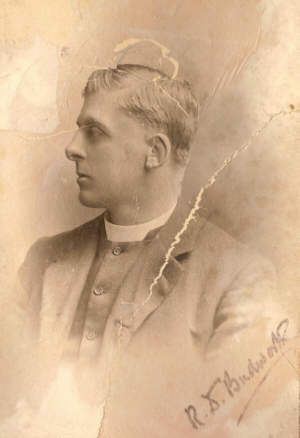 Above a photo of Richard Budworth which was found in the album of fellow Clifton College and Clifton RFC player Alfred Gardiner.
Richard Budworth went on to become Headmaster of Durham School in 1907 and then a Canon at Durham Cathedral in 1932.
The Budworth family were still the major landowners in Greensted in 1926.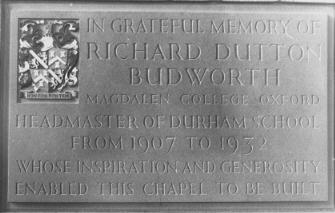 Above Durham School chapel: R.D. Budworth memorial inscription (1932). He retired from Durham School and Cathedral in 1932.
On September 25th 1935 a letter from Richard Budworth was published in the The Times.
FOOTBALL MEMORIES
TO THE EDITOR OF THE TIMES
Sir.- After reading your correspondent's "Football Memories" in your issue of September 19 various old memories came to me.
I can recall the time when in Rugby Football matches there was no referee, and each side appointed its own umpire. This led to various complications of course. I can recall a match in which the visitors' umpire disallowed a try by the home XV., though he was at the moment unable to see what had happened owing to a large oak tree that grew just on the touch-line. Afterwards he was always known (by supporters of the home team) as "the umpire who could see through a tree." I can also rember the delightful story of a match between two famous Yorkshire XV's. This was after referees had been instituted. The referee could blow his whistle, but only if one or both umpires waved his flag. On this occasion nothing had been scored up to nearly the call of time. Then suddenly one of the home team dropped a brilliant goal, to the huge delight of the many hundred spectators, but to their horro the referee blew his whistle and the goal was disallowed! When asked what the objection to the goal was, he said that he had seen Mr.___, the home team's umpire, waving his flag, and felt sure that , unless some very gross breach of the rules had taken place, Mr.___ would never have raised an objection. He had seen nothing that could invalidate the score. As a matter of fact, Mr.___ had waved his flag in sheer delight at his own team's success!
Later on, of course the system was changed, and the referee was given the absolute decision, and the umpires being relegated to the touch-line.
I am, &c.,
R.D.BUDWORTH
He spent his last days as Vicar in Horspath, Oxfordshire and died in London on 7th December 1937. He was in London to see Varsity match
Above St. Giles Church, Horspath, Oxfordshire where Budworth is buried.
His obituary appeared in The Times on 11th December 1937, and said
CANON R.D.BUDWORTH
The funeral of Canon R.D.Budworth took place at Horspath, Oxford yesterday. The service was conducted by Prebendary L.J.Percival, Precentor of his Majesty's Chapels Royal and Domestic Chaplain to the King, the Rev.R.N.Douglas and the Rev.O.S.E.Clarendon. The family mourners and others present included:-
Mr.P.V.M.Benecke. Canon Adam Fox, and Dr. H.C.Stewart (representing Magdalen College, Oxford), Mr.D.Bickmore (representing Durham School), the Rev.Hildebrand Alington, Mr.C.E.Brownrigg (former Headmaster Magdalen College School), Mr.G.H.Clark, the Rev.S.Clougher, the Rev.J.L. and Mrs.Dove, Mr.F.H.Fisher, Mr.M.A.P.Ferguson, Mr. and Mrs.O.P.Grenfell, Mrs.Griffiths, Mr.H.S.Harrison, Mr.H.L.Hunter, Mr. and Mrs.J.W.Jackson, Canon P.W.H.Kettlewell, Mrs.W.Macintosh, Mr.S.F.McCall, Mr. Eric Moore, Mr.D.J.Monteth, Mr. and Mrs.T.G.Palmer, Mr.M.O.Palmer, Mr.J.L.Poole (representing Canon R.H.J.Poole), Mrs.Ritchie, Mr.A.B.Simpson, Mr. and Mrs.R.B.Stewart, Mr. and Mrs. Hamilton Smith, and Mr. and Mrs.D.Walker.
A memorial service for Canon Budworth was held yesterday at Durham School Memorial Chapel. The robed clergy present were the Bishop of Durham (Dr.Henson), the Rev.H.K.Luce (Headmaster), who officiated, the Rev.M.J.Ellingsen, and the Rev.F.A.Youngman. The Dean and Canons of Durham were absent, attending Evensong in the Cathedral, at which reference was made to the death of Canon Budworth.
In addition to members of the school staff and 150 boys there were present:-
Mr.H.Cecil Ferens (legal secretary to the Bishop of Durham), Mr.T.H.Burbridge (a former master), Mr.J.Blackett, the Rev.G.Chetwynd, Dr. Dawson-Walker, Mr.F.C.Squance, Mr.E.Watts Moses, Dr.S.Johnson, Colonel G.Bell, Dr. Jackson, Mr.J.Nicholson, Mr.R.F.Cumberledge, Mr.W.J.Nimmo, Mr.R.Howden, Mr.W.H.Willis, and many other Old Dunelmians.
Sir Ralph Mortimer and Mr.J.E.Gray were unable to be present.
On Saturday July 14th 1973 at the annual reunion dinner of the Old Dunelmian Society the headmaster of Durham School, Mr.M.W.Vallance, announced that the sports centre was to be named after the late Canon R.D.Budworth.