Clifton Rugby Football Club History

Grounds - Horfield 1893-1896
Clifton played for 3 seasons on what was known as Buffalo Bill's Field. It had been named Buffalo Bill's Field after Colonel William "Buffalo Bill" Cody's Wild West Show was held there between the 28th September and 3rd October 1891. Cody recruited several famous people to perform in his show including Annie Oakley, Sitting Bull, Red Cloud and Frank North. This included re-enactments of Custer's Last Stand, Native American attacks on stagecoaches and cowboys showing off their skills.
The show arrived in Bristol from Cardiff. Four trains, starting at 2, 3, 4, and 5am reached Temple Meads Goods Station, with the aid of 100 G.W.R.men, 50 men in the employ of Mr J. C. Wall, the 250 people forming Buffalo Bill's band, and a number of horses, the whole show was taken to Horfield, pitched, and in order before 10am. Then Colonel Cody went to the Clifton Dwon Hotal for luncheon.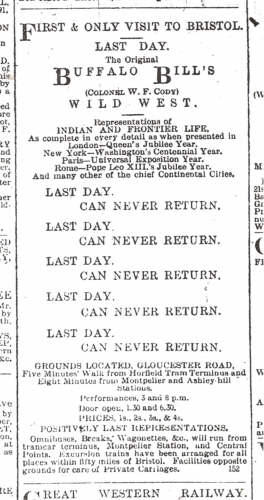 Above left adverts from the Bristol Evening News for Buffalo Bill's Wild West Show. The grandstand could seat 15,000 people.
Above Colonel William "Buffalo Bill" Cody. He made a fortune out of his Wild West Show but bad investments caused him financial problems. In 1908 he merged his operations with Major Gordon W. Lillie's Pawnee Bill Show. This was not successful and after the partnership broke up Cody joined the Sells-Floto Circus. William Cody went bankrupt and was deeply in debt when he died on 10th January, 1917.
The first match was played there on 23rd September 1893 v Bristol click here. The second match was on 30th September 1893 v Bath click here
Bristol took over the ground and built The Memorial Ground in 1921.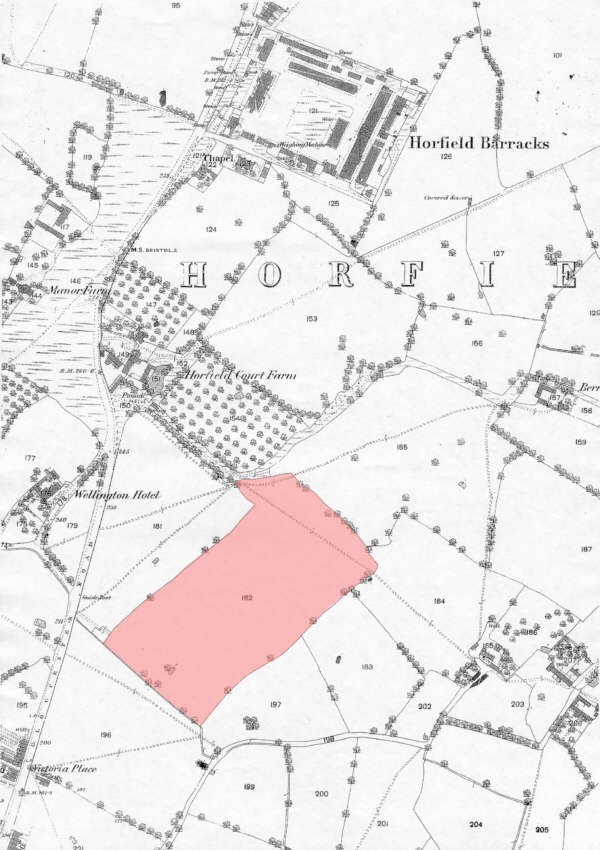 Above map with Buffalo Bill's Field in pink. Reproduced from the (1881) Ordnance Survey map. © Crown copyright. It is known that this area of land was once part of the Horfield Court Farm Estate. John Leach and his family lived at Horfield Court Farm from 1898 to 1901. He owned a lot of land around Westbury-on-Trym and Horfield and it is thought that he bought the estate before 1898 as he was appointed on the 31st October 1897 to form Horfield Urban District Council.
Horfield Court Farm was next door to the Duke of York pub, run by Marion M. Lark, and Horfield Barracks
Above map Horfield Court Farm in the centre. The Duke of York pub went on to change its name to The Gloucester Arms.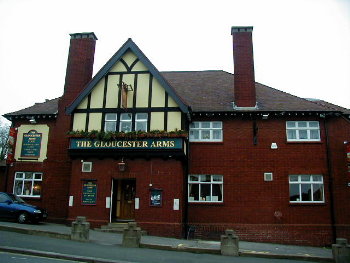 Above the present day Gloucester Arms. Formerly The Duke of York.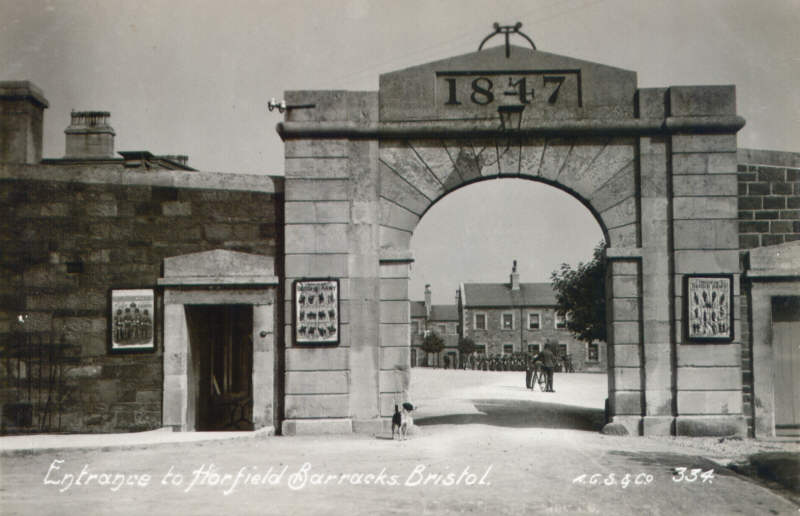 Above the entrance to Horfield Barracks.
Above a Bristol match from Easter 1895. One of four games Bristol played here. Horfield Court Farm in the distance
John Leach and his family lived at Horfield Court Farm until 1904. Horfield Court Farm was demolished in 1906. It is said to have been the old house of the priests who administered at the church in Pre-Reformation days, and contained good plaster and oak panelling. For more on John Leach click here
In 1896 we moved back to Coldharbour click here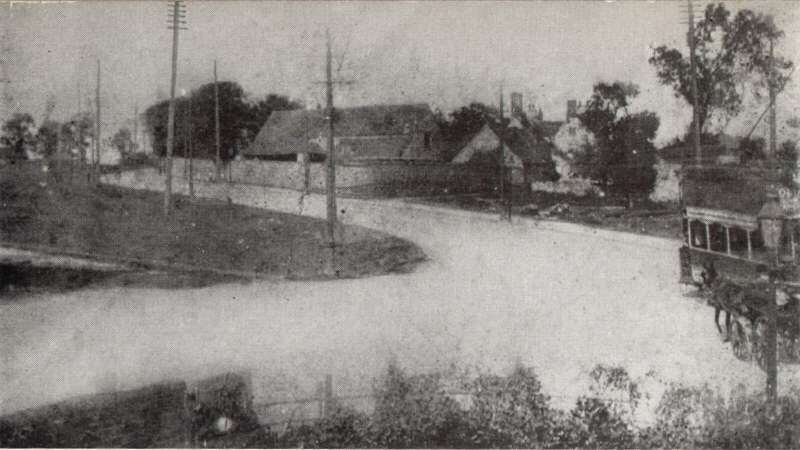 Above Horfield Court Farm sometime just after 1900. Horfield Common to the left and Trams to the right. Buffalo Bill's Field is behind the trams.
Above advert from the Western Daily Press on 21st March 1903. Horfield Court Farm is sold
During World War 1 the ground was used as allotments. In April 1920 there were protests from the allotment plot holders about rent increases and then being given notice to quit.
During World War 1 plans were being made to find Bristol Rugby Club a ground.
Above Western Daily Press 14th October 1916
Eventually Buffalo Bill's Field was bought by Sir Francis Nicholas Cowlin, Sherrif of Bristol 1921, and given to Bristol Rugby Club. Cowlin owned a building company. Cowlin Construction was bought by Balfour Beatty Construction Ltd. in 2007.
In 1921 it became The Memorial Ground, home of Bristol Rugby Club.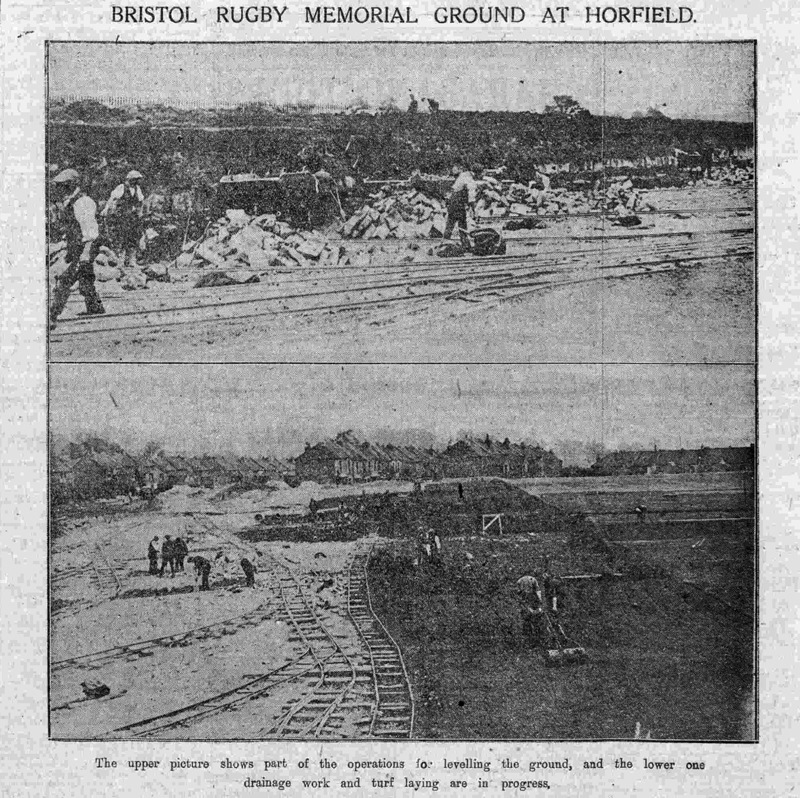 Above work starts on the Memorial Ground. Western Daily Press 26th April 1921
Above Sir Frank Cowlin who died on 26th July 1945 at Park Cottage Cleeve, Somerset. He left £1.7m in his will, equivalent today (2013) to £60m
In 2013 Sainsburys obtained planning permission to build on the land.