Clifton Rugby Football Club History
William John Lias born March 13th 1868 in Kensington. Son of the clergyman and author John James Lias. Went to Hailbury School. Attended Jesus College, Cambridge from 1886, BA 1889, MA 1898. Editor of the Cambridge Review 1890-1. Headmaster of the Downs School, Clifton 1893-98. Called to the Bar, Lincoln's Inn, May 1, 1901. Practised at Liverpool. Served in the Great War, 1914-19 (Capt., Lancs. Fusiliers, and R.E.; mentioned in despatches). Professor of International Law at Sheffield University, 1924-9. Judge of County Courts, Circuit No. 13 (Sheffield), 1922-30; of County Court No. 59 (Plymouth) District, 1930-40.
In 1871 the Lias family were living in St. Peter Street, Llandaff, Wales. His father was a minor Canon at Llandaff Cathedral from 1868-71. The household was
| | | | | |
| --- | --- | --- | --- | --- |
| Name | Relation | Age | Occupation | Where born |
| John James Lias | Head | 36 | Minor Cannon Llandaff | St. Lukes, Middlesex |
| Edith S. Lias | Wife | 26 | | Marylebone, London |
| Charles R. Lias | Son | 5 | | Folkstone, Kent |
| William J. Lias | Son | 3 | | Kensington, London |
| Francis J. Lias | Son | 1 | | Llandaff, Glamorgan |
| Mary J. Lias | Daughter | 6m | | Llandaff, Glamorgan |
| Sarah E. Lias | Mother | 64 | Independant means | Newark, Nottinghamshire |
| Bertha M. Reynolds | Niece | 6 | | High Wycombe, Bucks |
| Margaret Herbert | Servant | 28 | Nurse, Domestic Servant | St. James, Bristol |
| Alice Herbert | Servant | 26 | Cook, Domestic Servant | St. James, Bristol |
| Mary James | Servant | 21 | Nursemaid, Domestic Servant | Clytha, Monmouthshire |
| Clara Malpas | Servant | 16 | Housemaid, Domestic Servant | Mathern, Monmouthshire |
His father had attended Emmanuel College, Cambridge in 1853 and was son of a Silverplate Manufacturer in London. He was ordained at Salisbury in 1858. After leaving Llandaff he became Professor of Modern Literature at St. Davids College, Lampeter from 1871-80. He then resumed his job as a clergyman and went on to write the book "The Rector and his Friends: Are Miracles Credible?" and other Commentaries. He died on March 6th 1923.
His eldest brother, Charles, born 26th February 1866 attended Marlborough College and then Kings College, Cambridge in 1885. He went on to be the first headmaster at Victoria College, Alexandria, Egypt from 1902-22 and received an OBE in 1923 for services to education in Egypt. He died on January 11th 1949 in Fleet, Hampshire.
Above Victoria College, Alexandria. Often described as the Eton of Egypt, even the Eton of the Middle East, Victoria College was known as the school for the elite, sons of kings, emirs, presidents, leading businessmen and the aristocracy. Its famous old boys include Omar Sharif, Youssef Chahine, Edward Said, as well as royals and former royals, from Albania, Jordan, and Sudan. Charles Lias became Victoria College's first headmaster, receiving 500 pounds per annum. In 1902-3 there were only 45 students enrolled, by 1906 they had increased more than threefold to 186. They included 13 nationalities broken down into three religious groups; there were 80 Christians, 67 Jews and 39 Muslims, mirroring the city's upper-class mosaic. The school's motto was "Cuncti gens una sumus," meaning "joined together as one people.
At some point between 1871 and 1881 his parents separated. His mother Edith and youngest brother Francis were living at No 7 The Orphanage, Hastings St Mary Magdalen, Sussex in 1881. His father married a Mary B from Cambridge and they went on to have a daughter Annie, and 2 sons, Arthur and Ronald.
In 1881 William Lias was attending Philberds House School, Bray, Berkshire. Philberds House, was once the home of Charles II and Nell Gwynn. During World War 1 it was used as as a Prisoner of War camp This housed over 100 officers and 40 other ranks who acted as their servants. The camp was guarded by Territorials from the Devon Regiment. Early in 1915 the prisoners took to gardening and eventually the adjutant, Captain Armstrong, became suspicious and called in workmen to lay some unneeded drainpipes. While they were digging their picks struck a tunnel eight to twelve yards long and two feet square. It was cased with wood and had pads for elbows to rest on. The Germans had cut through the concrete foundations of a high wall and would probably have escaped had it not been for the adjutant. The house was burnt to the ground recently in a mysterious fire and plans are with the council to build a development of houses on the site.
Above all that remains of Philberds House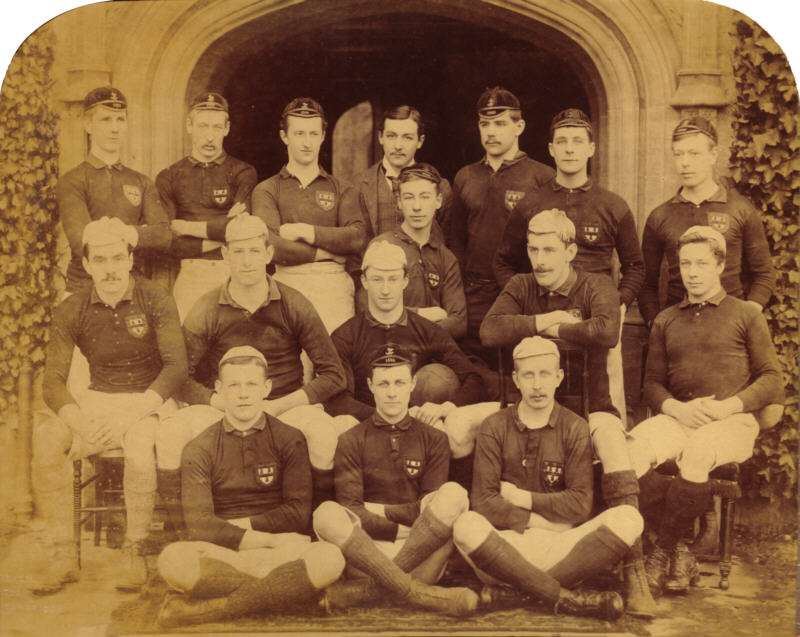 Back Row (L-R) John Stanley Manford, Charlton James Blackwell Monypenny, Bernard Wild, William John Lias, Arnold Beetham Williams, Robert James Younger, Edwin Vidal Palmer. Middle: William Irvine Rowell, Seated: Gregor MacGregor. Samuel Moses James Woods, Percy Holden Illingworth (Captain), Percy Temple Williams, Cecil Edwin Fitch. Front Row: William Martyn Scott, Charles William Chamberlayne Ingles, James Smith.
Above the Jesus College, Cambridge rugby XV 1889-90 with William John Lias.
The Jesus College magazine, 'The Chanticleer' (later 'Chanticlere'), appeared from 1885. Issue 5, Lent Term 1887, p. 20 includes a list of players amongst which is W. J. Lias as a half-back (in a match against Pembroke Coll. which Jesus won by 15 points to 6). Issue 8, Lent 1888, p. 15 has him still in the team but as a forward. Issue 11, Lent Term 1889, p. 18, says: "As for Lias, who, I believe, is nominally the third three-quarter, I can say nothing, because I never saw him play three-quarter; but he played half-back ... with great success; he is also a good hard-working forward, coming away smartly, and a good dribbler."
Above close-up of Lias from the Jesus College, Cambridge rugby XV 1889-90
In 1890-91 he was Editor of the Cambridge Review.
He joined Clifton RFC in 1891 and was captain from 1893-1896.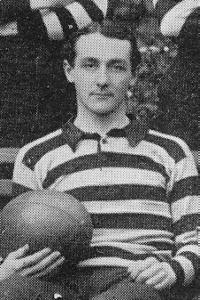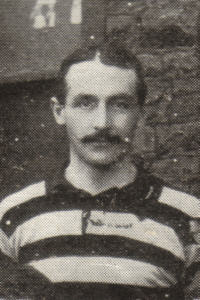 Above left Lias from the 1893-4 Clifton 1st XV photo. Middle from the 1894-95 photo and right from the photo of the Clifton 1st XV prior to their controversial match v Bristol on 10th April 1897.
From 1893-96 The Downs School was situated at 8 Upper Belgrave Road, Clifton, Bristol. It has now moved to Wraxall just outside of Bristol.
Above 8 Upper Belgrave Road, Clifton, Bristol. The Downs School in 1893-96.
Above programme from the Western Counties v Midland Counties trial match of 1894 with Clifton players Lias and Birch.
Standing (L-R): C.J.Donaldson, C.Hall, W.H.Birch (Clifton), P.J.Ebdon, M.H.Toller, W.J.Lias (Clifton), H.T.Gamlin, W.E.Bildings. Seated: A.May, W.Jarman (Bristol), C.Thomas, E.Salter, F.Soane (Captain) (Bath), J.Bowley, H.Stoyle.
Above Western Counties side of 1895 with Clifton Captains W.J.Lias (1893-96) and W.H.Birch (1891-92). This side was part of an England trial match
After his call to the Bar by Lincoln's Inn in 1901 he practised in Liverpool.
In 1903 he married Winifred Marion Nickels Beazley, third daughter of Mr. J.H.Beazley, of Oak Dene, Noctorum, Birkenhead
In 1910 he contested the seat of West Derby Division of Liverpool, electorate 11,467 as a Liberal. The final result of the Liverpool (West Derby) Election was
| | |
| --- | --- |
| Rutherford, W. Watson (U) | 4,908 |
| Lias, W.J. (L) | 2,943 |
| Unionist majority increased from 1,508 to.... | 1,965 |
Mr. W. Watson Rutherford, a former Lord Mayor of Liverpool, resigned that office in 1903 on the occassion of a vacancy in the West Derby Division, and was elected as its Parliamentary representative; re-elected in 1906 and last January; a solicitor (his firm is Messrs. Rutherfords, Liverpool and London), he was one of the most searching and effective critics of the Land Clauses of the Budget of 1909.
He served as a sub-lieutenant RNVR during the years 1904 to 1912, and in 1915 he became a captain in The Lancashire Fusiliers. In 1917 he was transferred to the Royal Engineers and he saw service in France from 1916 to 1919. For his work as OC Gas School, Roen, in 1917 he was mentioned in dispatches.
His 1934 address is listed in "Who's Who in Devonshire Hereford, Wilson & Phillips" as Ingoldsby, Chelston Road, Torquay. He leased this property when it was a private residence in 1934. It was sold on in 1945. It is now a hotel.
Above Ingoldsby Hotel, Torquay. http://www.ingoldsby-hotel.co.uk/
He died on July 20th 1941 at Torquay. His home was at Lumsholme, Middle Warberry Road, Torquay.
His obituary appeared in The Times on July 23rd 1941.
His funeral took place on Saturday 26th July 1941 at St. Matthias, Torquay. Canon A. E. Ward officiated, and members of the family and others present included:- Mrs Lias (Widow), Mrs Lias Seaton (Step Mother), Mr and Mrs C. Lias (brother and sister-in-law), Mr and Mrs F. Lias, Mrs T. Lias (sister-in-law), Mrs A. Leathart (sister-in-law), Mr J. C. Beazley (brother-in-law), Mr. B. Richardson (Registrar of Camelford, Bodmin and Launceston Couty Court), and Mr W. Mansfield (Chief Clerk, Plymouth County Courts, representing Registrar of Plymouth, Liskeard, Tavistock, and Kinsbridge County Court).
Above St. Matthias, Torquay.
On April 18th 1945 his eldest son, Able Seaman David John Lias RNVR, was reported missing presumed drowned. He had died on 6th April 1945 while aboard HMS Slinger aged only 19. The Aircraft Carrier HMS Slinger was built in the USA in 1942, and formerley known as USS Chatham, and transferred to the Royal Navy on 11th August 1943. HMS Slinger's wartime career was as an assault carrier then escort carrier serving with the British Pacific Fleet as escort for the Fleet Train 1945 and involvement in Okinawa 1945. She was scrapped in 1970.
Above HMS Slinger. On April 6th 1945 the ship was involved in the assault on Okinawa.