Clifton Rugby Football Club History
He was born on the 19th January 1882 in Bristol. His father, Frank Smith Gardner was a Professor of Music and was Music Master (Violin) at Clifton College from 1878 to 1919. Alfred joined Clifton RFC in 1902-03. He was educated at Bristol Grammar School. He represented England at Table Tennis. He was a founder of Bristol Lawn Tennis Club in 1912.
Back Row (L-R): J.H.Inskip, E.Gardiner, ?, G.H.Beloe, ?, ?, ?, ?, V.Green-Armytage. Sitting: E.Fuller-Eberle, D.A.Clark, W.W.Vaughan, Mr.H.W.Beloe, A.J.Gardner, Claude Watkins-Baker, ?. On Ground: ?, Cecil Watkins-Baker.
Above Clifton XV of 1903-04. Alfred J. Gardner's first season as captain.
Back Row (L-R): R Susannah Willis, Frank S, Sarah Ann, Nelly Gardner, Flo Tyndall, Alfred Gardner. Front Row: Lilly Gardner, Arthur Tyndall
Above Alfred at his sisters wedding on 28th August 1908 in Padstow.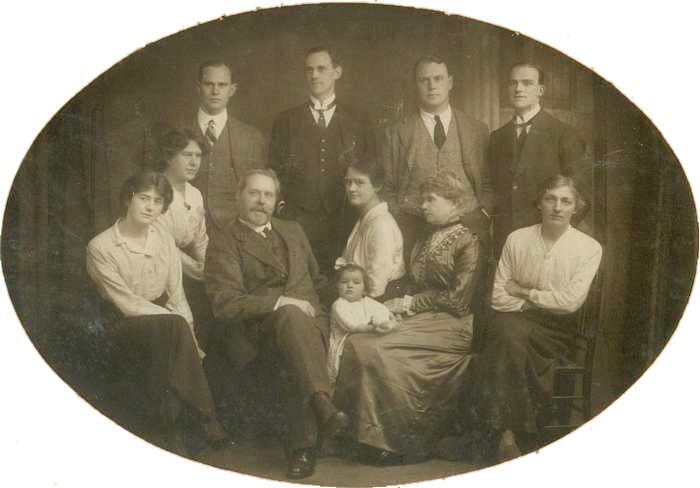 Back Row (L-R): Bertie C Gardner (brother), Frank William Gardner (brother), Alfred John Gardner, Arthur Mannering Tyndall (brother-in-law, Lily's Husband). Front Row: Marie Louise Corlett (sister-in-law, Frank W's wife), Nelly Gardner (sister), Frank Smith Gardner (father), and Lilly Mary Gardner (sister), Susannah Moreland Gardner (nee Willis, mother), Bay Ham (wife). Small girl in centre: Diana Tyndall (niece, daughter of Arthur and Lilly)
Above the Gardner Family abt. 1914 (with their relationship to Alfred in brackets). The family lived at 8 Alma Vale Road, Clifton Bristol.
Top Row: 2nd Lt W.H.Simmonds, 2nd Lt J.Pooley, 2nd Lt G.A.Turner, 2nd Lt R.Lowe, 2nd Lt A.W.Haywood, Lt F.W.Ward. Middle Row: Lt And Qr-Master F.Cook, Lt R.B.Mansell, 2nd Lt C.T.Thomas, Lt A.J.Gardner, Lt H.G.Baker, Lt C.T.H.Harrison, Lt G.T.Plum, 2nd Lt A.C.Stevenson, 2nd Lt E.L.Reed, Capt D.Veale, 2nd Lt R.Bird. Bottom Row: Capt J.Knight-Adkin, Capt T.N.Whitwill, Col J.B.Butler, Lt and Adjutant H.Rummins, Capt H.E.Tee
Above the Officers of the 3/4th Batt Gloucestershire Regiment with Alfred Gardner
Above 8 Alma Vale Road, Clifton.
Above his wife, Bay Ham, born abt. 1884, married abt. 1912, died ?.
His father died on 1930
His mother died on 22nd June 1939.
He died on the 17th May 1948. At the time he was living at 3 Grange Road, Clifton, Bristol.
Above 3 Grange Road, Clifton, Bristol.