Clifton Rugby Football Club History
Frank Manning Arkle born abt. 1894 in Birkenhead, Cheshire. His father was William Baillie Arkle a Shipping Agent.
The 1901 Census has them living at 6 Rosemount, Oxton, Birkenhead.
Back Row (L-R): W.Bennett (Trainer), F.M.Arkle, P.J.Williams, F.J.Coventry, W.J.Allen, J.S.Tucker, S.H.Carey, M.V.Shaw, J.Broughton, R.Meyer, T.G.Spoors, J.Oates. Seated: H.Feltham, F.V.Feltham (Vice-Captain), R.C.W.Pickles (Captain), L.J.Corbett, R.G.B.Quick, H.Haysham. Front: W.J.Wring, T.Bateman, S.H.Budd.
Above the Bristol side that was reformed after the 1st World War with F.M.Arkle who had the season before played for Birkenhead Park in Cheshire. He played a few games with Bristol and took part in an England Trial match. In 1920 he permanently joined Clifton RFC. By the end of the season he was Vice Captain of the 1st XV and the following season was made captain. He became Club President from 1935-50.
On 1919 Frank Arkle played for the North v England in a trial match. Birkenhead Park supplied 5 players for this match Pemberton, Bloor and Arkle for the North and and Locke and Lowry for England.
Frank Arkle then played in the final trial match for England v South on 20th December 1919. In this match Pemberton, Arkle and Lowry played for England. Lowry scored in the 2nd half for England after a long pass over Myer's head from Arkle. The Times review of this match on 22nd December 1919 was not complimentary about Arkle and said
"F.M.Arkle (Birkenhead) combined better with his club partner, W.M.Lowry, than with his own wing, C.N.Lowe. The latter was, in consequence, given too few chances, and those that he did get were not too good. Arkle does not draw the defence sufficiently before passing; he gives one the impression of trying to get through on his own and only passing when he gets into difficulties."
Lowry went on to be selected to play for England v Wales on 17th January 1920. After being photographed with the England team on the pitch at Swansea five minutes before kickoff he was unceremoniously dropped in favour of Harold Day. England went on to lose 19-5.
Back Row (L-R): G.A.Allen (Birkenhead Park), E.Billington (Birkenhead Park), F.M.Arkle (Birkenhead Park), J.Paterson (Birkenhead Park), R.L.Holmes (New Brighton), R.J.Martin (Birkenhead Park), P.R.Cheshire (Birkenhead Park). Sitting: W.Tait (Sale), W.H.Pemberton (Birkenhead Park), J.Taylor (New Brighton), A.C.Williamson, W.M.Lowry (Birkenhead Park), H.M.Locke. On Ground: R.B.Maxwell (Birkenhead Park), G.T.Floyd (Birkenhead Park).
Above the Cheshire XV 1921-22 with future Clifton player F.M.Arkle. This year they won the Northern Championship but lost the County Championship semi-final to the North Midlands at Moseley 10-14.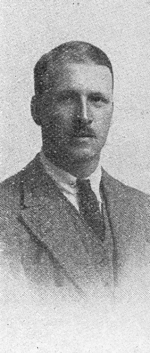 Above Frank Arkle (image courtesy of Roy Hough)
Back Row (L-R): E.Seymour-Bell, G.Hasler, W.F.Gaisford, E.C.Ball, T.N.Bowerbank, E.G.Everett, J.Dommett, R.D.Just. Middle Row: G.Ellis, T.D.Lewis, A.N.Carruthers, Mr.H.W.Beloe, F.M.Arkle, B.S.Chantrill, J.L.W.Ewens. Front Row: J.Bromhead, J.P.Hitchings, L.C.Waters.
Above the Clifton XV towards the end of the 1920-21 season. His first season with Clifton.
His son, William, married Julia Rae Hubbard, on 11th October 1947 at Frenchay.
He was Sherrif of Bristol in 1949.
Frank Arkle appears in all the Clifton photos up to 1950
On March 24th 1965 Arkle retired from the board of Directors of Imperial Yobacco. He had been Chairman for 10 years from 1936-46
He died in 1974 in Weston-Super-Mare, Somerset.