Clifton Rugby Football Club History

Christpher William Wordsworth
Born 7th October 1879. Great Grandson of the poet William Wordsworth. Educated at the Loretto School, near Edinburgh and Queen's College, Oxford. He joined Clifton RFC in 1906.
Back Row (L-R): C.D.Fisher, W.B.Odgers, G.S.J.F.Eberle, C.W.Wordsworth, R.O.Hutchison, A.D.Sloane, G.V.Kyrke. Sitting: A.J.Swanzy, V.H.Cartright, R.C.Grellet, S.H.Osbourne, J.E.Raphael. On Ground: A.D.Stoop, J.R.P.Sandford, A.M.P.Lyle.
Above Oxford XV of 1902 with Christopher William Wordsworth and George Fuller-Eberle.
Above Wordsworth from The Isis March 7th 1903.
Also a Hockey Blue at Oxford in 1902 and 1903. He played in the North v South International trials. He also played Cricket for Westmorland.
Ordained in 1905.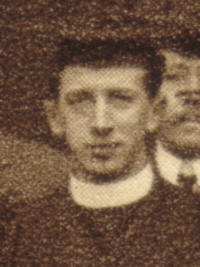 From 1906 to 1912 he was Assistant Master and Chaplain at Clifton College. Above Christopher William Wordsworth from the 1909 Masters of Clifton College photo.
In 1911 he was living at 14 Alma Road, Clifton, Bristol
| | | | | | | |
| --- | --- | --- | --- | --- | --- | --- |
| Name | Relation | Marital Status | Gender | Age | Birthplace | Occupation |
| Christopher William Wordsworth | Head | Married | Male | 31 | Gosforth, Cumberland | School Master in Holy Orders |
| Ella Mary Wordsworth | Wife | Married | Female | 30 | Great Saemld, Cumberland | |
| Lucy Henrietta Wordsworth | Sister | Single | Female | 28 | Gosforth, Cumberland | |
| Dorothy Ann Andrews | Servant | Single | Female | 24 | Bristol | Housemaid, Domestic |
| Frances Elsie Mary Serle | Servant | Single | Female | 16 | Bristol | Cook, Domestic |
Above Christopher William Wordsworth's signature.
From 1912 to 1916 he was Rector of Halesowen. Above St. John's Church, Halesowen, West Midlands.
From 1916 to 1932 he was Master in Charge, Loretto Junior School, near Edinburgh.
From 1933 to 1935 he was Vicar of Assington. Above St.Edmund's, Assington, Suffolk.
From 1935-42 Rector at Coddenham. Above St. Mary's, Coddenham, Suffolk.
From 1936 to 1942 of Hemingstone. Above St. Gregory's, Hemingstone, Suffolk.
From 1939-42 Dean at Claydon. Above St Peter's, Claydon, Suffolk.
From 1945 to 1949, when he retired, he was Rector at of Broughton Poggs with Filkins. Above left St. Peter's Broughton Poggs, Oxfordshire. This church is situated in the leafy grounds in front of Broughton Hall where Wordsworth lived. Broughton Poggs and Filkin are separated by Broadwell Brook and appear to be one village not two. Above right St. Peters, Filkin. St. Peters, Filkin was built to the designs of George Edmund Street 1855-7. Plans had been drawn up earlier in 1851 by the local squire but Street, the diocesan architect, was asked to comment on them, and comment he did aplenty! He said he disliked the fact that there was no architect's name on the plans, the roof was too wide and poorly supported, there were no gutters, the vestry had a flat roof and the openings for the proposed bell were too small. The spaces between the pews were too little and he felt the people would be unable to kneel. For the same money such a wide church could be replaced by a nave and aisle for much the same money. Street therefore had to produce a plan of quality, if he was to avoid the same sort of examination and comparism to the original plans! He did. George Edmund Street went on to design the new Nave and West front at Bristol Cathedral in 1876. These designs were completed after Street died in 1881 by John Loughborough Pearson.
In the 1947 Clifton College Register his address is listed as Broadwell Manor, Lechlade, Gloucestershire.
There was a mix up with the names and the death of Charles William Wordsworth of Hythe instead of a Charles William Wordsworth of Bognor was announced in The Times. On March 9th 1959 in The Times an apology appeared which said
C.W.WORDSWORTH, whose death was announced in Saturday's issue of The Times, was Charles William Wordsworth, who died at Bognor Regis on February 27, and not the Rev. Charles William Wordsworth, who lives in Hythe, Kent.
When Rev. Charles William Wordsworth did die his obituary did not appear in The Times.
His address in 1962 is listed as Hotel Imperial, Hythe, Kent. Above Imperial Hotel.
He died on 11th July 1965.