Clifton Rugby Football Club History
Born 26th September 1858 Chipping Sodbury, Gloucestershire. Cousin of the England rugby captain Harry Vassall. Educated at Clifton College from 1868 - 1876 and then Trinity College, Oxford. Oxford Blue 1878. He joined Clifton RFC in 1879. He also played rugby for Gloucestershire and Somerset.
In the 1871 Census the Cox family were living at 7 Lanesfield Villas, Thornhayes, 1 Upper Belgrave Road, Clifton
| | | | | |
| --- | --- | --- | --- | --- |
| Name | Relation | Age | Occupation | Where born |
| Alfred Cox | Head | 55 | Solicitor | Honiton, Devon |
| Elizabeth Mar Cox | Wife | 49 | | Paris, British Subject |
| Ann Vapal | Mother-in-law | 73 | Landowner | Oxton, Nottinghamshire |
| Alfred Cox | Son | 22 | Civil Engineer Out of Employ | Bristol |
| Graeme Vassall Cox | Son | 12 | Scholar | Chipping Sodbury, Glos. |
| Betsy Watts | Servant | 21 | Domestic Servant | Booksbridge, Somerset |
Above Graeme Vassall Cox in the Clifton XV of 1879-80.
Graeme Vassall Cox married Frances Maria Butterworth in Keynsham in 1884. Frances was born abt. 1860 in Deerhurst, Nr. Tewksbury, Glos. Her father was the Revd. George Butterworth, Vicar of Deerhurst 1856-1893. St. Mary's Church at Deerhurst is one of the most famous saxon churches in the country. His grandson was George Sainton Kaye Butterworth, the English Composer, folk song and dance collector, and soldier (1885-1916) see http://www.calculator.net/Butterworth/. He was the son of Sir Alexander Butterworth, the Revd. George Butterworths son and Frances brother. Both her brothers, Alexander and George played rugby for Clifton. George went on to captain Clifton from 1880-81 click here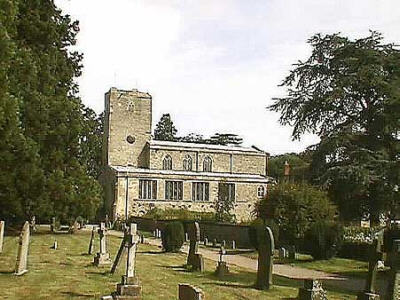 Above St. Mary's Church at Deerhurst.
In Kelly's Directory of Hampshire for 1899 and 1903, Graeme Vassall Cox B.A. is listed as a tutor at Oakhurst School, Grayshott, Hampshire.
In the 1901 census there is a record of Frances Cox, aged 41, a visitor at 61 Hollybush Street, West Ham, and at Graeme V. Cox, aged 42, a Boarder at 61 Ravenscroft Place, West Ham along with his brother Spencer J. Cox. It appears that at this time Graeme Cox was working as Hon. Sec. of the South-West Ham Relief Fund.
He was Assistant Master at Manchester Grammar School.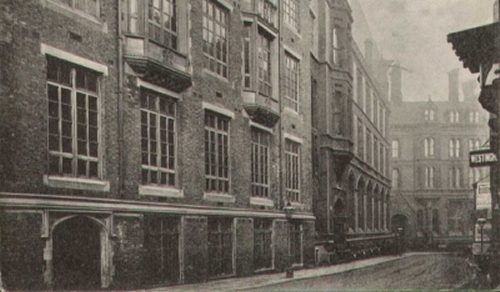 Above Manchester Grammar School's Long Millgate Street Buildings.
Above class being taken at Manchester Grammar School's Long Millgate Street Buildings.
Following the move of the grammar school to Rusholme in the 1930s the Long Millgate buildings remained empty during the 1930s. The old building was destroyed during World War II and in the 1950s the extension was used as teacher training college. Following its closure in 1978 the building was taken over by Chetham's.
In April 1911 Cox became Warden at the University Settlement, Manchester, Ancoats Hall, 20 Every Street. Prior to that he was Co-Warden of Mansfield House Settlement in East London.
Above Ancoats Hall 1900.
Above Ancoats Hall 1964.
The idea of the University Settlements was that men and women from Universities lived amongst the poor and help remove some of the inequalities of life. Influenced by social idealists such as Green, Ruskin and Carlyle, Christian Socialists such as Maurice and Kingsley and social reformers such as Octavia Hill three key needs were identified. These were for scientific research concerning poverty; the furthering of wider lives through education; and an enhancement of leadership in local communities. Samuel and Henrietta Barnett established the first university settlement, Toynbee Hall in Whitechapel, in 1884. The Manchester University Settlement was established in 1897. The warden of Toynbee Hall, Canon Barnett, was invited to a meeting at Manchester on 27 March 1895. At the conclusion of this meeting it was resolved to set up a settlement in Manchester in a similar style to that of Toynbee Hall. This settlement was named the University Settlement, Manchester. This preamble to the constitution gives the aims of the Manchester Settlement: This Settlement is founded in the hope that it may become common ground on which men and women of various classes may meet in goodwill, sympathy and friendship; that the residents may learn something of the conditions of an industrial neighbourhood, and share its interests, and endeavor to live among their neighbor's a simple and religious life.
By 1897, the Settlement had moved into a wing of Ancoats Hall, where it based its women's residence. No rent was charged to them by the City Council. This ideal situation continued until 1953 when the lease reverted to the ground landlord (British Railways). This was a severe blow to the Settlement whose finances were never strong. The Manchester University Settlement moved out in 1963 due to the decline of residence and the attempted sale of the Hall by the British Transport Commission. 20 Every Street was the male residence from 1898. The Round House was a circular building behind 20 Every Street. It housed a large recreational room (used for plays and dances etc.) and had a playground outside. It was demolished in 1986. These buildings were the primary residences and social centres for the Settlement. At various periods other smaller residences existed around Ancoats and Gorton. With the clearance of the slums in the 1930s, the Settlement set up outposts in the Wilbraham Estate, Newton Heath Estate and in the Gorton/Belle Vue area. In the 1960s and 1970s the Settlement set up centres in Moss Side and at St. Aidan's Rectory in Beswick (the Rectory was later demolished and replaced with a purpose built one storey building for the Settlement). St. Aidan's is now the centre for the Settlement's activities.
The book "Fifty Years in Every Street" states "G.V.Cox brought valuable experience to the work in Ancoats and a certain romantic charm of personality, but it was not, unfortunately, accompanied by robust health. Within a year it was decided that he must absent himself from its rigours for part of the year. In May 1913 even this partial release, assisted by the presence of a sub-warden proved too great a strain, and he resigned, to be succeeded by Mr.G.K.Grierson, formerly Secretary to the Salford Civic League of Help."
Joined up in 1914 and served as a private with the 2me Regiment Etranger de l'Armee Francaise in France.
The Times on October 18th 1927 announced the death of Graeme Cox
COX , - On Oct. 14, 1927, at Aberdovey, GRAEME VASSALL COX, aged 69. Buried at Aberdovey on Oct. 17.
He in fact died at Llwyn Teg, Aberdovey, Merionethshire, Wales. His widow is listed as Rose Murray Cox
Ancoats Hall images courtesy Manchester Archives and Local Studies http://www.images.manchester.gov.uk